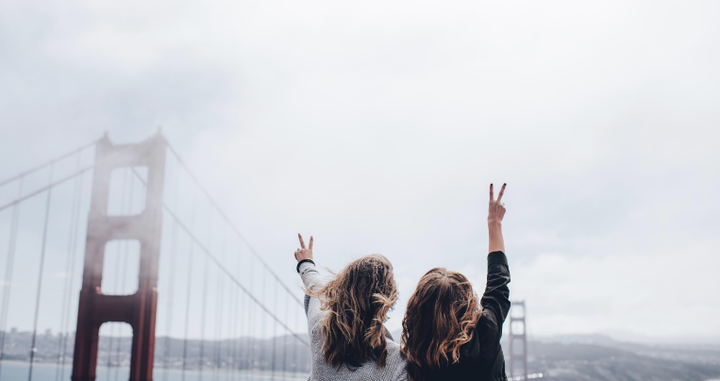 "We never really saw the world until they showed it to us...the engineers."
To all the middle school girls who love legos and look forward to science class...whose notebooks overflow with ideas and whose favorite words are what if...
We have found. Your movie.
As inspirational as Hidden Figures and as timely as...well...current headlines, Dream Big: Engineering Our World is a soaring and breathtakingly fresh look at engineering, and every clever girl's summer must-see film.
Tomorrow's bridge builders.
Girls - world-changing engineers are talking to you.
Listen as Menzer Pehlivan tells you what it was like to experience a devastating 7.6 magnitude earthquake at age 13...and then watch as she shows you how twisting the facade of one of the world's tallest buildings holds it fast against similar force.
See students your age cross a chest-high river to get to school, and then cheer along with the rest of the audience as Avery Bang designs and implements bridges throughout developing countries to get kids to class and connect the isolated.
Applaud wildly as Anjelica Hernandez leads her robotics club to national victory by devising an underwater robot named Stinky that out-competes machines from some super famous college teams. It's extra impressive because she was in high school at the time.
Yep - you heard right. High school.
Whether atop the Great Wall of China, beneath the rotating Falkirk Wheel, pondering the Hyperloop or witnessing the Bridgestone World Solar Challenge, Dream Big is a roller coaster ride of engineering and ingenuity.
Of relentless grit and rockstar girls.
Rockstar girls...like you.
Now, some people may try to tell you that girls aren't made for engineering. They may say that science and technology are better left to boys because they are...um, boys.
When that happens, listen to bridge-builder Avery Bang who told us that "engineering is for the dreamers - the kids who build sandcastles and forts and imagine the ship in the playground equipment. In my experience, girls are some of the BEST dreamers, and become some of the most creative engineers."
Think of earthquake warrior Menzer Pehlivan, who urges you to "believe in yourself. It doesn't matter how difficult it can be at times. Believe that you can make a change in this world and in others' lives...and engineering is a fantastic way to do it! Through engineering you can change cities and build structures that will outlast your lifetime."
But above all, listen to the little voice inside you that whispers the answer in math before it's given by the teacher.
Listen to that voice and then raise that chin.
Look into your future with clear eyes and sky-wide curiosity...and know this:
You are built for engineering.
Girls, it's time to engineer your future. You're ready. It's time to Dream Big.
Dream Big: Engineering Our World is a MacGillivray Freeman Film, produced in partnership with the American Society of Civil Engineers and is presented by Bechtel Corporation.
Related
Popular in the Community