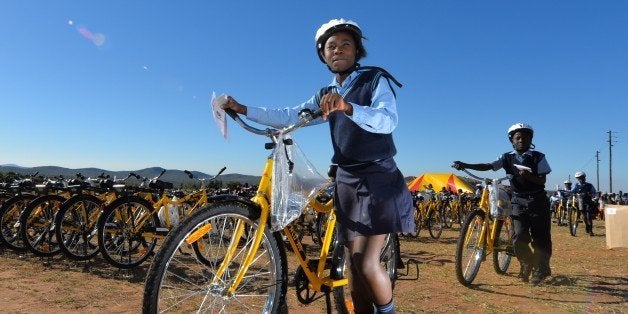 During the first #GivingTuesday, dozens of lovely giving stories filtered back to us at 92Y. People giving gifts large and small, some for the first time; people sharing on social media what causes they cared about -- again, often for the first time. One story in particular stood out, and our team has returned to it over and over when we think about why #GivingTuesday is so meaningful for us. An employee at a contracting company in Philadelphia shared that on the day, the owner of the company announced that all the employees would be volunteering cleaning the windows of a local shelter as their #GivingTuesday contribution. He said afterward that he wouldn't need to be told the next year, because he was planning to volunteer on his own. Volunteering for the day felt great, and when he told this story, he said the words we never forgot: that he had never before been "invited to be part of the giving chain."
That is one of the many, many examples of the way #GivingTuesday, a day that started as a simple idea, has opened up the conversation about giving to people who never before considered themselves philanthropists, who never realized they had so much to give -- who were never before invited to be part of the giving chain. Now so many of them are not just part of it, but are owning it, leading it and expanding it.
Giving is a representation of our moral drive to pay forward what we feel grateful for. If we are lucky enough to have a roof over our heads, if our children are lucky enough to be healthy and properly educated, we are driven to do our part to make sure that's true for others as well. And so gratitude leads to giving; and when we give, the rewards to ourselves are profound. Research has shown that people who give are happier, more fulfilled, more empathetic, even more professionally successful. And so giving leads to even more gratitude. The "giving cycle" brings out the best in all of us.
We created #GivingTuesday as a day to follow Black Friday and Cyber Monday, days that are lucrative for the retail sector. Could we, we wondered, help to create the same kind of energy and activity for the social sector, with the same concrete financial benefit? Is there appetite for a conversation about giving following two days of consuming? The answer was yes and yes, and, inspiringly, even in places where Black Friday and Cyber Monday don't exist. A community in Zimbabwe came together to rehabilitate a school for differently abled children. A community-wide blood drive was organized in Burundi. In Singapore, #GivingTuesday was extended to an entire week. Israel's #GivingTuesday was the largest online giving day in that country's history. Turns out, Black Friday and Cyber Monday were incidental. It was the call to give, to rally together with one's community, to celebrate the ways we can make each other's lives better that resonated.
#GivingTuesday has been invaluable as a learning experiment. Every day, we learn more about what motivates giving, who is more likely to give, what causes move people most. We hope that those learnings will ultimately make nonprofits more effective and able to do more good work with whatever resources they have. We've seen successful, creative, fun, inspirational and effective campaigns from organizations small (like World Bicycle Relief, which raised funds for 754 bicycles for students in Africa with long ways to travel to school) to large (like the University of Michigan, which last year raised $3.2 million). As the idea is taken and changed by the organizations who participate (and come together to collaborate) and the people who give to those organizations, we learn more and become more inspired by the level of innovation that the nonprofit world is capable of.
We're close to the fourth annual #GivingTuesday, and both organizations and individuals have an opportunity to make sure that it continues to be more than just a giving day. It's an opportunity to take a breather from the news of the day -- often saddening, or maddening -- to cross political, geographic and demographic divides to give to one another. In doing that, we become philanthropists. Philanthropy is more than just the writing of a check. Giving is the manifestation of our hopes and dreams for a better world.
This post is part of a series produced by The Huffington Post and the 92nd Street Y, founders of #GivingTuesday, a global day of giving that will take place this year on December 1. These stories highlight the work of organizations and people around the world who are committed to giving back and doing good this #GivingTuesday.
Calling all HuffPost superfans!
Sign up for membership to become a founding member and help shape HuffPost's next chapter