GoDaddy's investigation into my inferno of a situation turned out to be a telling investigation into GoDaddy itself.
This follow-up story isn't just appearing in cyberspace because a call from GoDaddy's office of the president came during my dinner a few hours after "Why I Don't Owe GoDaddy $6,579.51 (or $969)" published. Rather, "Why GoDaddy Refunded My $969 (and Will Be Making 'Significant Changes')" is a just resolution to an initially unjust resolution.
A good company makes few customer mistakes, but a company's true spirit is revealed in the resolution of its worst ones.
The caller from GoDaddy's top ranks (for fun, we'll call him Danica) began his missive by mentioning he'd just read my Huffington Post story about GoDaddy. A still-unexplained mammoth amount of data (this is now being investigated by the open source Drupal software community) was deposited into my GoDaddy hosting account.
This kicked GoDaddy's automated system into overage-fee gear. I was blindsided with a charge for $6,579.51, which was later reduced to $969 as a "courtesy" because of a "special circumstance." Danica then immediately proceeded to offer that he wasn't offering a full refund (as seen in the screenshot below) because of the power of the Web pen.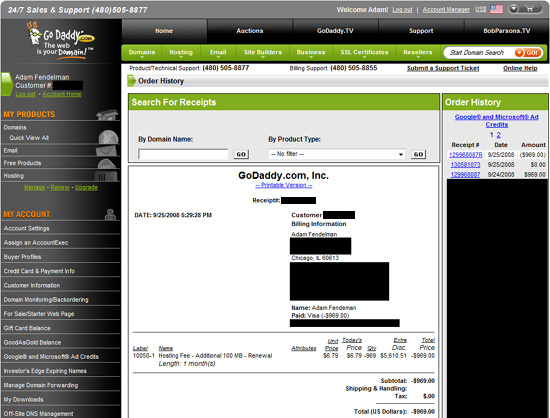 He would have done it any way, he said, even though the countless supervisors I've spent my week speaking with wouldn't, didn't, and told me they couldn't.
Danica commiserated with my situation. He understood and was kind, apologetic and professional. He even offered to call me at another time so as not to interrupt my dinner. (To my friend, Patrick, I do apologize for leaving you waiting at Pizza Rustica by yourself as Danica smoothed the troubled waters.)
As I've been saying all along and wrote in part one of this story on Thursday, Danica agreed that GoDaddy should have processes in place that could have easily prevented this situation. A simple e-mail notifying me that my disk space was spiking and then was at critical risk of exceeding quota, for example, would have been spiffy cool.
He concurred and said it'll be on his suggestion list for next week's innovation meeting. I do genuinely believe that Danica's intentions were sound.
I did feel he takes "part of his job" seriously to proactively seek out publicly documented customer issues (on Twitter, various social networking sites and in the press in general) for the betterment of the GoDaddy customer experience. Still, I question how this situation would have resolved without this particular consumer exercising his hat as a journalist.
That's something we'll never know. What we do know is there are gray areas in GoDaddy's procedures.
Danica would most certainly handle a situation different than, say, supervisor Dale Jr. or supervisor Candice. There also isn't precise clarity on how an emergency situation like mine should have been handled, or if there was a lack of training among the various people who adversely touched my life this week.
While I did feel Danica was honestly straight-shooting me instead of GoDaddy CEO Bob Parsons begrudgingly ordering the snuffing of a PR fire, I was concerned to hear that ambiguity exists in GoDaddy's billing systems. He said he couldn't tell me with 100 percent certainty that I wouldn't receive another $6,579.51 bill next month because of mysterious intricacies that exist within GoDaddy's systems.
See, my situation was resolved three days into the next billing cycle. Danica couldn't be certain when the company's computers would "flag" my account and determine whether or not to generate another massively unjust bill. While the situation should be averted, a month from now I'd call him directly and I'd have faith it'd be appropriately zeroed.
Another concern in this ordeal is the matter of proof. GoDaddy's security investigation came back conclusively and fingered my Web site's Drupal software rather than GoDaddy itself or an external hacker. That proof, though, couldn't be shared with me because of "security purposes." I was to merely take GoDaddy's word, and after my week with them, my name as Adam became Hella Dubious.
Danica echoed that no-proof sentiment. He said that's because of my status on a shared (cheap) hosting plan. Still, he said GoDaddy would certainly comply with a subpoena should the matter turn into a legal investigation. Then, he said, all documents and logs would certainly be revealed. That surprised me. I never once mentioned anything to him about the concept of suing GoDaddy.
After dinner, I joined a few friends for a drink. When I came home and hopped back online, my full $969 refund had indeed been promptly processed. Yes, Danica did me right. After being fraught for a week over a situation that could have been averted by a single automated e-mail at a company that automates so many other functions, I can finally heal and return to everyday life.
While GoDaddy's second resolution was the only action that made sense this week, will its billing system pour salt on the wound a month from now? What caused the influx of data in the first place? Was the refund a result of the Huffington Post blog or would it have come without it? Most important, will GoDaddy listen up, learn and install processes to prevent this situation and others like it in the future?
I'm on the fence whether I'll be around to see GoDaddy through to my 2010 hosting renewal date. On Thursday, I said it wasn't a pleasure to meet you, Bob, and I'm sure you can understand why. Now that it's Friday, we've somewhat kissed and made up. Consumers deserve and demand more, Bob, and it'll take you and your machine time to earn back my trust and your credibility.
In the meantime, I know one lesson for sure: If you're in the right and you've been wronged, people hear you so long as you're loud enough.
Update: As I was awaiting editor approval for this post to go live, I received another call from GoDaddy. This one came from GoDaddy's head of hosting. This gentleman (we'll call him Amanda) had some encouraging words about the positive and lasting effects that will result from this situation.
He said there will be some "significant changes" put in place to GoDaddy's overage policies and disk space/bandwidth systems. He said there will be more "proactive" methods and service operating agreements (SOAs) put in place to improve the way GoDaddy communicates back to customers.
He added: "Though this affected you and was highly visible on the Huffington Post, it has been reconciled for you and will be improved for other customers, too. We appreciate you writing about this. This is how we get better. It sometimes takes these types of things to know that they're happening. We have so many moving parts and things don't always get caught in time."
In the end, that's a promise that my stress will help to prevent yours. To conclude our conversation, Amanda welcomed me to write again about future issues so GoDaddy can continue to evolve.
Popular in the Community