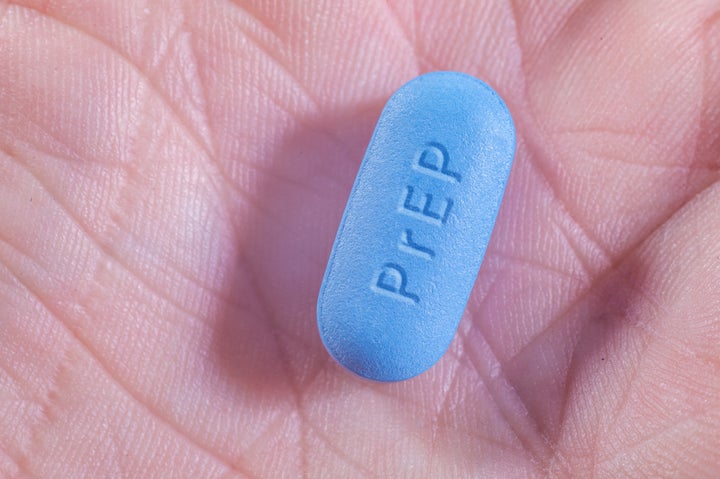 The last time a man came inside of me I was 17 years old. Todd was 19. We were in the middle of a San Francisco f*** fest that started on a nude beach and ended up with coffee and more flipping in his apartment near the Castro. The year was 1981, and within a year the memory of our evening terrorized me like knives falling from the ceiling.
By 1985 Todd was dead; by 1988, the year I took my first HIV test, half of my friends and lovers had died. I'd moved to New York, and had been inexplicably spared. I started using condoms religiously after my last night with Todd (even in serious, committed relationships), a practice I continued until two years ago.
When I first started PrEP it was half-experiment, half-dream. It seemed too good to be true, as I'm sure most of my peers would agree, and I didn't know if, despite tremendous evidence of success, I'd ever be comfortable with a condom-less sex life.
Anyone who lived through the plague understands the haunting feeling of even suspecting the latex broke. We'd never have unsafe sex again. We'd never feel the pleasure of skin inside of skin. It was one more sacrifice in a world of getting less than we deserved.
I'm not complaining, because we were the lucky ones. "Undetectable" is yet another miraculous achievement on the road to a more fulfilling, stress-reduced sex life, for everyone involved. We've come to a point in gay sex where "Positive" means "Discussion," and little else. PrEP is doing the same for condoms. "Bare or Safe" is now "Raw or Wrapped."
I no longer use condoms and I have no regrets. Evidence now suggests that, if you take PrEP daily, as I always do, the risks of HIV infection is roughly the same, or lower, than condoms, and I've rediscovered a world of pleasure denied to me for more than 30 years.
I'm lucky to have high testosterone levels, but even in my twenties the rubber was often a boner kill, and there have been so many times partners and I settled for oral sex or jerking off. The last time I put a condom on, in the fall, at his rightful insistence, the mood vanished faster than Trump's brain at a science fair.
I made the decision to go completely condom-less soon after, and the rewards are great. Sexual gratification has heightened exponentially — the best it's ever been — and any partner I'm with has to be comfortable with my choice. I would never encourage an unsure lover to "Trust me: I'm on PrEP."
I'm aware that PrEP doesn't prevent other STDs, and that's something I'm willing to accept. (For the record, the only STD I've ever contracted was from oral sex with no swallowing, a practice that most of the ardent safe-sexers didn't give up during the worst of the AIDS years.) My PrEP use means I'm required to test for HIV every three months, a great way to know that I'm always up to date on my status. It also reminds me that I need to be careful about STD contraction, and that the best way to achieve this is to practice restraint.
Your sex life is your business: As for me, I don't PNP, I avoid 'Pump N Dumps' because I find them unfulfilling and a bit depressing, and I may be on Truvada but if you think I'm a whore that's your issue, not mine. Since I'm the Top 90 percent of the time, I haven't had a man finish inside of me since Todd back in 1981. I'm still uncomfortable with the notion of being a PrEP Bottom, but when I meet the right man, the one who makes me feel comfortable, I'm sure I'll be fine.
There will always be men from my generation — and a few from the next — who don't believe in a condom-less sex life, and probably never will. I understand and I respect their choice. If they judge me for mine, we're probably not a good fit. Slut-shaming only works if you're susceptible to worrying about what others think of you. The gay men I grew up with sacrificed so much — rights, families, lives — that returning to fantastic sex is one more deserved stop on the road to equality.
Sure, it's possible I could contract HIV. It's also possible an air conditioner could fall on my head. It's time to let go of irrational fear and enjoy, once again, the joys I truly learned at 17.
David Toussaint writes about subjects affecting older gay men. If you've got a "Daddy Issue," let him know. --DRT
Popular in the Community