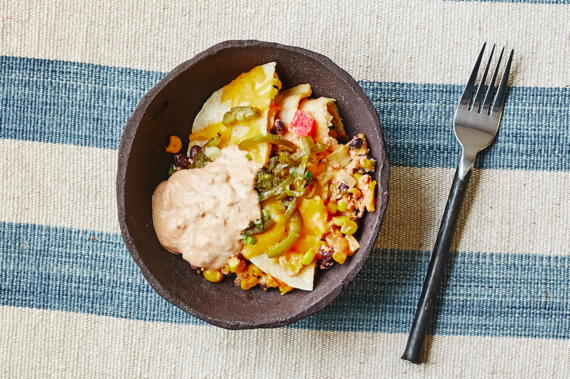 Greek yogurt--the tangier, thicker alternative to regular yogurt--has been rising in popularity for a few years now, going from a one-percent share of the yogurt market in 2007 to 49% by last summer. But the trend isn't stopping there. Increasingly we're seeing savory versions of Greek yogurt pop up. Why? Savory yogurt is a perfect storm of food trends.
Considering its great taste and nutritional benefits--40% less sugar, 38% less sodium, and more than twice the amount of protein than traditional yogurt--Greek yogurt's popularity should come as little surprise. Because it's so much less sweet than "regular" yogurt, Greek yogurt has a neutrality that allows it to pair well with sweet and savory ingredients alike.
However, while fruit-filled parfaits and desserts that involve Greek yogurt are commonplaces, a new trend away from sugary yogurt and other sweetened snacks is taking this versatile food in an entirely new direction. This brings us to savory yogurt, which was named one of the hottest food trends for 2015 by the Associated Press.
By removing so much of the sugar and carb content from our "regular" yogurt for the sake of added protein and a tangier flavor, we've set Greek yogurt up for savory success, so it makes perfect sense to start incorporating savory ingredients like cucumbers, olive oil, and salt and pepper. In other words, savory yogurt is the next logical step in the evolution of Greek yogurt's meteoric rise.
Savory yogurt is made by mixing plain, strained yogurt with savory ingredients you might otherwise find in a dinner recipe--things like carrots, beets, avocado, and mango.
First of all, Greek yogurt goes well with just about anything. And, because of its nutritional benefits, it makes a perfect replacement for fattier ingredients or a healthier alternative to other yogurts that are high in sugar.
And with savory yogurt shops appearing in Manhattan, the trend is spreading to the masses. For example, Chobani Soho boasts such savory creations as Hummus & Za'atar (hummus, chickpeas, za'atar, extra virgin olive oil, lemon zest sea salt, and black pepper) and Spinach & Garlic Dip (spinach and garlic yogurt dip, Kalamata olives, sumac, and extra virgin olive oil). Sohha Savory Yogurt in Chelsea has a blend called "Everything Bagel," consisting of roasted pine nuts, poppy and sesame seeds, garlic, and onion.
And at Whole Foods you'll find Blue Hill's vegetable yogurt in butternut squash, beet, carrot, and tomato varieties.
At Plated, we find new and delicious ways to add Greek yogurt in dishes like White Pizza with Buffalo-Sriracha Chicken and Yogurt Ranch.
For those who want to concoct their own savory yogurt recipes at home, making it couldn't be easier. Just mix that plain, tangy yogurt with ingredients as mild as olive oil, cucumbers, and salt, or as substantive as squash and sweet potatoes.