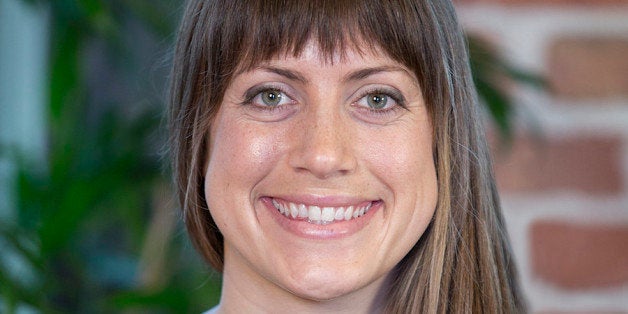 As a sustainability coordinator, it's my job to inspire, engage and support salesforce.com employees who are passionate about environmental issues. I manage a program called earthforce, a group of volunteer employee champions dedicated to promoting and celebrating environmental responsibility at salesforce.com. Earthforce members raise awareness around key issues such as energy conservation and efficiency, recycling and composting, responsible purchasing, low-carbon commuting and much more. They also identify and support the implementation of solutions that help our company operate in a more environmentally sustainable way.
I've discovered firsthand that green teams like earthforce play a very special role in enhancing the workplace, and not always in the ways you'd expect. Of course, there are the obvious results that I care deeply about: earthforce helps us conserve natural resources and be a top-notch corporate citizen. Each small good deed, from turning off the lights to recycling and supporting local environmental nonprofits, adds up. Because of this, engaging employees is an important part of our larger environmental strategy.
Earthforce is also providing a vehicle for social connection. In fact, members often work closely with coworkers they would not meet otherwise because they are in a different department, office or country. For me personally, seeing friendly earthforce faces everywhere I go makes our urban campus of thousands feel more like a small, welcoming neighborhood. Earthforce connections are meaningful because we are actually collaborating on sustainability projects, environmental volunteering opportunities and educational events. For me, volunteering together at a local nonprofit forges a stronger bond than chatting at a traditional networking event.
Earthforce members often get involved in ways that extend beyond their job description. For example, one of our earthforce groups recently designed and executed an office-wide education campaign after recycling services were added to the building. This was a challenging, yet fun way for them to collectively stretch their marketing muscles, although none of them are marketing professionals. I am inspired by such examples of what just a few people can accomplish together.
Individuals on earthforce can also step into a leadership role no matter where they sit within the company. In fact, across many different regions, our office managers have become key sustainability leaders by leveraging what they know about keeping the office running smoothly. From sourcing more eco-friendly office supplies and snacks to preventing food waste, each small change gets us closer to our goals. Moreover, employees tell me that being more engaged in this way makes them happier, more effective team members who feel even more proud to work at salesforce.com.
Connecting people in new and better ways is what we are all about as a company and I'm thrilled that earthforce has become a powerful way to embrace this value internally.
Salesforce.com leverages the power of our people and our products to reduce the impact that we and our customers have on the planet. From how we deliver our products to our focus on renewable energy, the salesforce.com Sustainability Department works to incorporate sustainability into all aspects of our business. Ojure manages global engagement and sustainability reporting for the Sustainability Department. To learn more about sustainability at salesforce.com, visit www.salesforce.com/company/sustainability.
REAL LIFE. REAL NEWS. REAL VOICES.
Help us tell more of the stories that matter from voices that too often remain unheard.