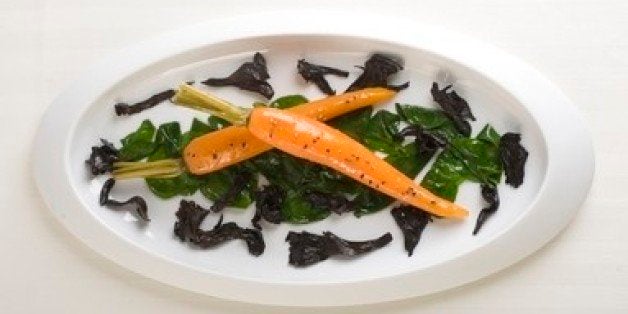 When it comes to choosing favorites, it's hard. Most of us can't afford to go to a 1 Michelin-star restaurant, let alone a 3 star. And going to several of them just to figure out which chef we like the best, well, that's nearly impossible.
Guy Savoy should be your favorite, and I'm going to tell you why.
Sure, his eponymous restaurant in Paris has 3 stars, and yes, he trained Gordon Ramsay. But despite being an internationally acclaimed chef and a legend of nouvelle cuisine, he's the kind of guy whose eyes sparkle when he talks about a carrot. Just a simple, raw, carrot. Savoy describes fruits and vegetables as one would a Monet, which isn't surprising given his love for art.
For Guy Savoy, it's all about feeding people -- the intensely intimate, powerful act of preparing something that will be consumed. The words' respect' and 'passion' pop up the most when talking to him, and everything from his body language to his culinary soliloquies convey how seriously in love he is with food.
We sat down at his restaurant on the Rue Troyon and talked about his passion for singular, unadulterated produce and high quality ingredients. He told me about which cooking trend he hates, his special breakfast concoction, and why he decided to become a chef.
From his mother's kitchen...

Guy Savoy decided to become a chef because of his obsession with the tangible and the concrete. This obsession started early, in his mother's kitchen, while watching her transform several banal ingredients into fragrant sugar cookies. It was this magical process that inspired him.
"Tangible things are what punctuate my day. Early in the morning, the produce arrives, we look at the ingredients, we touch them and we smell them. It's a physical rapport. Then we transform them. In just a couple of seconds, they're completely altered. It's instantaneous. Everything happens in the moment. And it's tangible, it's concrete. At the same time, when someone eats what we've created, we can see their immediate reaction. These are always very direct, strong sensations, because these kinds of transformations are magical. That's why I became a chef. "
Whether it's cleaning a 14-kilo fish or inhaling the perfume of a mound of fresh peaches at the market, for him, every experience is gastronomically profound. He describes himself as being in a permanent state of marvel and sensory curiosity.
...To his 3-starred restaurant

"After 46 years in this profession, I'm still as fascinated with a dish that comes out of our kitchen as when I first started. I think about the initial work that was done by the farmer, because each product has a history - it has a genus, someone sowed its seeds, then it had to grow while avoiding pests and diseases, hail, the rats that come and try to eat them...these are the things that I always think of, and because of that I don't only respect the products, I venerate them.
It's my role to make my team understand that a carrot is just as important as a lobster. There are people who came before us who spent months bringing it into existence. And in just a couple of minutes we can either sabotage it or flatter it. Nowadays in Western countries it's easy for us to forget this, and we end up losing the notion of 'exceptional.' An apple and a carrot are not insignificant - it takes years for apples to grow, years! I'm permanently aware that an ingredient is not a spontaneous thing; it's a product of generations."
When a chef embodies such a high level of reverence for simple products and teaches his apprentices how to respect even the most mundane vegetables, it goes without saying that the result will be absolutely stellar. This is exactly the attitude and philosophy that I want a chef to have when I'm spending half of my salary on dinner.
And that's why Guy Savoy should be your favorite chef.
10 things you should know about Guy Savoy:
His worst food flop was during his pastry apprenticeship. "I forgot to put the salt in my brioche. It was a complete disaster, it was inedible. I've never been so annoyed, and that's when I truly learned that every ingredient is crucial!"
If you invite him to dinner he will bring wine. "Or chocolates because no one makes chocolates at home. Whereas if you bring a tart and the host's specialty is tarts, then you feel silly."
The food trend that he hates the most are emulsions. He thinks that "it would be better if they were limited to beauty products."
He refuses to eat raw bell peppers and insects.
He's totally addicted to sorbet when he's working in the kitchen.
If he couldn't cook, he would be a sculptor, because "it's a profession that revolves around concrete things and texture, just like in cooking. But I would have to find a way to be extremely talented at it and to find a material that would produce an instant, immediate result."
He doesn't mind when people take photos of his food. "I try to remember what I would have liked to happen in my restaurant on the very first day that I opened. I would have been so proud to have my dishes photographed."
You shouldn't hesitate to invite him over for dinner. He believes that "one can always tell when people have put their heart into a dish, even if it's just pasta."
Every morning he has Earl Grey tea, with a few cardamom pods and some peppercorns added to the tea pot. No sugar, no milk.
If calories didn't matter he would drink hot chocolate every day.
This is the second installment of the 'Getting to know French chefs' series.

Photos courtesy of Guy Savoy
Lobster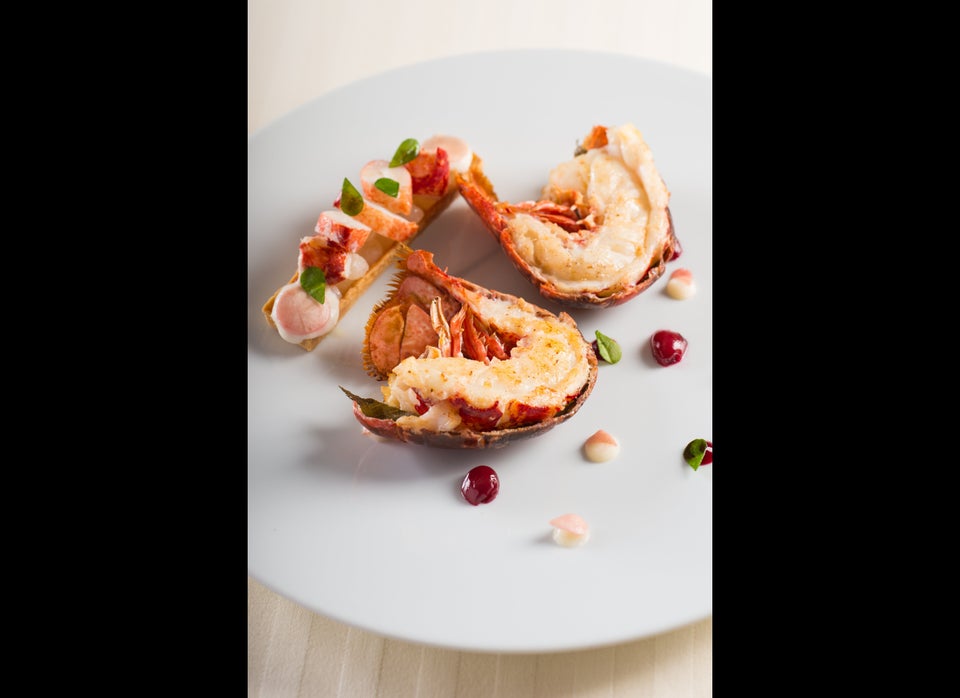 Crab and Beets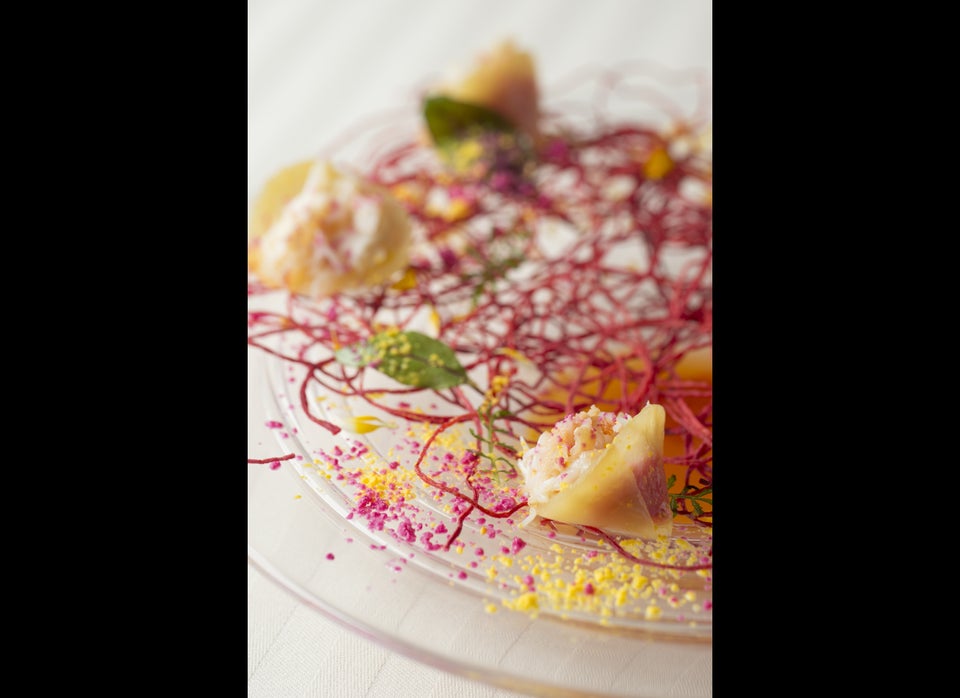 Jasmine & Rhubarb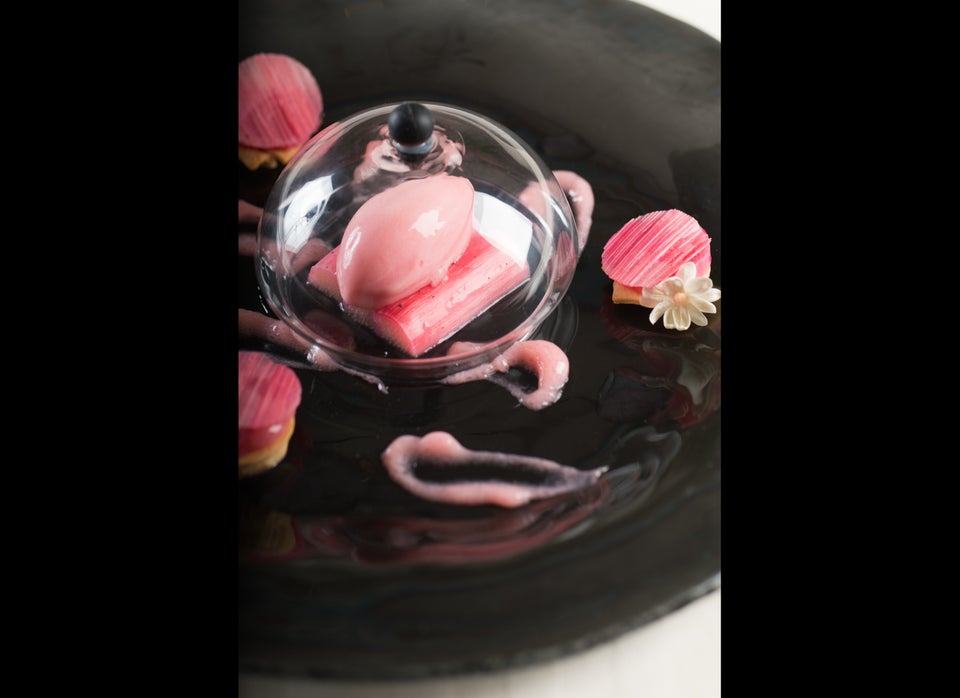 Coconut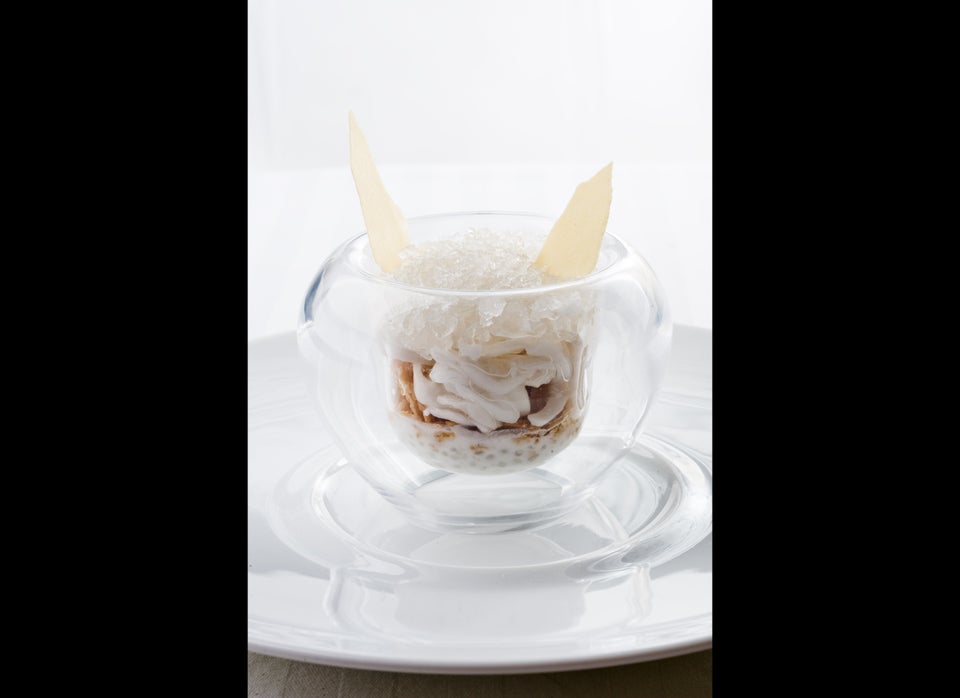 Shellfish and Asparagus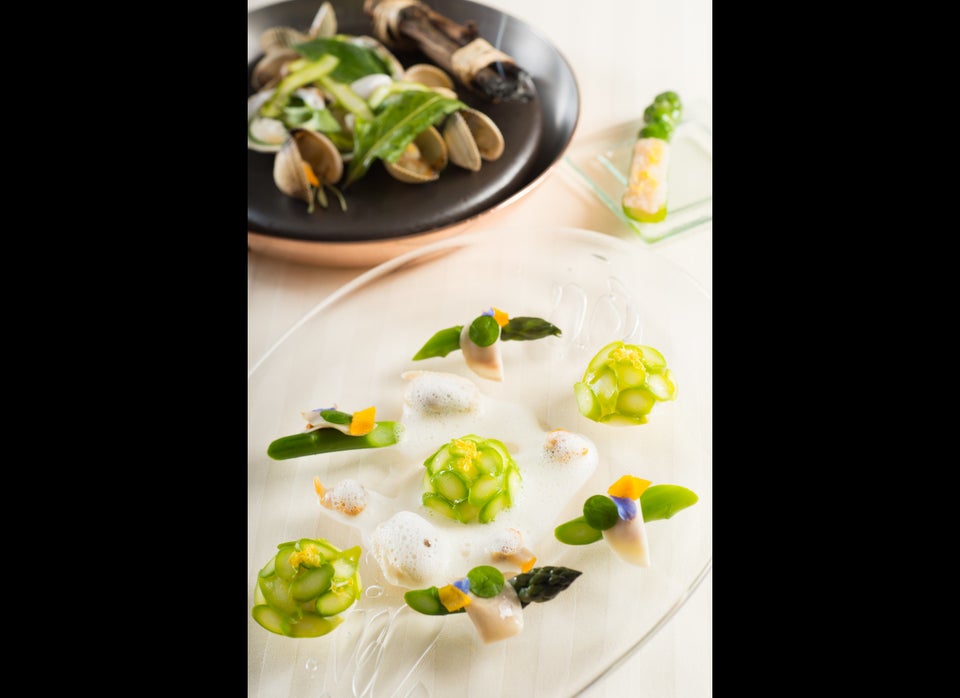 Myriad of Young Peas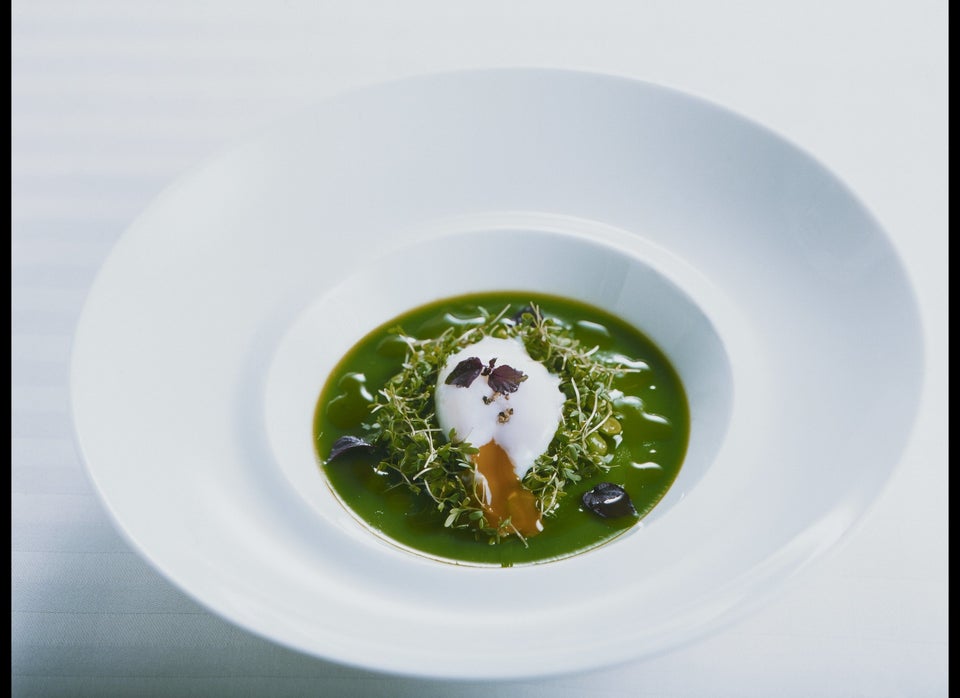 Zucchini Flower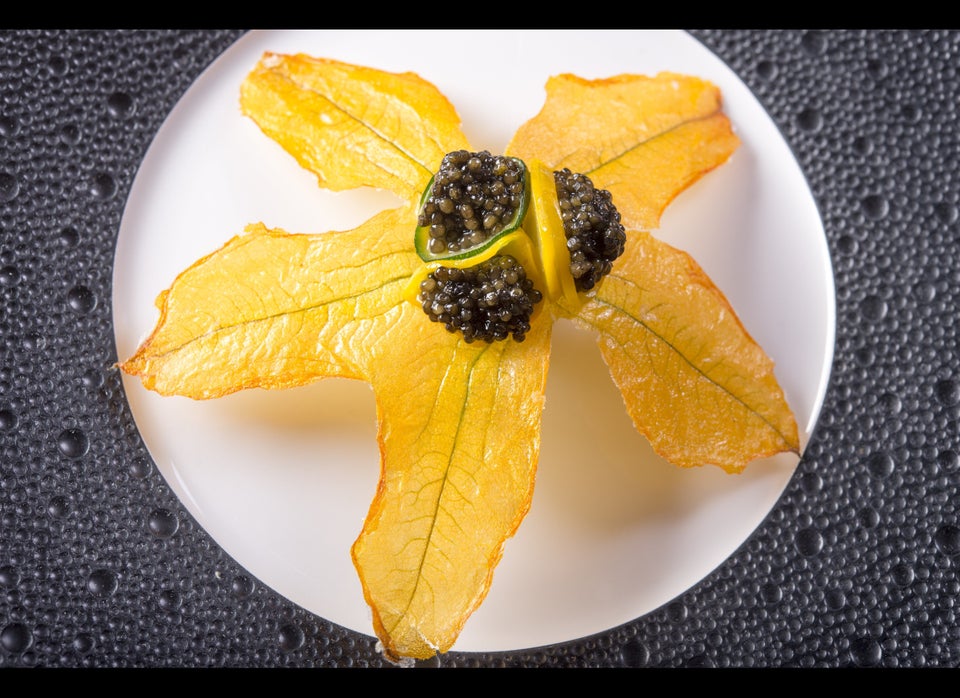 Artichoke and Black Truffle Soup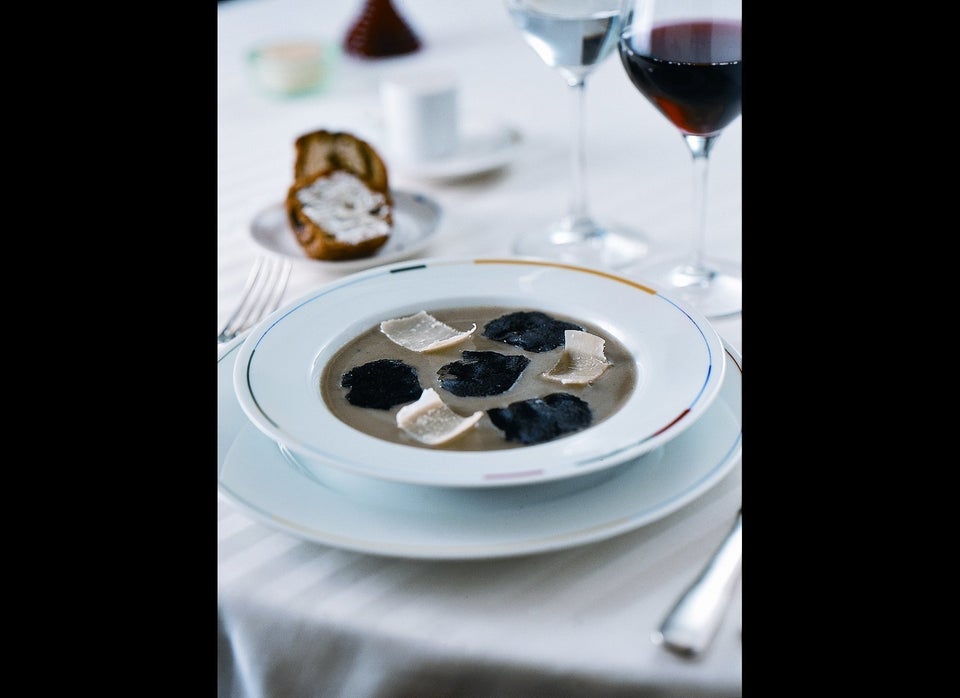 Support HuffPost
A No-B.S. Guide To Life
Related
Popular in the Community