The Hollywood Reporter just hit 17.1 million worldwide monthly unique visitors, a massive 21 percent rise over its previous record of 14.1 million unique visitors in March 2014. At the same time, Billboard also set a new all-time high for monthly traffic with 13 million uniques, beating out its previous record of 12.7 million unique visitors from May 2014.
What do music and celebrity gossip have in common? Ultimately, the success of these topics boil down to one element: people like to share happy stuff with one another. Whether its celebrity wedding photos or sugary pop hits, social media users love to post, promote, and share topics that make them feel happy, excited, and engaged.
Brands and media coordinators certainly think they're the experts in figuring out the secret recipe for viral success. "Our insight, authority and ability to deliver news, compelling stories, and lifestyle from the inside of two of the world's sexiest industries is intoxicating and unrivaled in the digital space," said Janice Min, co-president and chief creative officer of Guggenheim Media's Entertainment Group. In the end, however, many viral outbreaks are the product of users just doing what they do best: sharing (and sometimes oversharing).
So what exactly makes social users happy, and willing to share again and again? I've considered three of the most shared, circulated, and viral-ized topics on social and analyzed them below.
The ALS Ice Bucket Challenge took social by storm starting in July of 2014. The premise is simple: dump a bucket of ice over your head, then challenge someone else to do the same. If they refuse or don't do it within 24 hours, they have to donate $100 to ALS research and support. Participants typically pledge $10 as a sign of goodwill towards the cause.
Too many celebrities have taken part to name, from Bieber to Lebron. Is celebrity involvement the reason for the viral nature of these vids? I don't think so -- in fact, I suspect the celebrity involvement was strictly optional to the Challenge's viral effects.
The real reason for the viral spread of the Ice Bucket Challenge is the good vibes that lie at the movement's core. Sometimes information from non-profits can be difficult to digest, and positivity and hope can be eclipsed by an overwhelming sense of powerlessness. The Ice Bucket Challenge allowed participants to feel connected to a cause, not just paralyzed in the face of information and statistics. It was an opportunity to share an experience with other people while spreading awareness.
A fun activity for a great cause -- what could be more positive (and share-worthy) than that?
Weight loss can be a touchy subject in person, but on social media, users love nothing more than to share their progress and, particularly, their tips and secret weapons. One example is the rise of the hCG diet. The hCG diet limits you to 500 calories a day for eight weeks while injecting the hormone, like USHCGShots.com offers, or by taking a the product by oral drops, pellets, or sprays. After the hCG diet was mentioned on the Dr. Oz Show, the shots were instantly a buzzed-about topic on social media and blogs.
Just like charitable causes, the topic of weight loss may be associated with anxiety or hopelessness for some people. But ultimately social media provides a vehicle for success stories and breakthroughs that inspire other users to think about the issue differently. Some of the most popular tags reveal how willing users are to share in one another's successes: #weightlossjourney on Twitter, and #lifestylechange on Instagram.
We've all seen them: ridiculously cute proposal videos in which good-natured suitors pop the question in all sorts of unexpected (and, okay, delightful) ways. There was the classic skyscraper proposal: the lights go out, the lucky lady's name appears, and "WILL YOU MARRY ME?" scrolls in giant letters across the building.
And who could forget the movie trailer proposal. No one knows how he pulled it off, but a daring dude managed to create, and actually screen, a movie trailer culminating in the question of a lifetime. The question-popper even went so far as to speed to the theater, burst through the doors, and get down on one knee, all of his actions perfectly choreographed with the trailer.
My personal favorite is the Bruno Mars lip sync proposal, a fully choreographed dance routine featuring friends, parents, and an expertly timed slow-cruising Honda. The epic gesture has netted over 27 million views on YouTube so far. Talk about 'social engagement'!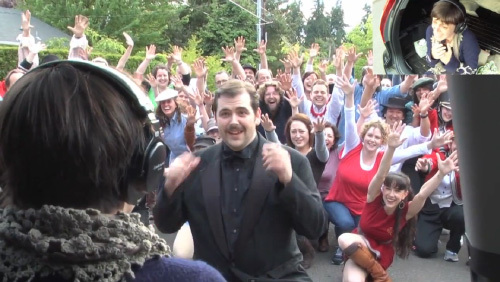 Source: hongkiat.com
What is it that attracts social media users to wedding proposals? I think that deep down, most of us are suckers for a real-life happy ending. Whether you're a forever-alone single or a happily-married parent, these proposals tend to conjure up a sense of hope, excitement, and what the Buddhists call mudita -- the particular feeling of joy that comes from vicariously sharing someone else's happiness.
Charitable revelry. Stellar weight loss successes. Over-the-top proposals. Mudita may just be what all of these viral concepts have in common. Most users love the opportunity to participate in another person's joys and accomplishments.
Social users have repeatedly proven this simple fact: happiness is worth sharing, again and again.
REAL LIFE. REAL NEWS. REAL VOICES.
Help us tell more of the stories that matter from voices that too often remain unheard.