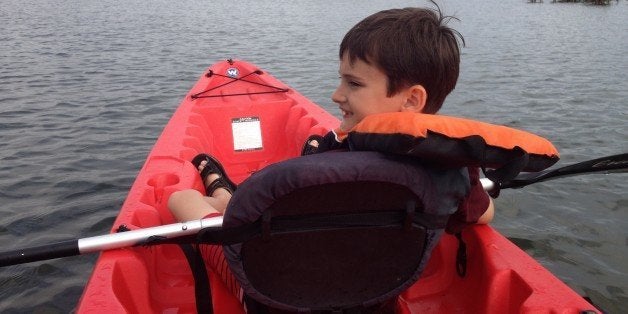 Out of the blue last weekend, apropos of basically nothing I could immediately ascertain, my 7-year-old announced that he wanted a brother. Or a sister. He'd take either, he informed me a bit wistfully as he squatted by a blueberry bush. He just wanted a sibling. And if I could produce one now, that'd be nice, thanks.
We'd been out picking blueberries at a local farm. Berry-picking on a Sunday morning being my best response to the perpetual I-have-no-flippin'-clue-how-to-entertain-my-kid-today dilemma that every parent who's not indentured to a kid's sports team confronts when they forget to make weekend plans. So when my dad texted me to see if we wanted to go pick berries with him and my mom, I grabbed at his invitation like it was the last 'copter out before the fall of Saigon. Take us please!!
As we'd wandered up and down the rows of neatly planted bushes, looking for the darkest, ripest berries and dropping them into our buckets, I'd gotten lost in the zen-like, meditative quality of the pluck-n-drop, pluck-n-drop, pluck-n-drop of berry picking. So my son's sudden request caught me totally off guard. Of course, the kid always wanted something. Like every kid I knew, mine had a major case of the Gimmes. But this wasn't like the garden-variety pleas I usually got for Hot Wheels cars and water blasters and every Beyblade ever made.
Not that Fletcher had been the first to make such a request. Oh, noooooo. I'd been fielding questions about when Fletcher would be getting a sibling since before the kid was potty trained. The moment he turned 2, it seemed, there was an immediate pile-on of When? When? When? from all quarters. As if some biological timer had gone off that everyone could hear but me. Apparently, two years was long enough to gain some equilibrium in the parenting department, so um, Batter up! Let's go for Number Two.
My standard reply to these really-not-your-business questions would typically alternate between "We don't want to have more kids than we can afford to send through graduate school" and "Well, maybe if we'd started earlier...."
I was just six weeks shy of 40 when Fletcher was born, and three weeks past my 47th birthday when he made this particular grab for a sibling. I know that thanks to the wonders of reproductive science, women even in their late 50s have babies these days. And hey, if you wanna be pushing 80 at your kid's college graduation, have at it. I hope that in the excitement of watching your child receive a diploma, you don't fall over your walker and break a hip. Meanwhile, as far as I was concerned, my factory produced a single model and was hereby closed to business. I was plenty comfortable with that.
Last year, a TODAYMoms.com survey came out with the news that moms of three reported far and above more stress than moms of one, two or even four-plus kids. Not that it's a contest, but believe me, I stressed enough for all 7,000 moms in that survey just having my one. I'd resigned myself to the fact that I would undoubtedly sleep the rest of my nights with one ear cocked for the sniffled cries of Mommy? Mommy! ... and ceded the luxury of being permitted to pee solo (even now, my son still feels the need to "chaperone" me in the loo)... and relinquished precious DVR space, first to Sesame Street and Word World episodes, and now to a collection of Disney Channel and Cartoon Network shows... and given up any hope of ever again reading the New York Times on Sundays in peace. But even as I cradled my son as an infant, I knew I wanted at least half a shot of getting some of my grown-up, pre-mommy life back. At least in the form of a work day that wasn't first disrupted by changing diapers and now dictated by homework, and a social life that didn't revolve around play groups and birthday parties... unless said parties involved attractive consenting adults, condoms and some lube.
Besides, I was well-acquainted with the sturm und drang that even one more child could bring. Though my sister and I are incredibly close now -- the best of friends who live just a quick 12-minute drive from each other -- for much of our childhood, we fought our own bloody version of the Civil War, then approximated frosty Cold War relations for the early part of our adult life. I honestly don't know how our mother withstood the chaos we two wrought. I am not a particular fan of chaos. I wasn't eager to gamble on having World War III unfold in my house just because I had a momentary bout of baby fever. So, my husband and I had one, and firmly decided we were done.
That was one of the key reasons I'd wanted my son growing up near my sister's kids, who I hoped would come to feel more like brothers than cousins. But considering all the time he spent playing with his older cousins, it never occurred to me that my son might miss having a sibling of his very own.
"What made you think about having a brother or sister?" I asked my boy gently.
"I just saw a brother and sister running up and down the hill," he said softly. "And I thought, If I had a brother or sister, they could do that with me. I want someone to play with me."
"Oh, Sweet Pea, I'll play with you," I said quickly, brightly, hoping to ease the sting of not being able to have the one thing I honestly could not give him. "I'll be your playmate."
"You're always working," he said, crossly.
Ouch. I do work a lot. It's true. But ouch. Besides, if I was honest, running up and down a hill wasn't exactly what I'd call fun.
"You know --" I tried to salvage the situation with a little logic of my own. "If you had a brother or sister, you'd have to share your toys."
"Then can I have an older brother or sister?" he asked, hopefully, not missing a beat. "If they're older, they won't want my toys." I was both touched and tickled by his reasoning. Seriously, this kid is gonna be some kind of logistics expert one day. He is always trying to figure out a workable solution.
I thought about explaining the impossibility of pulling off a back-to-the-future maneuver that would allow me to go back in time and have another baby who would then become his older sibling. But that wasn't really the point. My boy wanted something -- badly -- that was beyond my ability to give him. There are lots of things I have no problem saying No to -- more Hot Wheels, more Beyblades, more Minecraft, more video games of any stripe, actually. But though there aren't enough squeezable, dimpled baby cheeks to lure me back to the Diaper Genie days, it still made my heart ache to have to say No to this.
So I did what any mom does to soothe over sadness. I offered something sweet. Fresh-baked blueberry muffins, to be precise, to be made when we got home with the bucket of fresh berries we'd just picked. And I pinky-promised that next weekend, I'd come up with a less lame playdate than picking fruit at a farm with mom, so that my son would really have someone to play with.
A version of this essay was originally published on Lifescript.