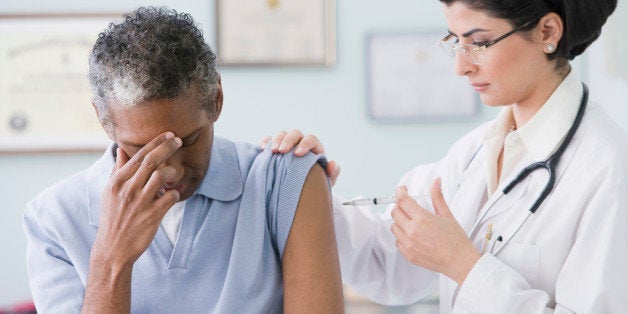 You undoubtedly have heard that some of the country's biggest health insurers have decided to leave several Obamacare markets, which means that tens of thousands of us will be affected next year.
You probably haven't heard -- at least not lately -- that some of the biggest health insurers are moving full steam ahead to merge with each other, which means that tens of millions of us -- yes, millions -- will be affected next year. And not in a good way. If the consolidation happens as planned, many of us will find ourselves in health plans with much worse patient satisfaction and customer complaint scores.
Here's some context: Executives of UnitedHealthcare, Aetna and Humana made headlines this summer when they announced plans to quit selling policies on several Obamacare exchanges at the end of the year because they haven't yet figured out how to turn a profit on that business. That means people enrolled in those companies' Obamacare plans will have to pick a different insurer for 2017.
That's a big inconvenience for those folks, of course. But far more of us, including several million who are enrolled in employer-sponsored plans, will be more than inconvenienced if state and federal regulators approve the Anthem-Cigna and Aetna-Humana mergers.
Employers, consumer groups, the American Medical Association and many other organizations have told regulators they think those mega mergers are not in the public's best interest. The U.S. Justice Department and several state officials agree. They filed a lawsuit in July to stop both of them. Nevertheless, the mergers are far from dead.
That should worry us. A lot. That's because the acquiring companies, Anthem and Aetna -- but Anthem especially -- have higher customer complaint ratios and lower patient satisfaction scores than other companies, as recent reports by the state of California's Office of the Patient Advocate (OPA) show. And if the Anthem-Cigna merger goes through, Anthem, with the worst scores overall, would become the nation's biggest health insurer.
"Your Call Is Not Important To Us"
Take a look at OPA's Annual Health Care Complaint Data Report, which provides a wealth of information about the complaints California regulators received in 2014, the most recent year for which data were available for analysis.
Anthem scored the worst by far of any of the other health plans operating in the state. Data provided to OPA by the Department of Managed Health Care, which has jurisdiction over most of the state's HMOs, showed, for example, that Anthem had 12.28 complaints per 10,000 enrollees. Compare that with Kaiser Permanente, the nonprofit company that rivals Anthem in terms of enrollment in California. Kaiser had just 4.50 complaints per 10,000. In other words, Anthem had nearly three times as many complaints as Kaiser.
Anthem also led the pack in the ratio of complaints received by the California Department of Insurance. That department said Anthem had a whopping 47.64 complaints per 10,000. Cigna, the company Anthem is trying to buy, had just 2.69 complaints per 10,000.
And it's not just in California that Anthem has generated an inordinate number of complaints about how it treats its customers. It appears to be nationwide. In fact, the Department of Justice cited Anthem's less than stellar reputation in its lawsuit to block its takeover of Cigna. This is from a September 20 story in the Hartford Courant about the status of the proposed $54 billion deal:
The federal government claims that many large employers dislike Anthem and that doctors fear the company because its large customer base gives it leverage in negotiations.

The Department of Justice complaint says that although Cigna can't get as low prices from hospital systems and doctors in some markets as Anthem does, "Cigna competes vigorously with Anthem for large groups by offering exceptional customer service, innovative wellness programs that lower its members' utilization of health care, and provider-collaboration programs with hospitals and doctors. By contrast, many large-group employers believe that Anthem provides poor customer service and is far less innovative. Soon after the merger was announced, two prospective customers complained to Cigna: "We hate Anthem and you guys are about to become them."
When it comes to how patients rate their experience with their HMOs, another report by the California Office of the Patient Advocate shows that the big for-profits involved in the proposed mergers also get much lower scores than their nonprofit competitors. Nonprofit Kaiser Permanente's HMOs were the only ones rated "excellent."
Earlier this month, a Harvard Law watchdog group filed complaints with the U.S. Department of Health and Human Services against seven big insurers -- including Anthem, Cigna and Humana--alleging that they all were in violation of anti-discrimination laws pertaining to the coverage of HIV/AIDS treatments. The allegations involved refusing to cover vital medications that HIV/AIDS patients need and requiring high-cost sharing for other medications used to treat HIV/AIDS.
"When an insurer requires chronically ill patients to pay a disproportionate share of the cost of medication, it violates federal law," said Robert Greenwald, clinical professor of law at Harvard Law School.
The American Medical Association has become one of the most vocal opponents of the mega-mergers, particularly the Anthem-Cigna deal. On September 21, the AMA released a report showing that Anthem's "market power" would be significantly increased in several states and numerous metropolitan areas -- especially in California -- if the deal is approved.
Despite all of this, the mergers could still happen. A U.S. District Court has set a November 21 trial date for the lawsuit the Department of Justice has filed to stop the Anthem-Cigna merger. The Aetna-Humana trial is scheduled to start on December 5. Both trials likely will go on for several weeks. If the Department of Justice loses, millions of Americans will soon find themselves enrolled in health plans administered by companies with some of the industry's worst quality and customer satisfaction scores. That's something not only to worry about but also to try keep from happening. The last thing we need is for Anthem and Aetna to be more in control of our lives.
This has also been published by HEAL California. If you believe money should not be a factor in one's health, join HEAL California to make a difference.
Popular in the Community