It's no secret that the tech industry is home to some of the most cutting edge innovations and the greatest economic growth out there today. The numbers don't lie: in the past ten years, the astronomical growth rate of tech-related jobs has been 31 percent faster than that of other rapidly-growing industries, and the field shows no signs of slowing down any time soon.

In fact, the explosive growth of the tech industry is not only eclipsing other major industries but is also beginning to infiltrate them and, in some cases, swallow them whole. Part of the impetus behind technology's spilling into other industries has been the unceasing growth of the Internet of Things, which a study from Deloitte predicts will be a realm of great expansion at some point in the near future.
The "Internet of Things" is a far-reaching term that refers mainly to the many developments across industries in wireless machine-to-machine communication. Whether that be as simple as projecting a computer screen onto a TV or as potentially life-saving as the load-bearing sensors on a bridge that communicate their statuses to the wireless internet in one's car. It's predicted the IoT will change your life. What the increasing ubiquity of the Internet of Things has shown is that technology can have a profound impact on whole industries that were previously thought of as purely analog.
One such historically non-technological industry has been healthcare, another rapidly growing sector in the U.S. economy. Many skeptics might scratch their heads and wonder how exactly an industry such as technology, at least in typical Silicon Valley picture, could possibly have an impact on a field that deals with our bodies and physical health. Sure, there are plenty of technological applications in healthcare, but not necessarily ones that utilize things like smartphones and tablets. Turns out, there are actually lots of ways the growing world of tech can affect the health sector -- so many, in fact, that Factset predicts health technology, or healthtech, will be the most profitable industry in 2016.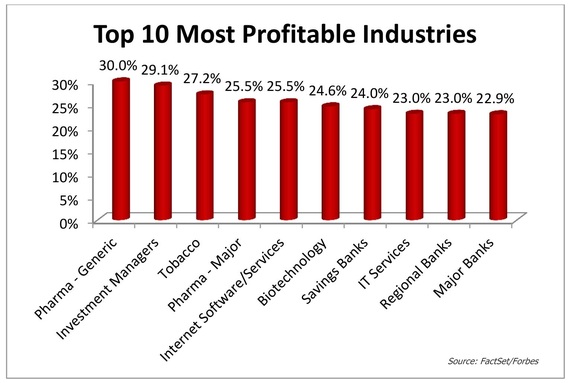 The truth is, technology and healthcare are becoming so closely intertwined that a whole sector of the tech industry has grown in order to specifically tailor to the demands of healthcare innovation. Whether it's health-tracking wearables such as the FitBit or the use of telemedicine to reach rural patients with less access to quick healthcare solutions, the tech industry is finding more and more ways to disrupt traditional healthcare. In an industry historically associated with shelves of paper records and specialized offices for physical checkups, innovations across the healthcare spectrum are breaking the mold of traditional healthcare delivery, and the focus on healthcare in certain spheres of the tech world is nothing short of a full-court press.
Cedars-Sinai, one of the country's largest nonprofit academic medical centers, for example, is launching a tech accelerator program, with up to six-figures in funding, specifically to help grow and launch innovative healthcare-focused startups. Venture capitalists are taking note as well, with private investment groups like HealthTech Capital beginning to reach out aggressively to fund healthtech-related companies to the tune of $1.2 billion in venture funding for healthcare companies in 2015.
2015 was a record year for digital health funding, and 2016 is poised to see even more growth and investment across this blossoming sub-industry. Where healthcare has been traditionally seen as an industry dominated by major corporations, much of the growth has come in the form of healthcare startups, showing that the field of healthcare technology is growing at all points of entry, so much so that there are now many healthtech-specific industry conferences popping up nationwide.
The past five years have given us a pretty good indication of the rise of the healthtech industry, but 2016 promises to be a real breakout year. The 200 percent growth in venture funding since 2010, the proliferation of industry conferences, and the widespread disruption of traditional healthcare delivery models all point to one thing: the field of healthcare is undergoing a major change for the better, one that will fundamentally reshape the industry. "We're seeing a surge in interest for HIPAA-compliant email solutions in the space, and along with that has been a rise in investor interest," explains Hoala Greevy, whose lean, yet profitable company, Paubox is in its seed round.
When you put together the country's two most rapidly growing sectors, it makes sense that big, promising things will happen. Look out for even more growth and shakeups in the world of healthcare technology in 2016.
Related
Popular in the Community