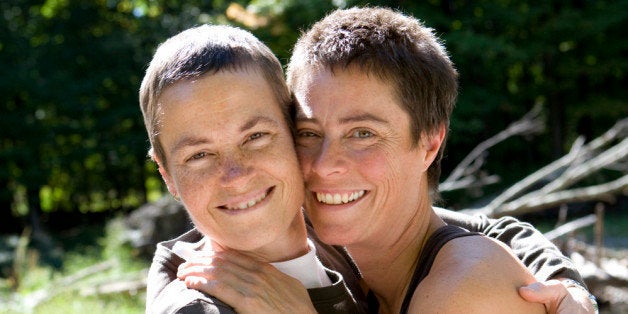 The other night at dinner my son asked, "Why here? Why are they coming here to get
I took a deep breath and told him, "We are lucky to live in a state
where someone on their deathbed, fighting a terminal disease, doesn't have to fly
across the country to make their union legal. We are fortunate to live in a place that
recognizes the sanctity of a marriage between two men or two women."
My cousin, Lisa Dumaw, an attorney and former Goldman Sachs employee, having
valiantly fought her battle with ovarian cancer for the last five-plus years, is in the last weeks, days, moments of her life. This time around, remission slipped ever so
quickly through her grasp. Forty-seven years old, having spent the last 15 years in a
dedicated and loving relationship, a resident of Colorado, she is not entitled
(according to her state) to marry her partner and make her union legal, or to
ensure that her partner will be entitled to the Social Security benefits for which she
has worked long and hard over many years.
So, while her body is failing her, all 90 lbs. of her is willing to travel across the
country to New York, a state where such unions are acknowledged. It is her last
wish. The trip will be arduous at best. She will be shuffled between terminals in a
wheelchair, yet I will be blessed with the opportunity to orchestrate a magical
wedding night in my living room.
Because sometimes desire trumps practicality. Lisa and Therese love Woodstock,
and Woodstock is in a state that affirms their choice, and I choose to live in a place
where I can celebrate this and throw an impromptu wedding as a gift to a cousin
who has been like a sister to me for my entire life.
The trip will undeniably take its toll upon her physically, but it's a risk that she is willing to
take. But what about all the others? What about the people who don't have the
means to jump on a plane to make their last dying wish -- a legally recognized
wedding -- come true? What about them? How long must they wait? And what if they don't
The wedding between Lisa Dumaw and Therese Pieper will take place at the residence
of Kristen Eberhard and Bill Miles on on the eve of Friday, Nov. 1, 2013, at 5 p.m. For further information, please contact Kristen Eberhard at 845-679-9244 or KNMmanagement@verizon.net.
Calling all HuffPost superfans!
Sign up for membership to become a founding member and help shape HuffPost's next chapter