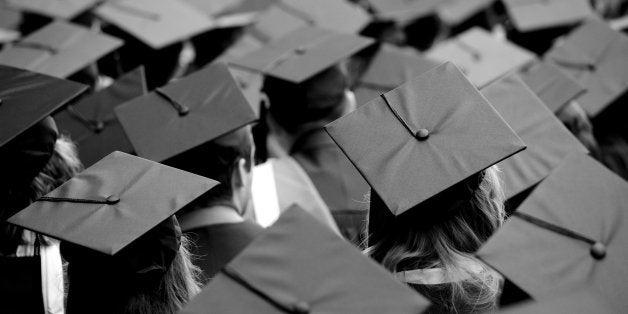 Todd Clear, former Provost and former Dean of the School of Criminal Justice at Rutgers University and past-president of the American Society of Criminology, co-authored this opinion piece.
Today, the Obama administration, through its Department of Education, issued guidance for colleges and universities on how to more appropriately consider a student's past criminal justice history during the application process. This move represents an important and long overdue step on the road to restoring full citizenship to those who have run afoul of the law.
As America increased its incarceration rate four-fold and now has nearly 25 percent of the world's prisoners but only 5 percent of the world's population, it's difficult to pick out the lowest policy making points over the past several decades.
But surely the deliberate efforts to deny higher education to people in prison, so that instead of spending their time behind bars productively they're required to spend it idly, has to rank amongst the lowest. That's what happened when, as part of the 1994 Crime Bill, Pell Grants aimed at helping poor people access higher education, were stripped from prison inmates. Although Pell Grants were no panacea and those in prison always constituted a very small portion of Pell Grant recipients nationally, studies suggest that the number of prison college programs dropped from 350 to eight nationally in the years after the Pell Grant ban went into effect.

Given the mean-spirited history of policy making in this arena, the Administration has made great strides lately when it comes to smoothing the path to normalized citizenship for those with criminal records.

In July, 2015, the administration announced that it would allow institutions of higher education to conduct pilot programs, under the Second Chance Pell Initiative, about the effectiveness of Pell Grants for prisoners. Last week, the Administration announced that a bevy of industry leaders from Coca Cola to Koch Industries and from Johns Hopkins Hospital to Google have signed on to a pledge to increase employment opportunities for people with criminal records. This came after the Administration announced in November that it was taking similar steps to put criminal records into proper context in their own hiring process for federal jobs.
Today's guidance for universities follows a similar, well-conceived path. Colleges and universities are encouraged not to ask about prior criminal records until they've made a tentative decision to accept a student; to only inquire about convictions, not arrests; to put time limits on how far back in a person's life they look for criminal convictions; to train staff on how to assess whether a conviction should deny a prospective student admission; and to provide supports in their academic institutions for students who are returning from prison to the world of higher education.
These are imminently sensible steps that should be adopted by institutions of higher education throughout the country. For thousands of young people, and especially for many young men of color, a criminal conviction is a lifetime impediment that makes it nearly impossible to become a contributing member of society, even though most never go to prison and so many of these convictions are for drug crimes and other offenses most of us would not consider very serious. Opening a pathway to college for these students is not only in their interest, it is good for the nation, broadening the ranks of fully productive citizens.
What is true for the large number of young people who have made a mistake that ended up with a criminal record is just as true for others whose crimes were serious enough to get them into prison, and who have now fully paid their debt to society.
There are many reasons why higher education is an important element in our nation's increasingly bi-partisan efforts to reform our criminal justice system and end mass incarceration. According to research by the RAND Corporation, educating people in prison during and after their period of incarceration returns five dollars for every dollar invested and reduces the likelihood of returns to prison by 43 percent.
Those who go to prison often come out saddled with crippling debt. The stigma of incarceration severely damages their job prospects, effectively trapping them in a cycle of poverty. By contrast, participation in prison education increases job prospects by 13 percent and people with associates and bachelors degrees earn $10,313 and $21,893 more than those with high school degrees, respectively.
College degrees also improve prospects for the children of people who are incarcerated. More than 2.7 million children in the U.S. have an incarcerated parent and approximately 10 million children have experienced parental incarceration at some point in their lives. Children from families whose parents have college degrees are twice as likely to obtain college degrees as those from no-degree families. Alarmingly, 85 percent of people in prison lack any post-secondary education.
Recently, the National Academy of Sciences recommended that the consequences of our criminal justice system "should not be so severe or lasting as to violate one's fundamental status as a member of society." It is increasingly apparent that America's prisons do not produce the kinds of citizens we want, whereas colleges do. This moment in time is a great opportunity to overcome not only the abysmal failure of the prison system but also to turn around the intergenerational pattern of poverty and hopelessness that envelopes our criminal justice policies.
We already know the guidelines recommended by the Department of Education will work. Leading colleges around the country, large and small, public and private, have been enrolling talented and promising students who have overcome histories of criminal justice involvement. They have seen these students succeed as young scholars, graduating with records similar to or even better than their peers. More importantly, these colleges note that students who have experienced the justice system frequently become leaders in the college community and volunteers in the service of others, and exhibit evidence of the incalculable value of diversity among the college student body.
There is no downside. Colleges benefit, student's lives are changed, and young people who have faced some of life's greatest hardships can return to their communities as success stories, ready and eager to heal the kinds of problems that lead to crime in the first place.
Related
Popular in the Community