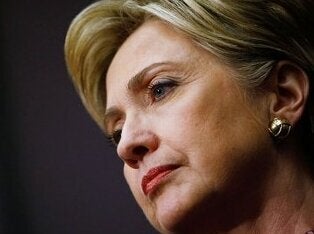 We're told that when the Wehrmacht poured across the frontier, the first thing that froze was Stalin. As the news of the losses came in he, on a purely personal level, shut down. Closed up shop. Pipe on, but nobody home. Not what you're looking for in a dictator, really. No one expected heroism, but they'd been promised a little decisiveness, a little ruthlessness, at least. Instead, while the whole world was watching, the Boss announced that he needed a few days to think about things and fucked off to Kuntsevo to stare out the window.
He was supposed to be so tough -- such a leader -- but on that day in June, the worst and most important day of his political life, instead of doing something -- anything -- his official response was that he really owed himself some time to consider his options. "It's over? I'll tell you when it's over."
Almost makes you lose all your warm feelings for the guy.
I guess it's a little graceless for Hillary to declare that the loser gets four days to let reality to settle in, but what the heck. Remember, this isn't about her. It's about the cause to which she's dedicated her entire adult life: Making Us Sick of Her.
One good thing about Hillary proclaiming her right to a four-day national non-concession? We'll never have to wonder what it would have been like if she'd been elected and that phone in the White House had rung at three AM.
THE PRESIDENT OF THE UNITED STATES Hello?
KIM JONG IL All your base are belong to us!!! You are on the way to destruction!!! You have no chance to survive make your time!!!
THE PRESIDENT OF THE UNITED STATES Can I call you back? I need at least a week for this to sink in.
THE PRESIDENT OF THE UNITED STATES You'd better get up, Bill. That was Pyongyang. The missiles are coming.
BILL That's really disappointing. After all the hard work you put in.
THE PRESIDENT OF THE UNITED STATES I know. They owe me better than this.
THE PRESIDENT OF THE UNITED STATES I know.
BILL I'm red-faced with rage. Do you want me to come over?
THE PRESIDENT OF THE UNITED STATES No, stay where you are.
BILL Gina Gershon says to say hi.
THE PRESIDENT OF THE UNITED STATES Give her a kiss for me.
What does Hillary want? What's she waiting for? I guess it would be nice if some scandal destroyed Barack Obama. Or he could just drop dead; he is a smoker. But I think it goes deeper than that.
I think she's waiting for us to appreciate the dirt she's had to eat. I think she wants a little recognition for the time she disgusted herself, and did a horrible, base and vile thing to save her party. I think she's waiting for a little gratitude for voting to authorize the Iraq War.
She gave a monster permission to kill children. Do you think she liked doing that?
But it had to be done. What would have happened if she'd voted no? He would have invaded anyway, and he would have found the anthrax, and the Democratic Party would have been swept away like the Federalists when they didn't get on board for the War of 1812.
After all the hard, hard work she had done to get to where she was. Can't you people see? It was a perfect trap. He was daring her to say no. If she didn't vote for the invasion not only would it prove she wasn't a patriot, or a realist, it would prove she didn't have the cojones.
Bush would be right, and she would be history.
Sure, some losers voted their conscience. Boxer and Byrd, Feingold and Kennedy and Leahy and Wellstone. (It's like welfare reform. There's no helping some people.) But they didn't see the Big Picture. The Real Issue. Why we were all put on Earth in the first place: To Preserve the Clintons' Viability.
Bush could empty the treasury, and murder thousands -- tens of thousands, hundreds of thousands -- but he wasn't going to trick Hillary Rodham Clinton into hurting her shot at the next gig.
Because once she got that job, she could start doing some real good.
What's Hillary waiting for?
She's waiting for Bush to find the WMD.
Calling all HuffPost superfans!
Sign up for membership to become a founding member and help shape HuffPost's next chapter