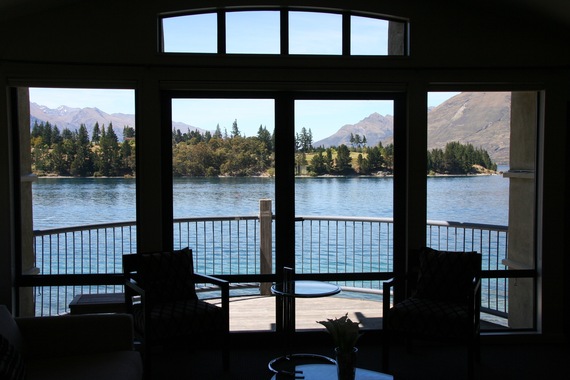 With the eminent rise of airbnb, holiday houses are now a very popular option for travellers, both at home and abroad. When me and my husband spent a year living in New Zealand back in 2012/2013 we used local holiday house websites (with airbnb not being popular in New Zealand at that time) such as Holiday Houses and Book a Bach (a bach being a holiday house in New Zealand) to book places to stay.
We stayed in a whole mixture of other accommodation places -- including apartments, hotels, motels and campsites, and found the holiday houses some of the best and most memorable places we stayed.
So why then are holiday houses such a good option for travellers? Here are 10 reasons:
It is a home away from home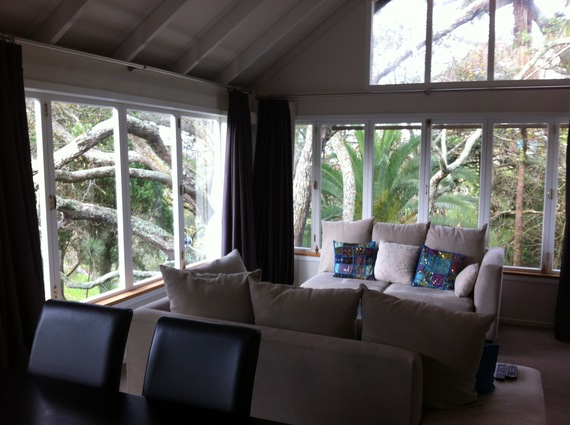 You can relax and feel completely comfortable there. Depending on the house you choose many houses will have all the amenities a normal house has, including washer/drier and a fully functioning kitchen. You can enjoy the comforts of home whilst travelling away.
You can live like a local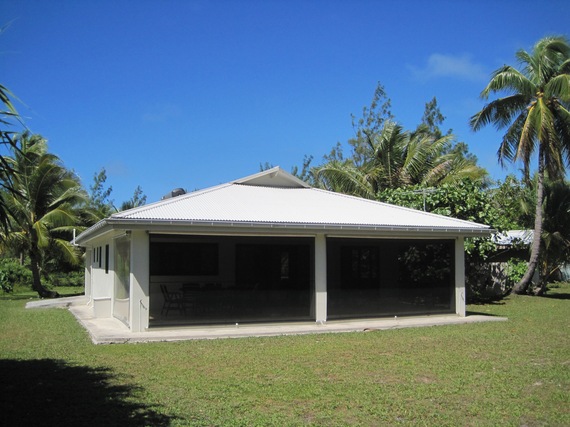 Holiday houses allow you to live amongst the non-touristy 'real' people. Whilst staying in the above house on the beautiful island of Aitutaki in the Cook islands we lived amongst the locals. We were also visited by our neighbour's pigs! It made living on the island even more special as we felt we had a truly authentic experience.
You can handpick your view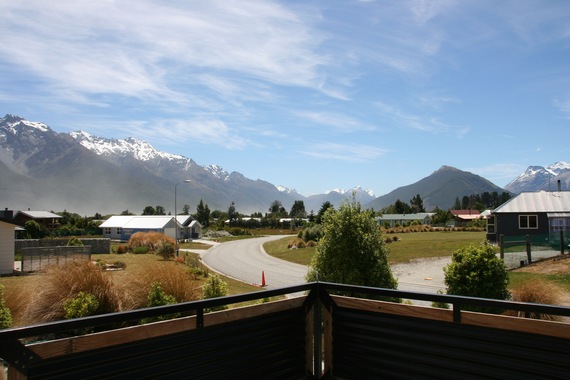 Search well and you can find some incredible holiday houses to stay in with spectacular views (like the one above that we had in Glenorchy). The alternative is being handed whatever view the room/apartment you find yourself in offers - which can often be pot-luck.
You can enjoy peace and quiet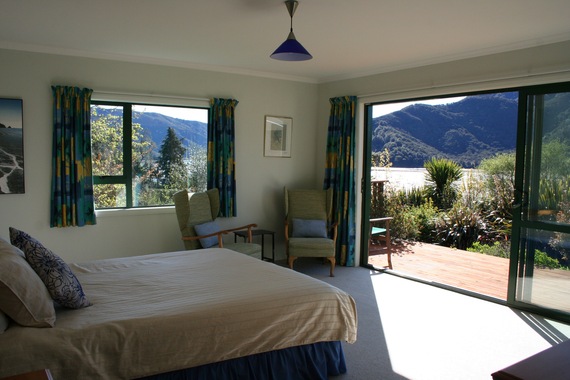 Peace and quiet and holiday houses often go hand in hand (if you choose wisely) as other homeowners respect this and so should you. If you select somewhere deep in nature you can listen to the birds from your verandah!
You can stay in some pretty amazing places
The house above cost us less to stay in than a normal apartment, and had a hot tub, so we could relax under Glenorchy's stars! Keep your eye out for those special places where you can get a good deal, especially off-peak.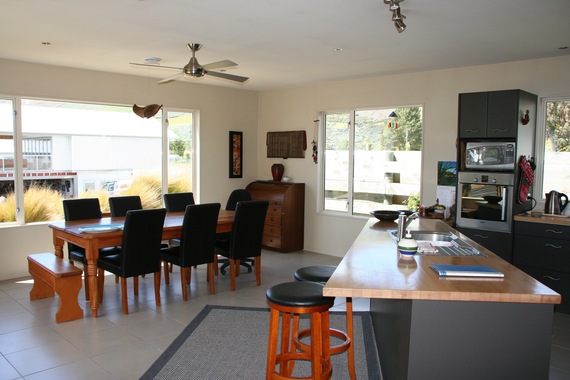 You can also save money while staying in holiday houses. We rented some places for 4-6 weeks at a time and made a significant saving.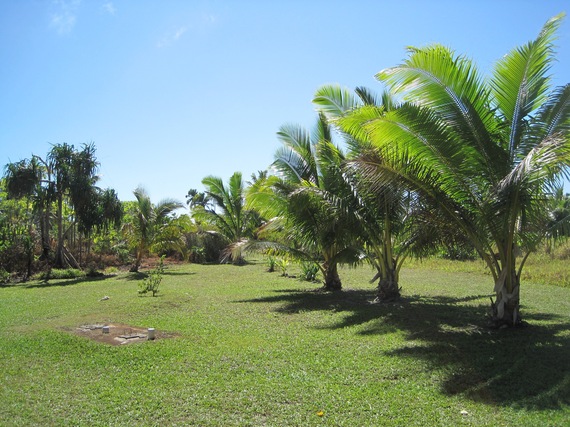 You have a whole house to enjoy, usually with an outside area, rather than just an apartment or room. We loved having the space provided in our garden pictured above when staying on Aitutaki.
They can be great places to stay with kids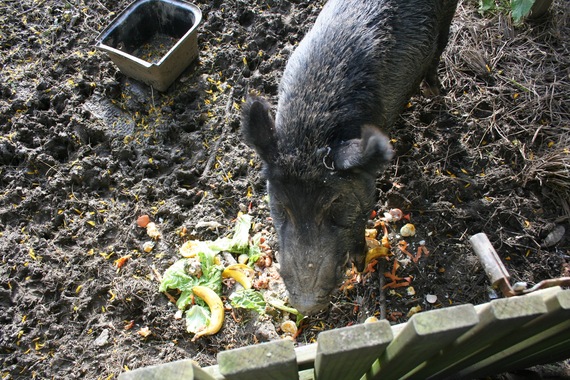 The benefits of holiday houses really appeal to families - you have more space, save money and have more provided for you. You might even find some friendly local wildlife that your kids will love. One place we stayed had a resident pig called Jag (pictured above) who enjoyed eating our leftover food!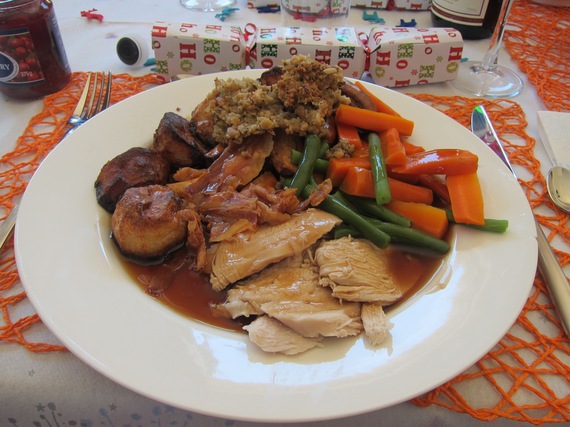 Unlike staying at a hotel or resort you won't have anyone coming in to clean/disturb you. You can also cook your own meals, and to your own schedule. Nothing beats a homebooked meal! Pictured above was our family Christmas dinner we enjoyed with visiting family whilst staying in our Queenstown holiday house.

You can go off-the-beaten-track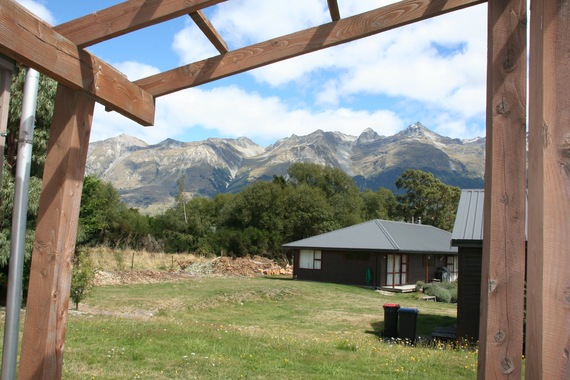 Holiday houses are located everywhere so choose the right one and you can stay in some truly beautiful settings. We stayed in a place with the above view of the mountains, next to a field with gorgeous horses in. We still had great wifi despite living in the mountains!
New Zealand and Aitutaki are just two places where you can find amazing holiday houses. Make sure you consider staying in a holiday house when you book your next trip away - and enjoy your very own home away from home.
All photos are copyright of Blue Penguin Travel.
Blue Penguin Travel offer a bespoke itinerary planning service, to help you create an amazing off-the-beaten-track travel adventure in New Zealand.
Related