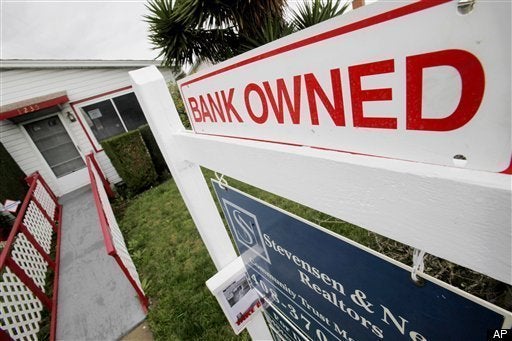 In an effort to squash the administration's latest proposed plans for home loan modification, the banking and mortgage industry brought out the big guns and sent Chase Home Lending CEO, David Lowman to Congress with a prepared statement on Tuesday.
"Like all loans, mortgage contracts are based on a promise to repay money borrowed," Lowman's prepared remarks read. "Importantly, there is no provision in the mortgage contract, express or implied, that the lender will restore equity or reduce the repayment amount if the value of the collateral -- be it a home, a car or a stock market investment -- depreciates."

"If we re-write the mortgage contract retroactively to restore equity to any mortgage borrower because the value of his or her home declined, what responsible lender will take the equity risk of financing mortgages in the future? What responsible regulator would want lenders to take such risk?"
In January, before a congressional panel investigating the melt down, CEO Jamie Dimon said the bank conducted no stress test that showed home prices falling. "I would say that was probably one of the big misses," Dimon said. "We stressed almost everything else, but we didn't see home prices going down 40 percent." In other words Chase made loans without taking into consideration that the homes backing those loans may in fact depreciate.
So, in essence Lowman is telling the House Financial Services Committee that it's the homeowner's responsibility to bear the losses that came as a result of his and other Chase executives oversight.
Homeowners were understandably outraged by Lowman's remarks and according to the AP, "After the hearing was over, dozens of activists from the Boston-based Neighborhood Assistance Corp. of America chased Lowman through the marble-floored hallways of the Rayburn House Office Building, pressing him to do more to help troubled homeowners.
He did not respond to their requests for a meeting and eventually left the building with the assistance of police."
Lowman apparently doesn't hold himself or his industry to the same high standards, because in many cases banks and servicers will in fact rewrite the principal - by adding to it.
In the case of my loan with Ocwen Financial Services my principal was actually increased by $27,000 and none of the payments made during the the trial period seem to have been applied to my loan, or anywhere else for that matter.
Ocwen Financial Services and Bank of America have recently been active in the media in the form of press releases and congressional hearings expounding on the importance of principal reduction. Last month Ocwen's President Ron Faris told the Domestic Policy Subcommittee of the House Oversight and Government Reform Committee, "In Ocwen's experience, negative equity increases the chance of a re-default by one-and-a-half to two times."
Bank of America has yet to make any real headway in modifying mortgages (PDF) and Ocwen's own employees deny that the company reduces principal in any of their cases. In phone and e-mail conversations with Jennifer Levy, an Ocwen Bank Loan Workout Specialist and Farris' own secretary, Linda Ludwig, both women stated emphatically that Ocwen never reduces principal, despite what their executives are quoted as saying. Ludwig even accused me of taking what they said out of context.
Similarly, Tuesday's hearing had testimony from homeowners in the form of last minute faxes and e-mails to Barney Frank's office. The request for stories, allegedly from Frank's office, was made in much the same way a 5th grader might do a science project. The night before with practically no research.
Had Woodbury done a little homework before starting the project he might have found that there are several reputable sites dedicated to homeowners and consumers with plenty of stories. ShameTheBanks.org, has dozens of stories written by homeowners in their own words - a perfect sampling he could have used.
Denise Richardson at givemebackmycredit.com has been a passionate voice for the consumer for more than fifteen years and has built an impressive online presence working with various activist sites, national advocates and consumers.
Michael Redman, homeowner, turned accidental activist, started 4closureFraud.org two years ago as the result of a fight with WAMU and JP Morgan Chase. Since then his blog has become one of the go to resources on the Foreclosure Crisis for homeowners, attorneys and activists nationwide.
Lisa Epstein, after learning of the massive con game that is behind Americas foreclosure crisis, as reflected in her two year battle with US Bank as trustee for JP Morgan Chase, found herself in a tireless pursuit of a national moratorium on foreclosures. Epstein runs ForeclosureHamlet.org.
These would have all been excellent resources for any congressional staffer assigned a project of this importance.
Congress, and in this case Barney Frank, continues to neglect the homeowner when asking about the progress of loan modifications. They ask the CEO's and Presidents of Banks and Servicers, known for disreputable and unconscionable practices to report on their own progress. It's like asking that same 5th grader to grade his own science project.
Support HuffPost
The Stakes Have Never Been Higher
Related
Popular in the Community