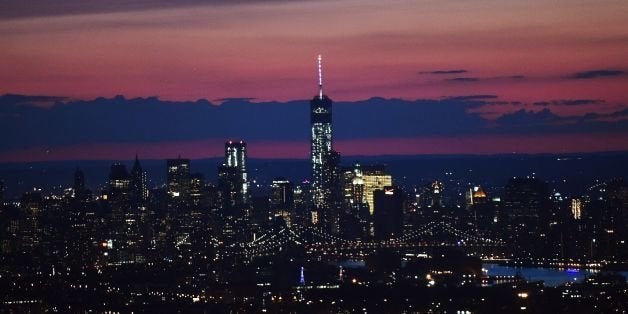 At the age of 23, I will be moving away from New York for the first time ever.
This east coast state has been my home for as long as I can remember. I skinned my knees in Queens, learned to ride a bike (and drive a car) on Long Island, and got to attend school in Manhattan. It was an incredibly difficult decision to make and while I was pondering the pros and cons of packing up and moving to a new state, I came across an article by Ann Friedman entitled "Why I'm Glad I Quit New York at Age 24," which got me thinking about why I'm so hesitant to leave.
The truth of the matter is that New York City is not for everyone. Friedman describes NYC as "the prom king. He knows he's great, and he's gonna make it really, really hard on you if you decide you want to love him." After all, the well known adage is that if you can make it here, you'll make it anywhere? A city full of perpetually angry and bitter people, going to and from work, busting their hump to someday be like the hyper-successful men and women you see drinking expensive martinis while making witty repartee on New York City dramas, like Sex and the City and Mad Men. Ask any New Yorker, that's not the reality (or even the desire) of many of this island's inhabitants. The dream of New Yorkers is not to survive a cruel and harsh urban jungle, but to find community in a place that caters to finding a home.
New York houses hundreds of international communities, with thousands of ex-pats in search of a little piece of home while trying for a better life, for themselves, for their children. One of my closest friends came from Bolivia when she was five years old, with no one in her family capable of conversing in English. Now, her siblings and cousins have flourished, graduating from high school and college. Another close friend's parents moved from the Philippines and had to start anew with their medical careers, despite already being doctors, so their children could have more opportunities. My own parents emigrated from Spain and found people who missed the homeland as much as they did. My classes were filled with first and second generation Americans from China, Turkey, Poland, Iraq, Korea, Colombia, Puerto Rico, Romania, France, Russia and more. All of these people found their niches in local stores, houses of worship and community centers in the many neighborhoods in the five boroughs. Even people from other states can find their place in bars and clubs rooting for their home teams and serving up their old favorites, never more than a few subway stops away.
New York can seem cold and aloof, as though you could pass out in the middle of the street and everyone would go about their business. Having fallen several times in all sort of locations, however, I've always been approached by at least two people to make sure I was alright, and I've helped people carry bags up and down the stairs of the subway. This detachment isn't indifferent, it's independent, and it's liberating. Do you want to go to the supermarket in full costume? Go for it. Do you want to discuss the finer points of Russian politics loudly in a 24-hour deli? All yours. Maybe you've been itching to go into a fancy boutique and try on clothes for an entirely new look? Get in there! No one on the street is going to judge you, even if you are eating in a restaurant by yourself. It's a place where the lonely are not alone, and have spaces to be alone in peace. When you're ready for company, you can always meet new people in libraries, night classes or during long hours at work.
While living in New York is not like competing in an urban Hunger Games, there are some days when it can be tough to find your smile, even for a life-long New Yorker like me. Still, there's one thing that always reminds me why I want to be here. One of my roommates (yes, if you're going to live in the Big Apple, you're probably going to need to find some roommates) loves to go out and try new things. Union meetings, capoeira, salsa, hiking, rooftop parks and barbecues. She always comes home with a big smile on her face, excitement glimmering in her eyes as she tells me all about it, hands flailing and brows creased in concentration. That's the magic of this city. There's always something to do, something to see, something to hold or taste or smell or read and every reason to be unapologetically enthusiastic about every single moment of it.
This isn't to say that Friedman is wrong for declaring her distaste for New York, because everyone has a home, and for her, New York just didn't fit. Whether your home is in California, Illinois, Texas, Spain, Russia, China, Indonesia, Australia or anywhere else. As author John Green once put it, you gotta live somewhere, but you also get to live somewhere. I do not carry my New York driver's license as a badge of honor, despite the pride with which it sits in my wallet; it is my reminder of where that somewhere is for me.
Popular in the Community