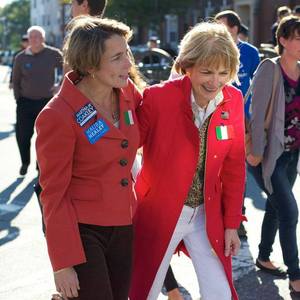 I come to this stage of the political campaign in Massachusetts having worked my tail off to build a grassroots effort of supporters for Maura Healey for Attorney General. She was virtually unknown a year ago and then went on to win all but five cities and towns in the primary. My networks pulled hard for her in Western MA, in coordination with my connections throughout the entire state, including the Boston metro area.
Healey has helped me to understand Coakley. Admittedly, I was a Don Berwick supporter, however, I knew that I needed to move forward before the general election. It didn't take me long, considering the trust that Healey has built with me over this last year.
When it comes to managerial experience, who could speak to Coakley's strengths better than Healey? They have been a duo for seven years. The two oversaw hundreds of employees who serve the Commonwealth.
Coakley's and Healey's management commanded clear results. The AG's office led the charge on overturning DOMA. Today 32 states protect same-sex marriage, thanks to Healey, who will be the first openly gay AG in the nation. More than 30,000 homes were saved from foreclosure when they stood up to financial institutions that were selling bad mortgages.
Both women are also running on the policy platforms of universal access to early education, earned sick time for all, workers rights and an increase in the minimum wage.
Coakley's leadership has always been anchored by a core set of values and she does not sway with at the chance to make easy choices. She stands for fairness, equality and opportunity.
If we all consider these standpoints closely, specifically the proposed minimum wage increase, we would recognize that the old adage of adding more jobs doesn't develop a vibrant economy. People need good paying work. "Women make up nearly half of the Massachusetts workforce and nationally they are the sole or primary source of income in 40 percent of households with children under the age of 18," said Governor Patrick. "If the Massachusetts economy is going to continue to thrive, employers must design a workplace that maximizes their talent and potential by eliminating the wage gap and focusing on family-oriented practices and benefits."
"Women leaders are more assertive and persuasive, have a stronger need to get things done and are more willing to take risks than male leaders, according to a new study conducted by Caliper, a Princeton-based management consulting firm, which has assessed the potential of more than two million applicants and employees for over 25,000 companies around the world, and Aurora, a London-based organization which advances women and comprises a 20,000 member businesswomen's network. Women leaders also were found to be more empathetic and flexible, as well as stronger in interpersonal skills than their male counterparts. "These qualities combine to create a leadership style that is inclusive, open, consensus building, collaborative and collegial," according to Herb Greenberg, Ph.D., President and Chief Executive Officer of Caliper. "We should emphasize that the male leaders in this study were also exceptional in these areas. But the women leaders set a new standard," adds Dr. Greenberg.
The point: we need more Coakleys and Healeys. Both women are the best people for the job and now is our chance to elect them. Healey wants to be AG because she wants to make a difference. Coakley wants to be Governor because she cares about people. These are the reasons why I am voting for women in the general election.
For those who cannot help but reminisce, we all remember the loss to Scott Brown in 2010. If you are that peeved about Brown winning, then you should go work even harder in New Hampshire and be sure that he doesn't upend a perfectly good leader in Senator Shaheen. I would like to remind you that Charlie Baker was also a loser in 2010, yet he is not held to the same scrutiny or standards. Instead, he is the smiling poster child for this election cycle.
If we remain mired in the past, Massachusetts risks being swept into the sea of red that looms ahead for many states in this mid-term election. Therefore, it is critical that we vote with conviction and steady hand, as the way to lead ourselves to a much brighter future.
REAL LIFE. REAL NEWS. REAL VOICES.
Help us tell more of the stories that matter from voices that too often remain unheard.