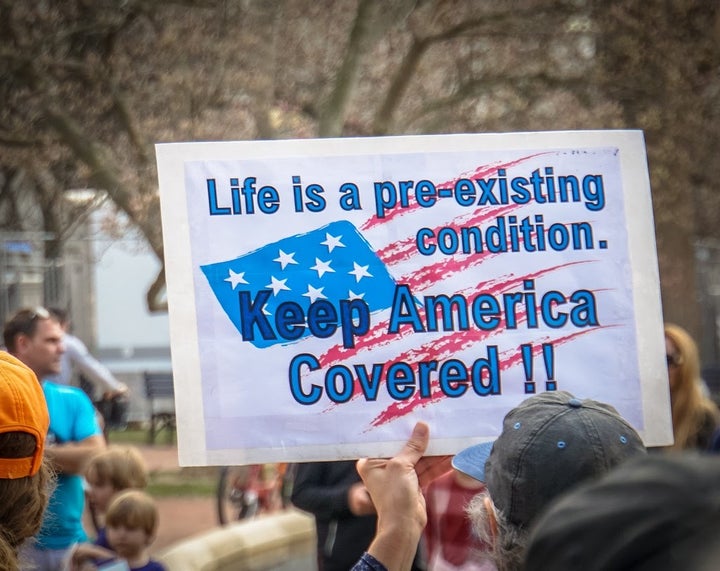 Three young girls I love will be hurt by the Republican obsession with repealing and replacing Obamacare. They are my granddaughters. I'm sure most Americans love someone who needs help with health care. This is an issue that should unite us as a nation rather than dividing us into warring camps.
As the grandparent of a child with cystic fibrosis (CF) and two children with special needs, I fear the Better Care Reconciliation Act (BCRA), the Senate's health care reform bill, will make it very difficult for them to receive the care they need. Granted, there were flaws in the Affordable Care Act, but its protections for people like my grandchildren with pre-existing conditions were beyond important. Taking care of the more vulnerable among us is the right and humane thing to do.
By removing protections against annual and lifetime coverage caps, many people with serious illnesses will suffer. I know. Healthy young folks wonder why they should they pay for the elderly and people with chronic diseases and serious health issues. Well, you healthy young folks could get seriously injured or sick and need help. For certain, if you are lucky you will get old. No matter how much money you think you have saved for your old age (and most Americans have saved very little), it will probably not be enough to cover the care you will need if you live a long life. At some point, you may need Medicaid but the BCRA proposes to drastically cut that funding.
Medicaid covers one-third of American children and half of all births in our country. Half of the children and one-third of the adults living with CF depend on it. Adults with disabilities who are unable to support themselves depend on it. People needing nursing home care who have exhausted their funds and have nowhere else to go depend on it. Someday, you or someone you love may depend on it to survive.
I know that seems unbelievable to many healthy Americans who are hoping to save a few dollars through a tax break. My parents were once like you. They played by the rules, paid their taxes, and saved for their retirement. They were also fortunate to live long lives. So when my father was dying in a nursing home, here's what he feared: Going through all of those savings and leaving my mother without the resources to support herself. After he died, my mother worried she would use up the savings very quickly and become a burden to her children and society. Both of them hoped some of what they had worked so hard to save would be passed on to their children. At least back then, there was a Medicaid safety net for them.
According to the non-partisan Congressional Budget Office, by 2026, 22 million folks will lose health insurance under the Senate's BCRA bill. If that seems too far away for you, in the short term obtaining decent health care coverage may be out of reach for many Americans. Deductibles will rise, making out of pocket medical expenses skyrocket for the working poor and older Americans. The cost of coverage will rise. Financial assistance for health care will fall. And many currently healthy folks will opt out of having insurance or buy cheap and worthless policies, making policies too expensive for many who really need coverage.
Happily, the Republicans could not muster enough votes to rush BCRA through the Senate before the July 4 recess as they had hoped. When they go home for this break, I hope they will listen to their constituents who will be harmed by their proposed legislation. An act that affects one-sixth of our nation's economy deserves thorough discussion and debate. Part of that debate should be whether one of the wealthiest nations in the world sees health care as a right for all of its citizens.