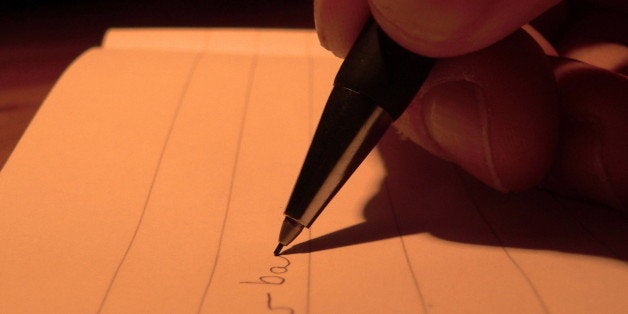 "Go to the pain," many writing professionals say.
I began writing in solitude, after enduring years of ups and downs as a young musician and wanderer in Oregon, California and Baja Norte, Mexico. A variety of experiences out West broadened my Bronx Puerto Rican working-class perspective, but navigating the shark-filled waters between my private and familial lives was an oppressive burden I'd endure for many years after coming out at age 21 -- a terrifying and tricky tightrope walk.
The first devastating blow was losing my father forever upon telling him. He demanded that I never contact him again. I didn't see much of him after my parents split when I was 11, but he was the only father I had, and his refusal to speak to me was disastrous. He took that rejection of me with him to his grave, and like a lot of young people who find themselves paralyzed by similar growing pains, I immersed myself in toxic distractions to escape.
I dated a talented (although troubled) artist when I was 25; a year-long romance with a white HIV-positive heroin addict with a knack for shoplifting and petty crime to finance his habit. Growing up on the streets of the Bronx in the 1970s and 1980s had instilled a taste for danger in me and I leapt into "love" without a parachute at full speed just to see how I'd come out of it. Watching him suffer from HIV-related health issues was strenuous and I often felt powerless when it came to helping him.
Things didn't end well -- as you might imagine -- and I came home one day to a goodbye letter explaining that he was off to the jungles of Hawaii to get clean. Then he committed suicide a few years later, unable to endure his agonies any longer. I began writing about it, to make sense of it, with the shadow of my father's addiction and psychological abuse still lingering to haunt me. Fictionalizing these dramas under self-critical light forced me to establish new limits.
I looked into the online author survey Why Writers Write and the results weren't so surprising: 15% claimed they wrote for "expression," to entertain others with their creativity. The next two categories, at 13% each, were "because I have to" and "to help others." These top three reasons revealed that -- insofar as this survey was concerned -- expressing oneself and assisting others to do the same is a primary drive for many who must do it.
In 2011, the San Juan-based author Mayra Santos-Febres hired me to coordinate programs in New York for Festival de la Palabra of Puerto Rico. This experience broadened my knowledge of contemporary and classical Puerto Rican fiction and poetry, and in 2013 I was sent to a very poor middle school in Sabana Grande, in the west of the island. And that was where it happened: I encouraged the eager youngsters in attendance to write about their challenges, and one gay teenager sent me his first book of heartbreaking poetry a few months later.
A Pace University LGBTQ student panel presentation I participated in shortly after required that the panelists engage the youth in writing exercises focused on their queer identity. Not having had any previous experience with facilitating workshops, I invented two writing exercises involving stunning photographs from National Geographic. Two of the students who participated told me afterward that they had never enjoyed creative writing until that point and something began to materialize in the haze. I could almost see it.
I was hired as the Director of the Bronx Writers Center, the literary wing of the Bronx Council on the Arts, in January 2014, where I found myself engaging some of the poorest people in the United States with literary expression. Programs we'd launch, such as Bronx Memoir Project, would put me in touch with a diverse community of people who turned to the written word as a vehicle for self-expression--from poetry to memoir. A dream come true.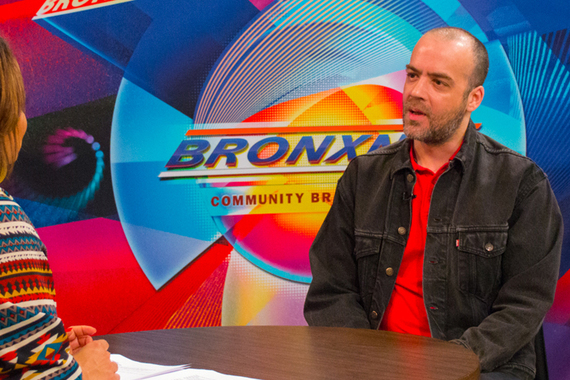 The author with host Rhina Valentín on BronxNet's "Open" in 2014.
I started writing to help myself in the years I was far from my family and people and I find myself assisting others to do the same for themselves nowadays. What began as a personal journey of dealing with life's setbacks has transformed into a way of life, and it's an honor to be able to commit myself, to share my knowledge and techniques, with writers from across Bronx County and elsewhere. Creative writing provides catharsis for many who have no other means with which to alleviate life's burdens, and all it takes to make it happen are a pen and paper.
Writing about pain helps formulate solutions to existing troubles, while providing new wisdoms that prevent similar catastrophes from entering our lives after we've learned something. My path as a queer writer began as a solitary process, as I endured the complex initiation rites of the underground gay scene far from home, where I had to employ new strategies to contend with problems that contrasted drastically with those I'd left behind in the Bronx.
I still write in solitude as a working-class Puerto Rican author, but that threatening "no man's land" that once existed between my private and family life has vanished. I've grown. My family has grown. And much of that growth can be attributed to writing, the art-form that takes me out of myself and transports me to other places, where I bring back images and sentences to stick together, to make sense of the good and the bad. Diving into the pain exposes our truest humanity and that is what readers, who we cannot hope to exist without, seek.
To heal from the other side of our art.
Calling all HuffPost superfans!
Sign up for membership to become a founding member and help shape HuffPost's next chapter