This story is not just about Ferguson. It is about St. Louis. It is about Madison, and Cleveland and New York. And why the steps taken here can be a roadmap for the rest of the country. The issues may be different. But the solutions can be found in the same way. Look hard, look deep at what is wrong ... and then make the hard but necessary choices to change.
I grew up in Ferguson. And my heart has broken many times for my city ... most recently in reading the Department of Justice report. And again with the overnight shooting of two police officers on March 12. And the reporting, while capturing accurate events does not reflect the nature or the soul of the ordinary people or its town. And the shootings, by one person, can not be allowed to hijack the good work or reaching out together being done by the majority.
I watched real-time my hometown burning until 3 a.m. ... and witnessed a moment in November just days after the fires when Ferguson showed us a glimpse of what it can become. Explosive racial hostility left block after block of the cities of Ferguson and Dellwood with boarded up windows. And beginning just hours later those plywood boards were transformed by hundreds of volunteers wielding paintbrushes to create messages of hope and healing for the people of Ferguson.
Ordinary people showed up early the next day to help clean up, often even before business owners like Robin Shively of the Corners Frame Shop appeared. "I arrived at 8 a.m. the next morning to see what had happened to my business people I had never met were already there sweeping up the broken glass on the sidewalk," she said with surprise. And other people like Elizabeth Simons went up during her lunch hours on the days that followed and used her days off during the Thanksgiving holidays to help paint.
The artwork shown here is from that transformative time. Capturing not only the feeling that people had then but foreshadowing the events we are witnessing this week.
By that Saturday, hundreds of ordinary folks, black and white, young and old showed up to make a difference. Professional artists like Lisa Sanditz whose work has appeared in major New York galleries and is on display in museums across the country worked side by side with families with little kids painting pictures. It was such a remarkable moment emerging from an area in such pain, that I captured it in a children's book called "Painting for Peace in Ferguson."
Amina, one of the volunteer painters, even brought her baby, "I brought my six-month-old baby girl so I could use her feet to make footprints in the sand [in my painting.] It was so hard driving through the area that was destroyed, so it felt great to be a part of something positive and beautiful that would let people know we hadn't given up on the neighborhood. I was blessed to be part of the healing process." But she added, "I hope we can come together to find a NEW NORMAL."
Tom Halaska, owner of the ArtBar helped organize the effort and stated in an interview with KOMU, "This is about community and our need to change. The first step in this is reaching out and helping your neighbor through their struggles whatever they may be." Later he added, "St. Louis is a beautiful and resilient city. It is my home. I believe we are strong enough to come out the other side better than we started if people can listen, have compassion, and work to change what needs to be changed on so many levels."
Ferguson has been down before. Devastated economically by changing demographics and plant closings in the 2000's and then hit by not one but two tornadoes in 2011 and 2013. But time after time it survives. It does not give up. This quiet determination, this stubborn resolve to say: we may be down but we are not out. This is what is hard for the outside world to see. Because it is not something that is visible by driving through. It is not something that can be seen in the harsh glare of the lights of hundreds of media trucks. It can only be felt in the heart.
For now, Ferguson has become the symbol and brand of the challenges we face in a multi-racial society. Perhaps this once sleepy little town has been waiting for this moment all along. Perhaps the country needs to reach deep into the heartland to get its heart right again. I believe that Ferguson will be able to get it right. Because too many people are working too hard on coming together as "we" instead of "us" vs. "them." And that ultimately that is the light that the darkness cannot overcome.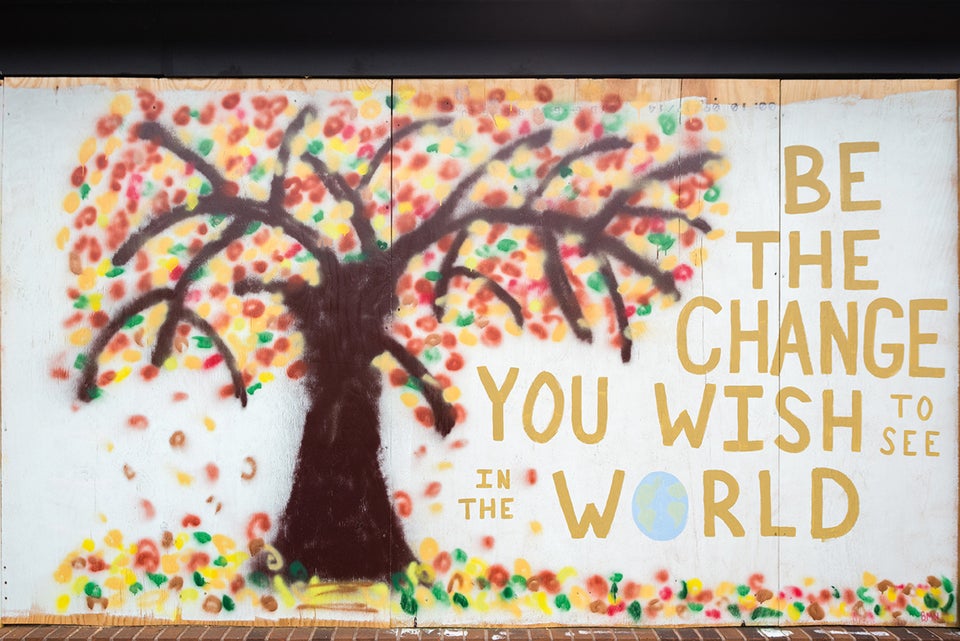 People of Ferguson
Related
Popular in the Community