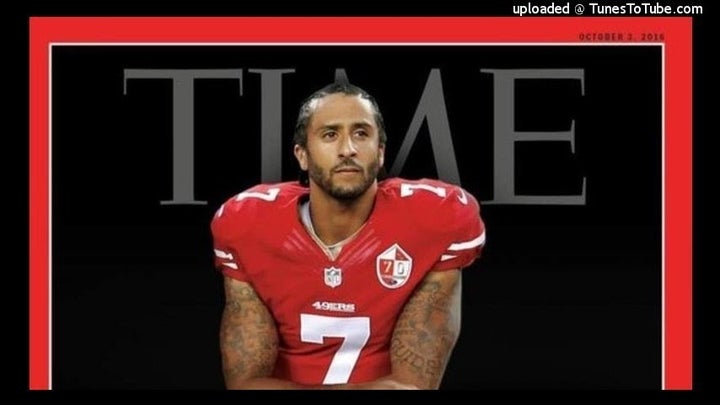 I am not making the case for "Time" magazine to name former San Francisco 49ers quarterback Colin Kaepernick its 2017 person of the year. I don't have to. "Time" already made the case for that. The editors are very explicit on just what they look for in making their person of the year selection. The criterion is "the person or persons who most affected the news and our lives, for good or ill, and embodied what was important about the year."
Since "Time" started making person of the year picks in 1927, the individual who topped the final cut list pretty much lived up to the criterion of a good and bad newsmaker. How else could you describe Hitler and Stalin who both graced the "Time" cover in separate years bagging the person of the year honor. But for the most part, their picks have been positive agents of change, who made people talk, think, and take action on the compelling issues of the day.
The instant Kaepernick took his fateful knee in August 2016, he more than fit the "Time" bill of an individual who stirred the public issues pot and rammed home the perennially eternal issue of police abuse, and bigger still, racial injustice in America society. There hasn't been a day that has gone by since then that Kaepernick's name and simple act of personal protest hasn't been either at the top of, or close, to the top of the dialogue about race.
Kaepernick's protest was peaceful, personal, dignified and in the time-honored tradition of countless icons for racial justice, from MLK to Rosa Parks.
The added twist to this is that Kaepernick forced the dialogue and controversy into the supposed sacrosanct, immune from politics, world of sports. One would have to go back to Muhammad Ali's defiance of the draft and threat of a jail sentence in the 1960s to find sports and politics dramatically and divisively clashing. Right on the heels of Ali's stance, there was the 1968 Olympic Games with the victory stand black glove clenched fist protest of Black American sprint medalists, John Carlos and Tommy Smith. Ali, Carlos and Smith, all paid a heavy price for their bold, and courageous stands. But in all three cases, time and public sentiment caught up with them benevolently. Today all are widely hailed and praised for their courage and for making people think harder about and confront racial injustice. Ali even has the prestigious "Sports Illustrated" award, the Muhammad Ali Legacy Award named in his honor.
Kaepernick's name is now rightly and routinely spoken of in the same breath as Ali's. He took a stand in the prime of his football career, told why, sacrificed millions of dollars for it, and was pilloried from pillar to post by the sports establishment, and tacitly by the NFL owners. They have made clear in their actions that he is persona non- grata in their league. He didn't just stand as a symbol of racial protest. He also backed his action, with an action, that is just as profound and far reaching. He has given tens of thousands from his personal funds to dozens of grassroots community organization's programs for education, health, and political engagement, and at-risk youth. He's declared that his life's mission is to help fund and promote organizations that serve underserved communities.
The same can hardly be said for the person who "Time" picked to plaster on its cover as person of the year in 2016. Trump is not Hitler or Stalin as the symbol of pure evil, but he certainly has affected "our lives and the news" as "Time" insists is the criterion for making its pick. However, Trump has been the runaway symbol of divisiveness and polarization. He has giddily worked overtime to promote both. Kaepernick has done no such thing. The rancor, passion, anger and hostility that his name stokes in some circles, is hardly due to anything inflammatory or rabble rousing Kaepernick has said. It's due in part to racial denial, and in greater part to latent, and not so latent, racial bigotry. Neither of which Kaepernick created. The proof of that is Trump's drum beat attacks on Kaepernick, the NFL, the owners, and players. With that he forced the sports establishment, and millions to confront the divisiveness and racial injustice that Kaepernick aimed at with his kneel down protest. 
Kaepernick's protest was peaceful, personal, dignified and in the time honored tradition of countless icons for racial justice from MLK to Rosa Parks. All of whom are eternally praised and honored today as American heroes.
"Time" holds an online poll and invites all to name and vote for someone they think deserves the person of the year honor, announced in December. Their editors, though, will make the choice for the honor. Still, the poll is a good vehicle for the legions who think Kaepernick should get the distinction to let "Time" know it. I will. And I will continue to call on others to tell "Time" magazine why Kaepernick richly deserves to be its Person of the Year.
Earl Ofari Hutchinson is an author and political analyst. He is an associate editor of New America Media. His latest book is, The impeachment of President Trump? (Amazon Kindle) will be released in August. He is a weekly co-host of the Al Sharpton Show on Radio One. He is the host of the weekly Hutchinson Report on KPFK 90.7 FM Los Angeles and the Pacifica Network.
Calling all HuffPost superfans!
Sign up for membership to become a founding member and help shape HuffPost's next chapter
BEFORE YOU GO