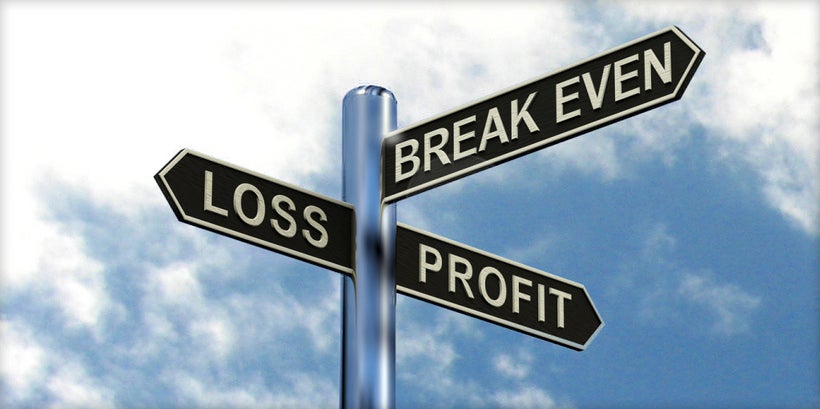 Nine companies. Nine IPOs. Not ONE profitable business.
As pointed out by Alex Wilhelm (Editor in Chief of Crunchbase News) in a recent article, there have been nine IPOs in 2017 but none of them have involved a profitable company.
This may not seem alarming to many businesses leaders, entrepreneurs, or investors today, given that the "growth at any cost" phenomena is alive and well. However, I think everyone needs to take a closer look.
While there should (strong emphasis on should) be some profitable companies that make their public debut later this year, we are still on pace in 2016-2017 to see the lowest percentage of profitable IPOs since 1999-2000. Don't worry, I will not be getting into any 'Bubble 2.0' nonsense or anything like that, but take a look at the chart here: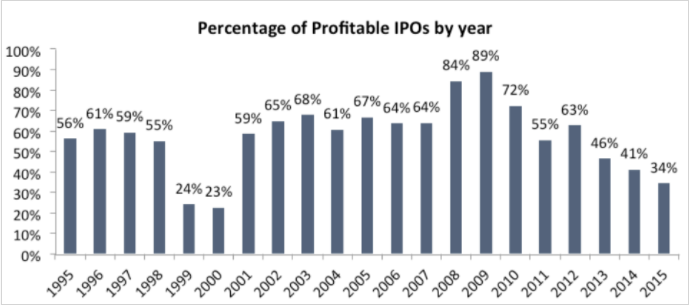 There was clearly a major problem and a significant correction. And as you can see, during the market crash in 2008 everyone seemed to come back to the reality that the only way a company should enter the public market is if they have a strong balance sheet that didn't just show a path to profitability, but showed they are already there.
Unfortunately, in less than a decade we have gotten back to a place where risk has become commonplace and investors are bullish. With low interest rates and tech being one of the only markets that can produce significant yield, investors are taking their chances.
As such, many startups are taking their chances as well – racing to quickly raise exorbitant amounts of cash and shovel it into sales and marketing in order to accelerate growth so they can be the next hot company in the Valley to hit a $1B valuation. (side note courtesy of CB Insights: there are currently almost 200 private companies who have raised money at a valuation of $1B or more)
I, however, do not want to be a part of that race. I want profitability. And here's why:
What many people don't realize about the "growth at any cost" strategy is that it was designed when new companies could launch fresh ideas, scale their product at "Internet speed", and seize an entire market, using sheer size as a barrier to entry to their new market. Companies like LinkedIN would take as much funding as they needed, dominate their market, and worry about turning a profit later. However, success stories like LinkedIN have become much fewer and far between than that of companies like Groupon and Zynga, who deployed similar strategies and have now lost $730M and $1B+ respectively since their IPOs in 2011.
We are in a place now, especially in the enterprise, where companies and their employees demand choice. They want the ability to use multiple technologies to get their work done and not be limited to one tool or another. This makes it nearly impossible for a company to come in and definitively dominate a market, no matter how much money they throw into sales and marketing.
Unfortunately what is currently happening is that you have companies who are still willing to risk private investor money to try and gain as much of the market share as possible, but when they don't capture enough or their growth inevitably slows and they are nowhere near profitable, they are faced with the harsh reality of a down round or even an IPO that forces them to debut at less than their most recent funding round. (See: Cloudera)
While this is purely a matter of business strategy, these seemingly difficult times do not happen as often for companies who build their business with profitability at top of mind, the ones who are growing responsibly at scale. Look at a company like Atlassian. At IPO Atlassian was cash-flow positive, debt free, and had a strong balance sheet. As such, they priced their IPO 20% higher than their original price range, traded 30% higher than that on day one, and in the long-term have seen their valuation increase by over $3B.
It goes without saying I would rather follow the path of Atlassian than that of Cloudera, which is not to say Cloudera will not turn things around but they may have a much tougher road ahead.
If you want to look even further into the success of the profitable business model vs. "growth at any cost" business model, look no further than the top of the stock market today. Four of the top five tech stocks (by market cap) were profitable on the day of their IPO. That's Apple, Google, Microsoft, and Facebook – all in the black on opening day. (Amazon being the unique case of non-profitability at debut)
I am very proud of where Egnyte is currently at as a business, as we were cashflow breakeven for the 2H of 2016 and I can now officially report that we were GAAP profitable in Q1 of 2017. These are the metrics that will shape the future for our success and I can confidently predict that these metrics will stand the test of time when it comes to success for businesses on the public markets.
While I may be the tortoise in this race, I am confident in the race Egnyte is running. After all, we all know how Aesop's famous fable ends :)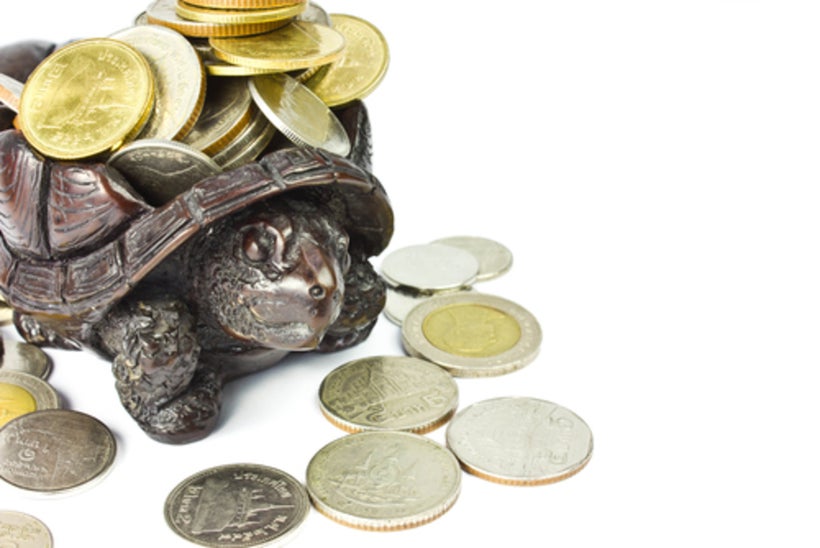 Calling all HuffPost superfans!
Sign up for membership to become a founding member and help shape HuffPost's next chapter
This post was published on the now-closed HuffPost Contributor platform. Contributors control their own work and posted freely to our site. If you need to flag this entry as abusive,
send us an email
.