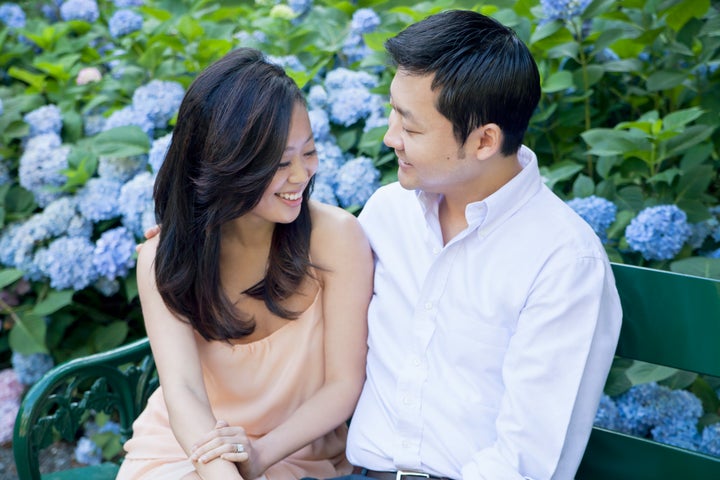 If you've seen photos taken of me, then you know that I have one signature pose. I'm not one of those girls that can whip out the model-inspired unsmiling stare, the sultry sexpot pout, or the indie girl caught-in-mid-laugh look in a completely effortless way. I've tried, and failed miserably. The one that always works for me is the side shot (yes, I have a side that looks better than the other -- the left), head tilted ever so slightly down. And those are the ones that pepper my Facebook wall--years encapsulated in a single, calculated pose. Unfortunately, my fiancé, R, has the same problem. Which is why when the subject of engagement photos came up, we both balked. Were they a necessity? Nope. We skipped to the next 'to do' item on our checklist.

A few weeks later, when R found out he had just under a month to find a new apartment (his had been rented out), we made a list of everything we wanted to do at least one more time in the neighborhood. Like any New York couple, we had our neighborhood bagel, brunch, and date night go-tos. And then there was the park -- exclusive to residents of the area -- which we had always walked by, but never entered. You needed a key to access the space and we didn't have one. I floated the idea of taking engagement photos in the park past him and got a raised eyebrow. He was interested, I could tell. We managed to network our way into getting our hands on a set of keys over the next few days (friends of friends of friends). Success! But who could possibly coax a 'more than one-dimensional look' out of us? Enter Sophie Elgort, a friend and 26-year-old high fashion photographer based in New York City who has worked with Elle magazine, Bloomingdale's, and Topshop, among many other high-profile clients. Models, we certainly were not, but her easygoing attitude instantly put us at ease. Plus, I trusted that she would do everything in her power to make the background dreamy in a magazine editorial sense and that her sharp instincts wouldn't make us look cheesy and forced.

Armed with keys to the park and our engagement photo garb (me in a chiffon maxi, him in a button-down and slacks), the three of us entered... slowly. Mind you, we were fully aware that we were breaking the rules by taking our engagement photos in the park due to their strict photo policy, but we were willing to take the chance. I felt a sudden flashback to middle school when I used to sneak out to parties behind my parents' backs. It was thrilling... I gave us 15 minutes to get in and out quickly. Sophie soothed our nerves with assurances that everything would be fine. We started on the gravel walkway, where an elderly man gawked at us. We switched to the fountain next, and concluded the session on a bench near a gorgeous arrangement of hydrangeas (my favorite!). "Tell us what to do!" we pleaded with Sophie, who gave us one simple instruction: "Just be yourselves. Talk, walk, tell funny jokes ... just be in the moment." So, we shut off our glued-on smiles and did as we were told. "I think we've got it!" Sophie cheerfully piped up suddenly. We booked it out of the park and collectively breathed a sigh of relief.

I left it up to Sophie and her talented re-toucher Emily Sperry to do the rest. Sophie shot the photos at a higher grain to create an old film quality and Emily used Photoshop to create a hazy, dreamy colored atmosphere, along with some ethereal, high-punch black and white filters to finish the fairytale fashion style of the images. The end result was more than I could have hoped for. And I'm happy to report, I may have one more pose to add to the arsenal: the mid-laugh. I'm thisclose to mastering it.
Click through the slideshow below to see photos from Monique's engagement shoot.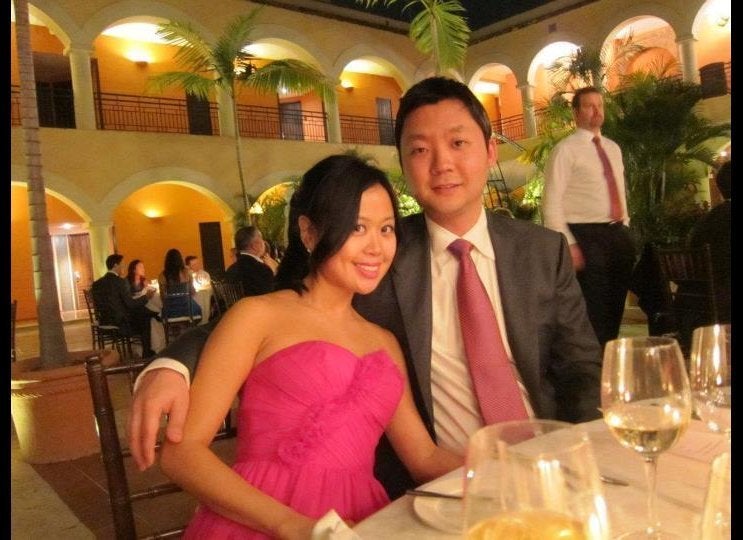 Engagement Photos By A Fashion Photographer