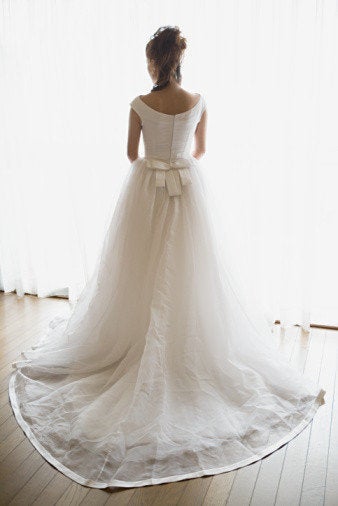 With a few notable exceptions -- all named Kardashian -- gluttony has pretty much bit the dust in this recession. The last bastion of excessive self-indulgence may be weddings.
It wasn't always like that.
Weddings have a long tradition of being an occasion to give back to the larger community. In the Jewish shtetls of Eastern Europe and Russia where my grandparents were raised and married, a wedding literally meant inviting the whole village. The news of a pending wedding was a guarantee that even the poorest and hungriest would eat -- and eat well -- and that alone was a cause for celebration.
Shtetl weddings were also marked by a parade down the main street where children worked the crowd, carrying collection boxes for schools, families with an ailing breadwinner and -- because some traditions obviously die harder than others -- the synagogue building fund. The richer members of the community came prepared to give money to those who needed it, because part of the joy of the celebration was the joy that comes from helping those with less.
Years before my own wedding, I read a first-person story in Lilith Magazine by Shoshana Jedwab about how she rejected the pressure toward extravagance and, instead, planned her own socially responsible wedding. For me, it was a blueprint that I wanted to follow, and when it came time to plan my wedding, I did.
I hired a caterer who agreed beforehand -- and in writing -- to personally deliver all the leftover food the next morning to a local food bank. I rejected the idea of party favors and, instead, printed up cards noting that in lieu of them, a donation had been made to the no-kill animal shelter from where we adopted our dog. The beautiful floral arrangements were dropped off to a local nursing home "from an anonymous bride and groom who wanted to share their joy with you." And we began the day with me forgoing the traditional bride primping at the hair and nail salon in favor of taking 46 of our guests hiking, doing trail repair and picking up litter along the way.
The big one, of course, was inviting a stranger. In our case, it was an elderly and recently widowed neighbor of my then-80-year-old Aunt Sophie. The woman was childless and had outlived most of her friends. Her grief over her husband's passing was tangible and she regularly spoke of welcoming her own death so they could be rejoined. More than once, my husband and I questioned the wisdom of including her: Would she cast such a large shadow of depression that the light of our joyous occasion would be blocked?
We gave her a place of honor next to my aunt, and she reveled in the many congratulations she received. She danced, she laughed, she thanked us repeatedly. At her death a year or so later, I recalled her blessing to us: that my husband and I would share the depth of love that she had had in her marriage. I believe that having her there got us off to a good start.