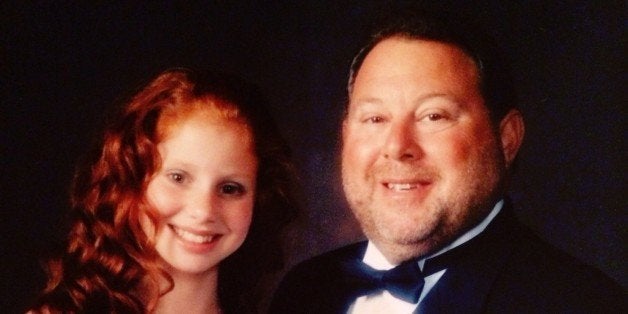 Six years ago, my dad passed away of a sudden heart attack. My father's passing left a gaping hole in my family. It is a hole that my sisters, my mom and I have each tried to fill, in our ways. For years I have coped with the loss of my father by dedicating very little time to thinking about it. Though this method may seem heartless, it works for me.
Considering I rarely talk about, let alone deal with my father's passing, it is quite surprising that on the anniversary of his death I post about it on all of my social media channels. Between Facebook, Twitter and Instagram, I have a combined network of over 17,000 followers (#humblebrag). Though I slightly detest the notion of posting "R.I.P _____" on social media (don't get me started on funeral selfies), I participate in it every year on the anniversary of my dad's death. Why, you ask? Well, let's think about how this day would go if I didn't post about it. I would spend the day silently marking the anniversary, maybe choking up every couple of hours when I thought about the real tragedy that struck that day. I won't tell anyone why I'm a bit somber that day and everyone will probably presume it's that time of the month. Then I'll cry myself to sleep and great, it's over.
But here's what happens when I do post about it. For at least one second, 17,000 people are forced to think about and remember my father. Whether they knew him or not, they know me. They see this picture. They read the loving yet not too serious caption. They either learn for the first time that my father is no longer with us, or they reflect on their own memory of his passing. No matter what their thought process is, they are remembering my father too.
If I have the power to turn my one memory into 17,000, I feel it is my responsibility to my dad to do that. My dad was the life of the party, the straw that stirred the drink, and I know that somewhere up there, he has a Grey Goose on the rocks in one hand, a cigar in the other, and he is toasting to the fact that he got over 400 likes today.
For me, every time I get a notification from Instagram or Facebook that my photo has been liked, I am also forced to think about and commemorate my father. It is a constant reminder throughout the day not only to keep my dad's memory in my thoughts, but also it's a reminder that I have a huge number of people who support me. And yes, I am aware that 17,000 followers does not equal 17,000 true friends; however, I do know that a large number of those people would be there for me if I called on them. It's easy for me to underestimate the good people in my life and their willingness to understand and support me. Social media-ing my dad's memory is just one more reminder that I'm not alone in this.
Oh, and also because this:

Popular in the Community