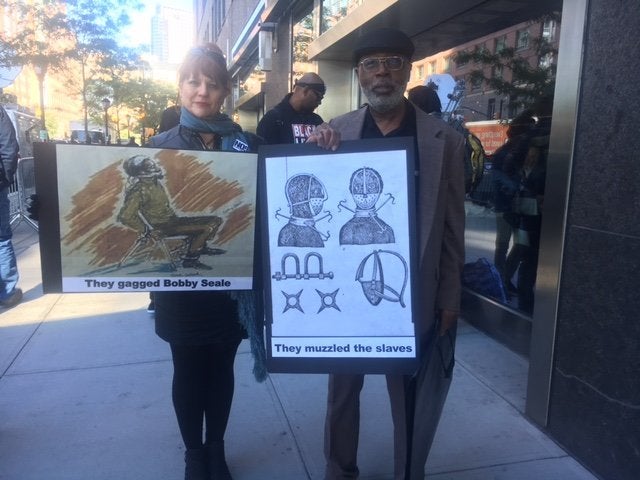 "You want to treat players like 40 million dollar slaves, well-paid gladiators who beat each others' brains out for your enjoyment and profit but have to keep their mouths shut when talking about injustice."
Those were the first words out of my mouth when I confronted Jerry Jones, the owner of the Dallas Cowboys football team, at the luxury Conrad Hotel in downtown Manhattan before the National Football League owners meeting on Tuesday. Nine days earlier, Jones said that any Dallas player who didn't stand for the national anthem, but kneeled to protest police brutality and other abuses against Black people, would not play. Clearly, our protest struck a nerve because the video has been viewed nearly 500,000 times on Instagram at last count.
Jerry Jones is rich and powerful. But that didn't matter to me when I saw him leaving a restaurant at the Conrad. I was thinking about the funerals I've attended for people shot by police. I thought of the heartbreak and tears of their families, and about how outrageous it was for Jones to tell Black players to shut up and entertain when their hearts and consciences are calling them to take a knee against the relentless murder of Black people by police. As I was being blocked by three NFL lineman-sized security guards, I said to Jones, "Look at the videos of the police getting away with murder and tell me that the players are wrong to protest it and that they have no right do to that!"
I was also spurred on by how Jones had taken calls from Donald Trump about how to handle these protests even after Trump had called protesting NFL players "sons of bitches." I was thinking about the Trump/Pence regime's threats ― not only against Black people, but against immigrants, women and LGBTQ people, the people of the world and the future of the planet itself ― and how this whole regime has got to go! Like I told Jerry Jones to his face, "People need to take a knee against white supremacy and people need to stand up against you and your buddy Donald Trump and drive his whole regime out, and it begins November 4."
On November 4th, that's just what I'm going to be doing, joining with thousands in taking to the streets across this country to launch a nonviolent movement of political protest that continues day after day and does not stop until the regime has been driven from power. Every day after, we will grow from thousands to millions. We will not stop until our demand is met: This nightmare must end. The Trump/Pence regime must go!
"You trying to muzzle NFL players is in the tradition of how Black people have been treated in this country," I told Jones, as I held a poster of the muzzles slavemasters used on their slaves. My friend stood beside me, holding a poster of Black Panther Bobby Seale as he was bound in chains and gagged during the 1969 trial of the Chicago 8. Jones turned around and couldn't help but look at those posters.
"...the violent imposition of naked white supremacy has been at the heart of his whole candidacy and is now at the heart of his governing agenda.""
Comparing the muzzling of NFL players to the muzzling of slaves isn't hyperbole. Donald Trump defiantly refused to clearly condemn the Nazis and white supremacists who marauded and murdered in Charlottesville, instead insisting that there were "very fine people" among them. He said players who protest should be fired. Trump has tweeted over 20 times against the NFL players. Why? Because the violent imposition of naked white supremacy has been at the heart of his whole candidacy and is now at the heart of his governing agenda.
The NFL owners did not ban anthem protests, but this battle is far from over. The next day, Commissioner Roger Goodell outrageously declared he wanted all players to stop protesting and stand for the anthem. Senatorial candidate Roy Moore, who Trump heartily congratulated on his recent primary victory, came out and claimed (wrongly, but still dangerously) that NFL players who take a knee are violating the law! And Trump again lashed out on Twitter against NFL player protests.
This Sunday, the Cowboys will take the field in Santa Clara against the 49ers, where Colin Kaepernick first protested racist police violence by refusing to stand for the national anthem. I hope and expect to see many players once again take a knee. I know I will be taking a knee that day, along side many families of people whose loved ones were murdered by police, commemorating October 22, the National Day of Protest to Stop Police Brutality, Repression, and the Criminalization of a Generation, which I initiated more than 20 years ago. I call on people across this country to go to the games and take a knee as well, and to send out their pictures on social media while also calling on others to join us in the streets on November 4th (#Nov4ItBegins) to end this nightmare.
We must not leave the players to fight this alone and we must not restrict our protest to the NFL. The most dangerous threats against Black players – and against Black people generally, as well as against Muslims and immigrants and so many others – is coming from the top. They are coming from the Trump/Pence Regime itself. Everyone who sees the danger of the Trump/Pence regime, and his accomplices like Jerry Jones, needs to stand up and act now. In the name of humanity, it our responsibility to refuse to accept a fascist America.