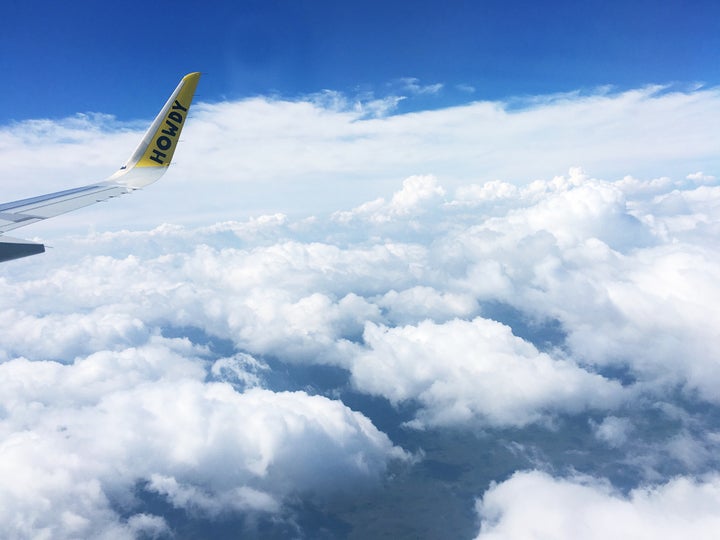 It's 5:00 am, and I am in the Palm parking lot at Fort Lauderdale International Airport. In my hand is a large purse, an empty water bottle, and a scarf. In my purse is a sandwich, a printed copy of my airline ticket, and some gum. I am flying to Chicago to meet my girlfriend Kody for a day of what will surely end in a hangover.
As I am walking toward Terminal 4, I see that a long line has formed near security. In the land of Spirit flyers, this is just the way it goes.
I have been flying Spirit Airlines for just over ten years. My first flight was to Montego Bay in late summer of 2006, and since then I have flown with them at least 50 times. I have stood in long lines waiting to get through security, sat thirsty when I forgot to pack an empty water bottle, and have been bored with nothing to read and no TV to watch. But, I have always arrived at my destination with extra money to spare.
Today's trip to Chicago cost me a total of $47 - round trip. $47 ROUND TRIP to Chicago, Illinois from Fort Lauderdale, FL.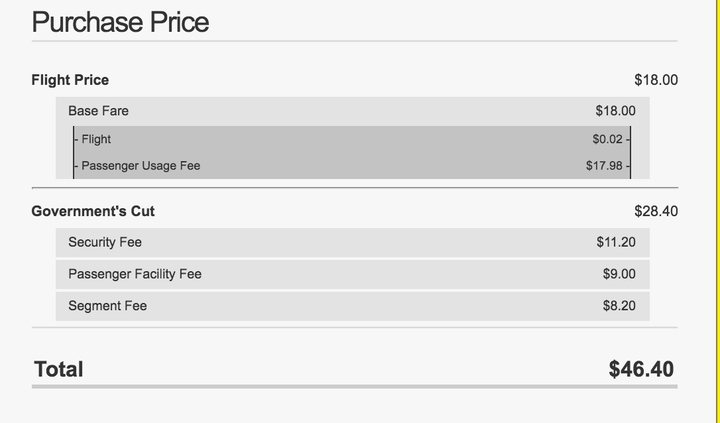 How far is Chicago from Fort Lauderdale? 1,356.1 miles and if I were to drive, it would take me just over 20 hours. I arrived in three hours and paid less than I did for the first round of drinks when I arrived.
Was my flight comfortable? Not really. Was the crew nice to me? Yes. Was the airplane dirty? No. Did I have a lot of room to sleep? No. Did I feel like I beat the system when I arrived in Chicago for less than the last bra I bought? Yes. Yes, I did.
After a fight had broken out in a Fort Lauderdale airport between angry passengers whose Spirit flight had canceled, I received a few messages from friends who hate Spirit. Concerned that I would be caught up in a fierce crossfire, they warned me about the dangers of flying "discount airlines." But, as I walked into the crowded Spirit terminal, days after that fight, I felt no fear. The board had no delays listed, and though security was crowded, things were moving along smoothly. The flight cancellations were the result of contract negotiations between Spirit and their pilots. As a result of these negotiations, flights were delayed or cancelled. It happens. It sucks, but it happens.
I get why some people don't want to fly Spirit Airlines. They want the "extras" like free drinks, comfy blankets, extra arm room, extra leg room, and a personal television to flip through. I want those too, but I also want more money in my pocket to spend at my destination. So, I pick an uncomfortable flight over the extras. But, over the years, I have found how to get the most out of my cheap Spirit flights.
Check the Deals section of Spirit.com
The Deals section of Spirit.com is where I found my flight to Chicago at only $46. I flew out on Saturday morning and back early Sunday. A weekend trip for that cheap? Amazing and I booked it only one month in advance. I always check the deals section on Tuesdays to find the best deal. I first locate my home airport (Fort Lauderdale) and then find a city that peaks my interest. After I find a city I may want to visit, I go to that city on the deal and see if they have a return flight to Fort Lauderdale for the same amount. Usually if its the same day, I can keep my flight pretty reasonably priced.
Join the $9 Fare Club for $59 a Year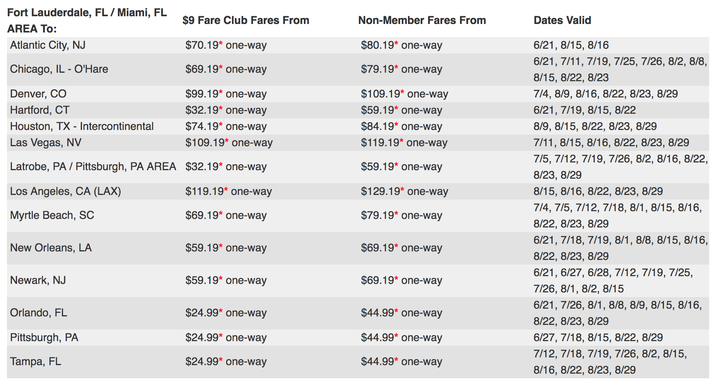 A few years ago, I paid the $59 price tag for the $9 Fare Club membership. With this membership, I get the lower fees offered in the "deals" section of Spirit.com. So, if I booked a flight to Pittsburg for 8/29, it would cost me only $24.99 instead of $44.99 without the membership. If you fly Spirit enough, it's worth it.
Don't Print Your Ticket at the Airport
One complaint I hear from my friends is that you have to pay to check-in to Spirit flights. This is only true if you do it at the airport. Check in and print your ticket at home. This is complicated for return flights, but most hotels do have business centers where you can access the internet and print documents for free. Do it this way. Don't check-in at the airport.
*If you're flying with an infant in lap, you have to check-in at the counter, but they don't charge you.
Bring Only What You Need and Not What You Don't
If you're going on a short trip, don't bring anything that you do not need. Leave the extra pair of jeans behind, skip the formal attire unless you know for sure you need it, bring fewer shoes. Spirit lets you bring one personal item on the plane, and it needs to fit under your seat. Anything that is too large to fit under the seat needs to be checked or go in the overhead bin. Large backpacks, rolling suitcases, all of these things will cost extra. If you know for sure that you're going to need to bring bags, don't wait until the last minute, pay ahead of time. I am serious, don't try to sneak these on the plane or hope that they will just let you slide because you waited until the last minute. It is well-known policy and trying to play dumb will delay your departure. Pay upfront and your fees will be reasonable.
Pack a Water Bottle and Snacks
Just because we cannot bring a water bottle on the plane, does not mean we cannot bring a reusable, empty water bottle and fill it up at the water fountain in the terminal. Water at any of the snack counters or newsstands within the terminal can run you up to $5 and snacks? Forget about that. You're looking at $5 just for a king size bag of M&M's. I usually swing through Dunkin Donuts on my way and grab a bagel or a muffin since they're the only thing open when I am flying.
Be Willing to Fly at Awful Hours
There is a reason red-eyes are cheaper than early evening flights - nobody wants them. And the same goes for early morning flights as well. Nobody wants to wake up at 3 am and go to the airport, waiting to sit in a tuna can. But, if you want a deal, you fly at these crappy hours and suck it up. I have flown with an infant in the middle of the night and early in the morning because I know that they are more likely to fall back asleep at this hour. It worked, and I arrived happier and with extra money to spare. Yes, I was tired, but let's look at the silver lining.
Bring a Book, Bring a Crossword, or Just Be Alone in Your Thoughts
You're not going to get WiFi on Spirit flights, not paid or free. You can load a movie to your iPad ahead of time if you want or you can bring a book or magazine, but you aren't going to posting photos to your Instagram account. I like to look at my time in the sky as a time to decompress from the distractions of my phone and devices. I am (at least for a few hours) unattainable, and you know what? It's glorious. I have read multiple chapters of books, completed crossword puzzles, come up with ideas for articles, and had conversations with the stranger sitting next to me. I love the quiet time. Embrace it.
I know a lot of people say that it's not about your destination but the journey to get there and this is not at all true for those of us flying Spirit Airlines. The journey is not glamorous, and it is not filled with perks, but we are on our way to see the world for a lot less money.
And at the end of the day, I think the most important thing to consider when talking down to those who fly Spirit, is that travel should not be afforded to only those who are financially fortunate. If I can take my kids to a new city for less, I am going to go that route. They will see the world, which is a truly priceless gift.
An earlier version of this article, referred to the recent delays and cancellations as a result of a recent pilot strike which was incorrect. The article has been updated to reflect the reasoning behind the delays.