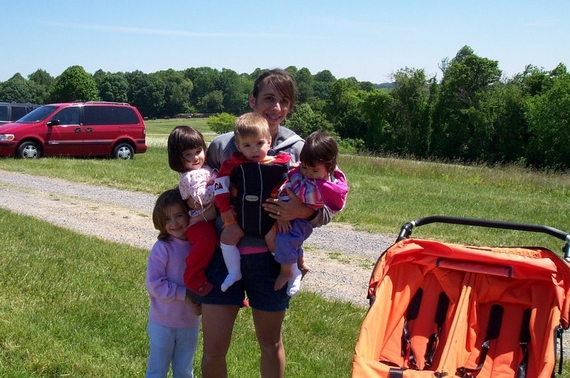 I've been a stay-at-home mom, a work-from-home mom, a single mom, a work-outside-of-the-home mom, and a stepmom. Through it all, I've realized that I am the best mom only when I'm the best me. And that involves having an identity outside of "mom" and doing things other than momming.
I figured this out pretty quickly after my twins came into the world. They were my third and fourth children born when my oldest was three and my middle child was not yet two. Pre-flight safety demonstration logic definitely applied here: Put your own oxygen mask on before helping others.
I nursed my twins until my hair fell out and my teeth became riddled with cavities. I rolled with it when one of my daughters, fresh off an awesome haircut at a real salon, decided that no morning routine is complete without hacking mindlessly at one's hair with paper scissors, causing the hair on the left side of her head to stick out at 90-degree angles. Part of being a mom is deciding it really fits in with the whole gypsy, raised-by-wolves-chic look she went for on most days and not losing my sh!t. After all, ripped jeans under a long, hand-me-down skirt with three shirts and mismatched socks looked even better with wild-and-crazy hair. It was that same year that I was able to intervene calmly when the twins tried to play a game of Hansel and Gretel so realistic it involved trying to stuff themselves into the oven.
If "mom" had been my only identity, having my life-force literally sucked out of me, awaking to DIY haircuts, and witnessing my progeny trying to cook each other in the oven would have sent me over the edge.
Here's where having a non-mom identity comes in. When the kids were little, I took time to go out alone, develop hobbies-- which once included a National Scrabble Association club that met in a local nursing home-- and have a social circle whose common denominator was something other than being a mom.
I learned that last lesson after my divorce. Single with no backup at home, I would hire babysitters to go out for mom's night, only to realize it wasn't enjoyable. No, not because I felt guilty leaving my kids with a sitter. It was because the sole topic of conversation revolved around children. I was paying a sitter to have time to be Dani, not mooooommmmmmyyyyyy!!!!, and all we talked about were kids. If I was paying someone to have time alone, why would I want to discuss the latest PTA fundraiser or sales on school supplies? (Pro-tip: If you have an extra $10, pay a babysitter with a driver's license to pick up the goods.) I began to socialize with people who did not have young children so that "me time" was actually about "me" and solely revolving around the people I birthed.
My kids are older now and no longer attempt to cut their own hair, stuff each other in ovens, or need their onesies duct-taped shut lest they undress each other and remove their full diapers. (That is a pro-level twin move, by the way.) I also have two stepchildren. Though I have six kids and though I'm remarried, I still do not define myself as a mom or wife.
My husband is in the Army, and this last time we moved, I did not join a spouses' club or immerse myself in the volunteer scene at my kids' schools. I went back to school myself. Two years later I have a new career as a mental health counselor and a lot of amazing friends who know me as Dani, not just my kids' mom or husband's wife.
If you ask my kids who I am, they'd say I'm their mom, but they also know I'm a writer, friend, music lover, fried food fanatic, dead language geek, football fan, and a counselor. My hope for my own children is that no matter what roles they end up having in life they have a strong sense of who they are. After all, just as I am much more than a mom, they are so much more than "my children." They are Lili, Francesca, Benjamin, Juliette, Doug, and Allison.