Listen up, GoDaddy CEO Bob Parsons. This message is for you and your bazillions of customers.
While my status as a loyal, longtime customer of GoDaddy couldn't prevent this blatant case of robbery from hitting me, perhaps conveying the story online can save you or someone you know the same grief in the future.
Though the reason right now escapes me, I made the mistake of selecting GoDaddy as my Web hosting provider for HollywoodChicago.com, which is a Chicago film and theater publication I founded in 2007.
Since the site has been live and hosted with GoDaddy, I've had what I would now classify as several baby tugs of war with GoDaddy. My Web site being down for a few hours is one thing. Robbing me is quite another.
My hosting account allows for 150 gigabytes of storage space. That's a lot for most people. I was using about 5 percent of it and have been every day since early 2007. On Aug. 3, 2008, my disk space usage mysteriously multiplied five fold.
And then doubled the next day. And then doubled the next day. And on and on. It mysteriously doubled so much and so long that it amounted to 250 gigabytes of new data being stored within my hosting account. The problem? I didn't know.
GoDaddy wanted me to have been monitoring this proactively by logging into my account, digging deep within their tools and checking the one that reports my disk space usage. Unfortunately, I have a life. I don't do that every day (nor would I think to based on my normal disk space trending over the years).
I only found out when I received an e-mail from GoDaddy stating their charge of $6,579.51 (see the screenshot below) to my bank account had bounced. Thank the heavens Capital One was kind enough to shut down my credit card that day because of an "irregular spending pattern". Yeah, I'd say so. GoDaddy's automated system tried to charge them, too.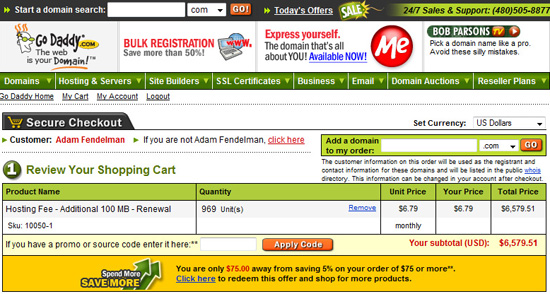 This launched a full-scale investigation on Monday. This has stolen countless hours of my time from then until Thursday, four days later. The "investigation" was handed to GoDaddy's security department because their initial belief was that my hosting account had been "compromised." They also wanted to make sure their other systems weren't affected.
If that was the case, they assured me I wouldn't owe a penny of that unbelievable $6,579.51 bill. I made sure they notated that on my account. I nervously waited and waited for days. I was waiting for an impersonal e-mail from "John S.S." (who I couldn't talk to directly). I was assured he was the highest and best security guru at GoDaddy.
His e-mail came on Wednesday. It said the problem was my fault. I wasn't "hacked" into like they initially thought. His e-mail said the software running my Web site (it's called Drupal, which is open source software built by and improved by the world) deposited thousands of temporary files into my GoDaddy hosting account.
GoDaddy wouldn't share with me proof of their investigation or reason to believe Drupal was indeed the culprit. They were only willing to not finger themselves or a malicious hacker. Despite not being able to give me adequate proof (because of "security purposes"), in GoDaddy's mind this meant I was liable for the $6,579.51 bill.
Suffice it to say that wasn't the best news I've ever heard. Though I was courteous in the beginning, I was less than calm in dealing with this now.
Perhaps GoDaddy felt bad for me, but as a "courtesy," they were willing to reduce that $6,579.51 bill to $969. That new number sounded quite arbitrary, but they said that figure was based on the maximum amount of money they're allowed to "discount" a situation that had a "special circumstance".
That sounds like a partial admission of something being plain wrong with them trying to charge me anything in this case, but you can decide that for yourself.
Now this situation only happened because their automated system kicked out a massive bill to me without any GoDaddy human going whaaaa?. Even more alarming, why didn't GoDaddy have an automated process to just send me an e-mail while my disk space quota was unusually rising?
I would have deleted the files right there and then and changed the read/write permissions on that folder before it became a bigger and very expensive problem. GoDaddy has all the automated systems in the world to charge you but apparently not a very simple one to prevent you from being charged.
In the question of whether to pay the $969, I asked what would happen if I just canceled my GoDaddy hosting account. I was informed I would not be reimbursed for the remaining time on my hosting account (which I paid in full in advance), but more important, the $6,579.51 bill (or $969 or any other random number) would go away.
I was assured GoDaddy wouldn't go after me for that or send the matter into collections.
It would be cheaper for me to leave GoDaddy and put my business somewhere else. I asked for this guarantee in writing. I couldn't get it. I couldn't get a reason why I couldn't get it, too. I extremely reluctantly paid the $969. I felt robbed. Taken. Violated. But karma is a funny thing. That was on Wednesday.
Because of how much grief I had been through, on Thursday I called back to make sure my disk usage problem had gone away. I deleted all the extra data and it should have. But it didn't register. It would take GoDaddy's systems another month to recognize that change.
Even worse, I learned on Thursday I deleted the data three days after the start of my new billing cycle. The Thursday customer service representative said I'd get another $6,579.51 bill a month from now. The Wednesday customer service representative promised I wouldn't.
I fell down to the ground. A little bug scurried by. I actually felt envious of the bug for that moment because he or she would never have to deal with corporate monsters.
The Thursday customer service representative was kind. He cared about my problem. He was even understanding. He recognized that GoDaddy had made my life hell over the past three days. He did things to make sure this potential problem in a month wouldn't be.
He was given the authority to upgrade my hosting account for free from 150 gigabytes of space to 300 gigabytes of space, which is just under what GoDaddy's disk space tool reported three days after my new billing cycle. This means the new $6,579.51 bill shouldn't automatically spit out in Oct. 2008.
But what if it did? I don't trust them. I was given the direct phone number of GoDaddy's office of the president and his e-mail address. I've read your blog, Bob Parsons, and now you know me, too. It's not a pleasure to meet you. I hope no one else ever has to meet you like this, too.
Update: This article helped to justly resolve my issue. GoDaddy promises "significant changes" to help prevent this issue for other people in the future, too. Read part two of this story...
Popular in the Community