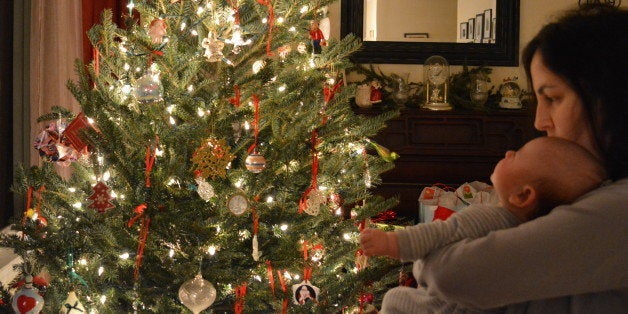 When I was in first grade, my teacher asked me what I wanted Santa to bring me for Christmas. "I don't believe in Santa," I told her matter-of-factly. I still remember the look on her face -- a mixture of surprise, concern, pity and fear. I realize now I might have unwittingly set off a chain reaction of "Is Santa real?" questions at my classmates' houses that night.
The reason my parents never "did Santa" was partly practical, partly philosophical. Besides not wanting to tell us kids something that wasn't, in the strictest sense, true, we were never at home for Christmas. And to prevent having to schlep all our gifts from New Jersey to Syracuse, where my extended family lived, we opened presents at our own Christmas celebration a couple of days before. Sure, my parents could have made up a story -- "Santa knows you're going to be away so he came early" -- but that just wasn't their style. So, I went through my childhood Santa-less.
I see the looks of sympathy as you read this. "Poor kid," you might say. "To have missed out on the magic of Christmas, the magic of believing. To have your imagination squelched so thoroughly. To grow up so fast."
But I never looked at it that way. I never felt that I was missing anything -- and not because I didn't know what I was missing. To me, Christmas didn't need Santa.
Here's how it would go: After having our own special Christmas at home, my parents would load up the station wagon with presents for my grandparents, aunts, uncles and cousins. We'd pile in and make the four-hour drive, sometimes through a snowstorm. We'd arrive in Syracuse to my grandparents' house, brimming with relatives we hadn't seen all year. I remember the smell of garlic and tomato when we opened the door. The laughter of 20 Italians talking over each other. My sister and I running to see the tree in the sunken family room. The piles and piles of lake-effect snow on the ground (I had a white Christmas every year). The fish dinner on Christmas Eve. Staying up late and finally going to bed thinking of The Nutcracker, in which a young girl gets transported to a magical land. Thinking of the nativity story. Even thinking of Santa. And then waking up to more relatives, to another big dinner, to another day of joy to have the people who love you finally so near.
Now that I'm an adult, I still love Christmas, although we don't make the pilgrimage to Syracuse anymore. I wish for snow. I watch Elf and even Miracle on 34th Street. I deck the halls really well, if I do say so myself. I sit in the living room when it's completely dark except for the glow of lights on the tree (always real, no fake ones). It looks so, well, magical.
My son is still too young to understand who Santa is, but I don't really plan on introducing him to the concept (although my husband, a former believer, will argue this with me). I guess I just don't see the point. Kids' sense of wonder does not rely on thinking things are "real" or not. There is a fine line between pretending and believing, and that's where their imagination lives. I also don't believe in using Santa (and definitely not the creepy, Big Brother-like Elf on the Shelf) as a means to make my kids behave. And I can't see looking my son in the eye and saying, "Better go to bed or Santa won't come!" or trying to devise elaborate explanations for all the Santa-related questions that will inevitably be asked. I don't think I could keep a straight face, and I want to tell things like they are to my kid.
If Santa is your family's cup of tea, go for it. It's just not mine. And I think Christmas is pretty magical without it.