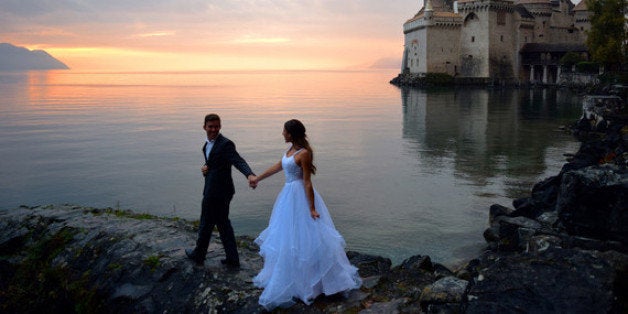 A couple of months after my husband Matt and I got engaged, we sat down to write out a wedding budget. It was horrifying, and still to this day one of the worst realizations I've come to in my adult life. We had always been frugal and saved all of our disposable income for trips and new experiences. Travel was (and still is) our passion. It was how we fell in love. Most of my favorite memories of our relationship take place while traveling abroad. Now society was dictating that even for a modest wedding we had to spend tons of money -- that could instead be spent on travel. At the time, we had been budgeting for Matt's anticipated internship in Switzerland and I had planned to join him abroad and spend most of my time traveling.
Anyone could have seen the look of horror on my face when we were listing out prices. I had always thought I wanted a wedding, but... did I? I was quickly realizing "wanting" and "paying" for a wedding are two VERY different things. So Matt tentatively asked me if we could forego the wedding and I instantly said 'yes'! I was being given an out and I took it.
Matt heard back from the UN almost a week later -- he got the internship -- and we went into full throttle planning mode. I took it as a sign we had made the right choice, but I was (of course) a little disappointed. Every girl dreams about her wedding day and I was no different. I had Pinterest boards galore and had been a bridesmaid in three of my closest friend's weddings. I was sad I would never get my day but tried to hide it. Matt noticed.
On a casual lunch date on a sunny afternoon, Matt unexpectedly suggested a plan. Specifically, a way to make me feel like I had a wedding while giving me beautiful wedding pictures to look back on, without actually spending a ton of money on something that wasn't our passion. He suggested we take wedding pictures all around Europe -- pictures that would reflect us, why we fell in love, why we save our money to travel, and why we were forgoing a wedding day.
When we started traveling more often we both took up photography as a hobby and already owned a decent camera, so he proposed buying a tripod, a remote clicker, and a wedding dress that was attractive enough for pictures but inexpensive enough to be stuffed in a bag and carried along with us everywhere.
I said yes. It was perfect and I couldn't have been more excited. I found a wedding dress online, we packed our bags and boarded our plane to Europe. We had originally planned to take 5-10 pictures with the idea that traveling and being in the moment was always the priority. But after the first couple of pictures... we became addicted.
Every time we set up the camera and framed our shot we got a few long moments to ourselves; rare in this day and age with constant activities, TV shows and phones to distract us. The large flames we once held for each other when we initially met had died down into small sparks as most relationships do. As much as we loved each other, we didn't necessarily take the time to tell each other very often. Now we were in amazing places, in front of gorgeous scenery and getting a chance to tell each other that in a substantive and truly meaningful way every few days. It was magical.
The pictures came out even better than we imagined, and I never once regretted spending our "wedding money" to travel and not planning a huge wedding. Our parents still wanted a wedding day though and after we returned home they insisted on a small ceremony. They graciously paid for a ceremony and reception on a beach in the Florida Keys. It was beautiful and magical in its own way, but I will always remember setting up that camera and tripod, frantically changing into my dress in rental cars and kissing Matt while telling him I loved him in between photos. Even though the backdrops were often scenic or grandiose, the only thing that mattered to me in those moments was our love. Now when I look at those pictures, our love is all I see -- and that means more to me than any wedding ever could.