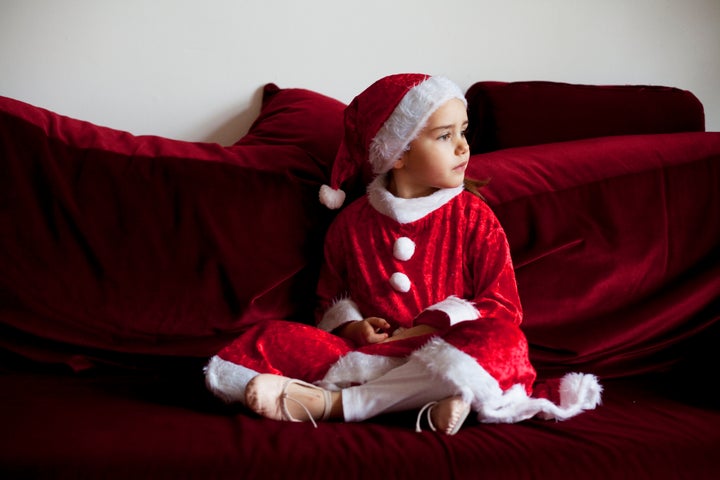 Let me start by saying that I love Christmas.
I start playing Christmas music the day after Thanksgiving and keep it going until my husband can't take anymore. I bake cookies like a champion, painstakingly compose homemade gifts and handwritten cards for my friends and loved ones, and there is nothing better to me than snuggling up on the couch with a good Christmas movie under the twinkling lights of the Christmas tree.
There is one thing about Christmas, however, that I loathe entirely…Mall Santas.
Maybe I'm crazy, but there is just something about handing my daughter over to a strange fat man in a red suit with a fake beard that isn't appealing to me. Am I the only one who feels this way about the jolly stranger at the mall?
Don't call me a Grinch, yet. We do tell my daughter about Santa and all of his reindeer. She knows he lives at the North Pole and is extra good to make sure she gets all of her presents. I just feel like taking her to see "Santa" is a bizarre tradition. Hear me out.
Santa? I Know Him! Not...
OK, so one of the main complaints I have about Santa is that he decides to hang out at overly crowded malls and makes moms and dads stand in lines the length of the food court with their impatient children for five seconds of fame.
The unpleasant experience starts off trying to find parking, and nothing puts me in the holiday spirit more than being cut off by the stranger who takes getting a good parking space a little too seriously.
Then you have to make your way to the center of the mall where Santa sits (telling your child "no" at least five times on the way, because she wants everything she sees). By the time we make it to the line to wait on Santa, she is cranky and I'm over it.
And now… we wait. All of these parents with their impatient, unhappy children waiting in line to take pictures with a stranger. Why?
Let's Commemorate These Tears Forever
Your kid may be scared to sit in the lap of a stranger — which is a good thing, by the way. Or maybe it's the fake beard and larger than life presence Mall Santas try to have.
Either way, you fight for parking and wait in that long line to end up with a picture of a stranger and your kid that is anything but jolly. Your kid will lose their mind and you'll have to break out that high-pitched mom voice and all the tricks you know to get her to smile for 5 seconds.
You end up looking a bit crazy, but that's OK because the rest of the moms can totally relate. Or you have to get in the picture, too. The only thing less appealing than having my child sit in a stranger's lap for a photo to commemorate forever is me having to sit on that stranger's lap with her. I really hope that's a banana in your pocket, Mr. Clause.
Why do we put ourselves through this torture?
I'd much rather dress festively and take pictures at home around the Christmas tree in the comfort of my own home and hope for the best without the mall, the crowds and the chaos.
Take All of My Money
Don't get me started on the pictures. Why do they need to charge an arm and a leg for a decent package of pictures after making us go through all of that suffering? Why not just beat me up and take my money, that'd save me some time.
If you actually manage to get a good picture, it's not going to be worth what you'll have to pay for it. If your kid decides to be less than photogenic and you don't purchase the pictures, you just spent an hour or more standing in a line for no reason. No thanks.
Dasher and Dancer and Stranger Danger
So I really need to talk about the fact that Santa is a stranger dressed in a red suit having kids sit on his lap all day. I know I'm not the only one that sees something wrong with this picture. We talk about stranger danger and try to keep our kids safe, but are more than willing to go ahead and hand them over to someone we don't even know for a photo opportunity? Does this teach our kids that if a stranger is dressed a certain way, it's OK to go with them? This just rubs me the wrong way.
I'm totally fine having a family member or a close friend dress up as Santa and come to our house to take a picture on our terms. Even though this may not take away the stranger factor for my child because the person is in costume and is not recognizable, it's at least at home.
Dashing Through the NO!
I really don't like the importance our society has put on Santa. Social media, in particular, has made the ubiquitous Santa photo obligatory and I'm not having it.
It's one thing to teach our kids about him and create that Christmas magic around him, but actually putting so much significance on a random person who wears a red suit is just too much for me.
Standing in line and handing over my kid to a stranger is anything but magical. It doesn't put me in the Christmas spirit, but it's one of those unspoken requirements of Christmas. Like it can't be Christmas unless you buy the overpriced crappy picture of your kid sitting in a stranger's lap.
I would rather focus on the true magic of Christmas like the spirit of giving, the real reason for the holiday, fun family traditions and the Christmas lights that make everything feel extra special. Maybe we'll even go to church. Or maybe we'll just make some more cookies.