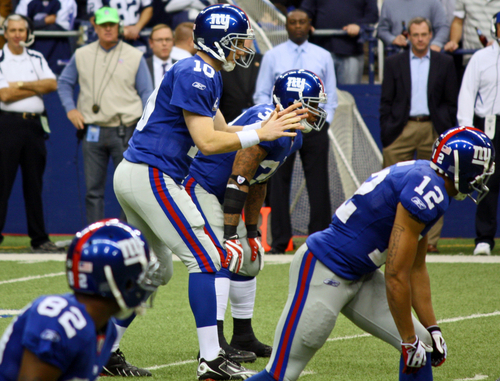 We grew up a football family, the New York Giants to be exact. According to family legend, my first word was football. My father had season tickets. In August, a flat package would come in the mail, postmarked East Rutherford, NJ. My two younger brothers and I would sit at the dining room table with my father and I held my breath as he pulled out a seasons worth of colorful tickets. We spent the rest of the afternoon picking out which games we each got to got to with my Dad and mark it on the calendar. The first game was always reserved for my Mother.
I always looked forward to spending my Sunday with my father, just me and him going to the game. I would feel the excitement in the air as we would drive down the New Jersey Turnpike, not having to cross over the Hudson River like most of the other fans. I remember listening to the pre-game radio show on the AM station, not understanding what the announcers were talking about but pretending like I did anyway. My father would hustle me through the parking lot, weaving in and out of the tailgate parties, the smell of BBQ chicken and beer tickling my nose, as my backpack filled with sandwiches and my fathers flask hidden in my rolled up sweatshirt would slide down my arms, leaving me to carry it as I tried to keep up with my fathers pace to the gate entrance.
As I got older, my interest to spend the day with my father lessened. I begged off going to see the GMen in their blue and red uniforms square off, and would spend the day shopping at the Livingston Mall. In fact, the last time I was at Giants Stadium before I left for college was to see the rock group, The Eagles perform. The roar of the crowd when they played "Hotel California" was louder than any touchdown Phil Simms ever threw. My obsession with football took a hiatus when I went off to college and spent Sunday afternoons hungover in bed and then scrambling to get term papers done before Monday morning.
As time went on I got married, moved to California trading the Atlantic Ocean for the Pacific, the Appalachian Mountains for the Sierra Foothills. My husband and I started a family. It was then that my obsession with the New Your Giants returned. I was homesick and the Giants kept my New Jersey roots planted firmly in the ground. On Sunday mornings I would brazenly wear my game day NY Giants jersey to the grocery store and purposely stand in line behind someone wearing the red and gold of the San Francisco team.
It seemed rather sudden but in reality it wasn't that my Dad got old. When he got sick it the only thing we could muster up to talk about during our weekly phone calls was the Giants and discuss in depth if the defensive line was going to hold for the upcoming matchup.
In his last year, I went to visit him in his nursing home on a Sunday afternoon in October for his birthday. I went to the local diner and bought hot dogs to go and I sat by his bedside propping my Dad up with pillows to watch the game. He fell asleep by halftime. I remember wiping the mustard off his lips and turning down the volume of the TV. I wondered if this would be our last game.
It's been two years since my father has passed away. For two seasons I have forced myself to stay in tune to the NY Giants. I have worn my jersey and dutifully picked Eli Manning to be my fantasy football team quarterback.
For two years, every Sunday during football season I have felt sad. Incredibly sad.
Last month I got an email from DishTV reminding me to renew my subscription for for Red Zone football package. I turned it down. The same day I called my friend who runs the fantasy football league and told him to give my spot to someone else. I put my jersey in the Goodwill bag.
This past Sunday night my brother, who now lives inTexas, sent me a text. "You watching the game?"
I replied back with a simple "no," and flipped the TV on to watch baseball.
Photo credit due to Ken Durden / Shutterstock.com
Calling all HuffPost superfans!
Sign up for membership to become a founding member and help shape HuffPost's next chapter