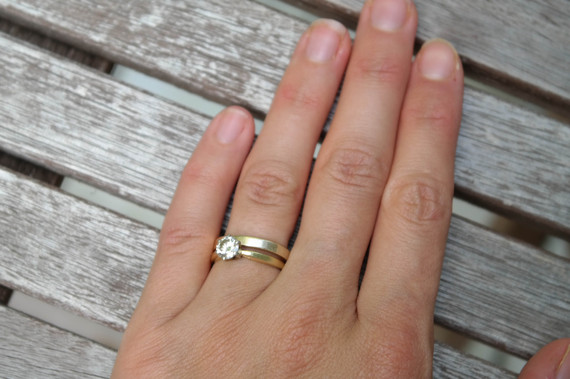 I've been married a little over two years, and a couple months ago I stopped wearing my engagement ring.
Before I tell you why I don't wear my engagement ring, take a trip with me as I get a bit nostalgic about my own engagement.
My husband proposed to me at a random New Year's Eve party. I say random, because the only people we knew were a few friends that came with us. We were all dancing and after the song was over( I think it was Michael Jackson)
He pulls out this little box and says, "I love you. Will you be my wife?"
Not sure if those were the exact words but, I'm sure he said he loved me because it was the first time in our two years of dating. Naturally, when he proposed, I looked around the room for my friends to see what they thought about this proposition. Now THAT'S a surprise. I was nice and sweaty, slightly drunk, and my best friend(maid of honor) was sobbing. It wasn't elaborate or showy. There was no flash mob and my entire extended family didn't pop out of the closet on cue.
We had been engaged for about four months.
We were on his annual birthday camping trip. We had been swimming at the lake that day. Later in the evening I looked down and noticed my ring was GONE.
I had no idea where it could be, I assumed I lost it in the water earlier that day. We formed a search "partay," and went to look on the shore at the lake.
The next day, we went back with two of our friends, and a metal detector. After a few hours we were about to give up when our friend exclaimed, "Holy s***, I found the ring!" The ring was, no joke, glistening in knee deep water. We had a dance party by the lake, and then went home to make the most delicious sandwiches.
This ring has more intrinsic value to me than just diamonds and gold, because of the memories I associate with it.
So why would I stop wearing my engagement ring, the very symbol of when my husband I started our life together?
It calls attention to wealth that I'd rather downplay. It doesn't sit well with me to bedazzle myself. It's just a simple solitaire diamond sitting on a thin gold band. But still,I pride myself in wearing Chacos every day, and very little makeup. Sometimes I look like a homely farm girl. I like that. To me it's simply being mature. I feel like I am much more approachable.
Not to mention the typical ring shopping, selection, and wearing experience has become the most unromantic thing I've ever seen. When I hear that a friend is going ring shopping with their boyfriend, I cringe. Call me crazy, but I'm a traditionalist when it comes to surprises.
So, what would it look like if we stripped down?
Like, just got naked together.
In a material possession sort of way.
You don't need any more clothes. You don't need a new car. Your home doesn't need to be remodeled. You don't need jewelry.
In a practical sense, those things are typically a waste of money. What really matters?
Taking care of orphans and widows. Loving your neighbor. Staying informed about the atrocities of the world despite your yuppiness. Giving a voice to those who can cannot speak for themselves.
It all started because my husband asked me, "Why do you wear your engagement ring?" My reply, "I'm not sure (thoughtful pause) it doesn't make any sense. I'm not going to wear it anymore."
In everything we do, say, or write we are making a statement. What statement are you making?