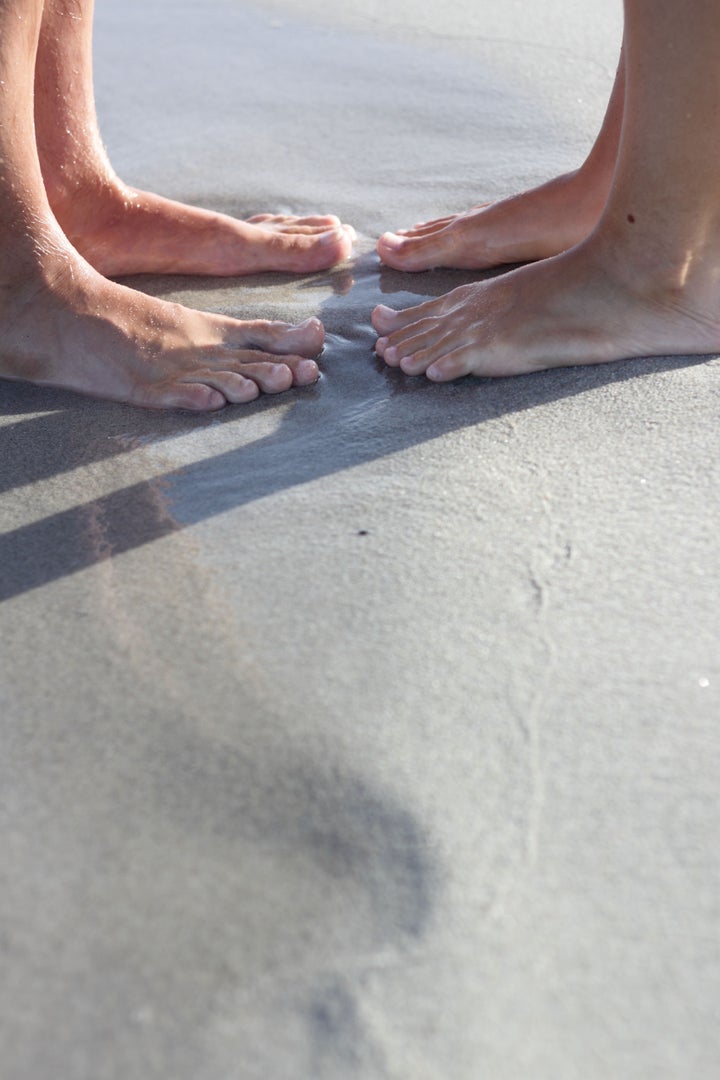 Adam and I had been together almost nine years when he proposed. We met at university when we were twenty years old. We later moved in together, travelled a lot and eventually picked up our lives from Toronto to move to L.A. I knew after several years that this was it. We were in love and we wanted to spend our lives together. But after having been together for quite some time, I didn't know if we would get married per se. Maybe we would just cohabitate. Maybe he would get me a nice ring down the road with a commitment--instead of a proposal. On one hand it didn't matter to me, and on the other, we were practically already married. So when Adam did propose, I was incredibly surprised. I didn't expect it, and because of that had never pictured it. But one thing I did know right away: I did not want a wedding.
We had talked about marriage over the years, how we would do it, and how we wouldn't. We both always imagined getting on a plane, flying off to a luxe destination like Fiji, getting married on the beach, and celebrating there. No part of me ever envisioned a big wedding. The thought of getting up in front of a large group of people, and sharing intimate vows made me want to puke. Even more unappetizing than that was the thought of pining day after day over centerpieces, seating arrangements, and color schemes. "What are my colors...?" who cares?! These details never mattered to me, and made me annoyed just to think about them.

I'm not one of these women who was born to be a bride. I didn't have scrapbooked dreams of what my wedding would look like from a young age. I had never envisioned "my day": the hair, the dress, and my father walking me down the aisle. And I'm not a tomboy; I love heels on a good night, bright lipstick, and dresses. I really just didn't think a marriage celebration needed all these expensive and over-the-top details. Details that drive people nuts and cost a fortune! I really believe that that kind of money (thousands of dollars) is much better spent buying your first home together, paying off loans, even travelling. Not on a bad DJ, overpriced hors d'oeurves, or mediocre calligraphy on invitations.

At the time of the proposal we had a trip to Thailand booked. It seemed like perfect timing and the right choice to turn our vacation into elopement. We did some research, hired a company to do all the paperwork, and asked our little beach hotel for three simple things: champagne, flowers, and a person to marry us. We spent all of one week worrying about what to wear (yup, no stressful fittings, thanks!) and scored great wedding attire last minute, me in a purple Proenza Schouler on sale, and Adam a Marc Jacobs vest, off-the-rack designer, and on a budget without the hassle. It was perfect, just how we wanted it. The two of us: simple and together. Adam even wrangled some black market Thai fireworks, which were amazing. I think the whole shebang -- legal Thai wedding certificates, candlelit dinner on the beach, champers, and flowers -- cost us about $1100 dollars.

However... there was definitely some fallout. Family members were offended that we ran off, and siblings felt jilted that they missed out on our Day. But it was our choice--not our families', not our friends'. And I truly believe the way you decide to get married should be your choice, as mine was. Once the resentment died down and the sarcastic comments diminished, we planned a big party and invited everyone. We had great food, lovely words spoken, and a kick-ass dance party that lasted until the wee hours. It was a great night, and a perfect way to cap off our celebration to get our loved ones together without the formality, expense, and hoopla of a traditional wedding.

Truth is, I know myself well enough to not go down the road of a planning a wedding, and letting myself get involved with details I don't care about. And I think for those who dream of the big wedding and love to spend days planning it, great. Good for you, truly! But, for me, I listened to my gut, chose the unconventional path, and had what I would call a perfect little wedding.

It took almost four years, but my mother-in law just said to me the other day "you guys sure got married the right way." I let out a slight sigh a relief, and given the choice to do it again, I would get married exactly the same way.

Adam and I have been married four years now, together twelve. We have a baby boy who we adore.