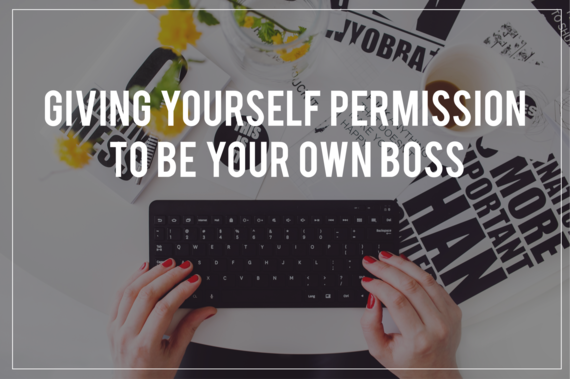 I have been told I take things too personal and I'm too emotional. I've been told that women will never succeed in business because they let their heart get in the way. I'm here to say that operating from a personal, heart perspective is the only way to run a successful business. If it weren't for my authenticity and putting my heart into what I do, then I would not be passionate about my business. Let's be honest, though, I'm not sitting here crying on the phone with my clients.
Being Paralyzed by Fear of the Unknown
Being afraid to get started is caused by fear of the unknown. I've been there and know that this fear can cause you to feel almost paralyzed with indecision. This fear stems from believing we do not know what to do technically, logistically or legally when starting a business. Education is no longer a viable reason for not following your dreams. Women who have not attended or finished college may think they can't start their own businesses but that degree has nothing to do with business smarts.
The best thing about being alive in this day and age is that you can absorb as much information for free as you're willing to. All the resources are out there to self-educate and be your own teacher. When I start to have feelings of fear, I check-in on my technical skills or knowledge, and see if there is an area in which I need some more training. I take full advantage of being a lifelong student and growing along with the world as accessible knowledge increases. This empowers me to face my fear and conquer it by learning everything I can about the subject at hand.
Open to the Possibilities
I used to think of myself as a private person; someone who didn't really open up to strangers until I actually got to know and trust them. I didn't realize that was holding me back for so many years, but I knew I wanted to be the boss of my own life in more ways than one. I was holding back my entrepreneurial dreams in a way that I did not even realize. I have always dreamed big but I was not living like I believed it until I opened up myself to the possibilities that I could be successful with my passions by being consistent and working hard.
I will never forget my seventh grade report card notes from my social studies teacher. She wrote the word, "follower," so boldly in cursive across the bottom of the piece of paper that defined my progress as a then 12-year-old. I knew she had no idea how wrong she was about me. This woman who saw me for 45 minutes a day, five days a week, who never had a real conversation with me and had no clue who I was, labeled me as a follower. I was beyond offended at the time and could not believe that she labeled me as such. If being quiet and observational means being a follower then I'll take it, because I believe you have to listen in order to lead.
Making a Decision to Start
I've always had an artist's soul, so I knew even as a 12-year-old that I had to do something creative with my life. I taught myself web design in the '90s and started out with a daily devotional website. It was my first real website and it brought me a lot of joy seeing how it could positively impact other people's lives. Because of my love for technology and creativity, I embraced website design and learned everything I could, including graphic design. Back then it wasn't exactly considered cool to be a website designer and I didn't want to get caught in the stigma of being a "computer nerd," so I never truly allowed myself to embrace the business idea. There were a few other passions I wanted to pursue first but I always knew the computer geek inside of me would have her day.
Despite that, my passion for great design and technology kept coming back to me in ways I could not ignore. Years later, I made a decision to go after it. I decided to announce my plans to the world of owning my new design business and taking control over my destiny in the way that I had always dreamed. I knew this new business adventure was not going to be easy and I didn't even know what steps to take. I did know, however, that by simply taking the small act of announcing my intentions, I would become obligated to accomplish my goals.
Within 24 hours of announcing my new business, I had several clients lined up. Just from letting myself be vulnerable to my dreams, I was already seeing the benefits of starting before I was ready. I didn't even have my own website up and felt completely overwhelmed with starting a new business from scratch. It was frightening and exhilarating all at once.
No Apologies
I make no apologies for the life I have chosen to live and the business dreams I have decided to reach for. I believe that women have such a wonderful instinct within them for business and do not need to apologize for wanting more in life. I am so grateful that we live in a world where we are becoming more self-aware and that women have ever-increasing opportunities to become leaders.
Now is not the time to be meek and bashful. Now is the time to start something that you're passionate about so that you, too, can be the boss of your own life.
REAL LIFE. REAL NEWS. REAL VOICES.
Help us tell more of the stories that matter from voices that too often remain unheard.