Kyle McMahon on how a stranger sent him to a Tony Robbins seminar which led him to start the Delaware Basket Brigade.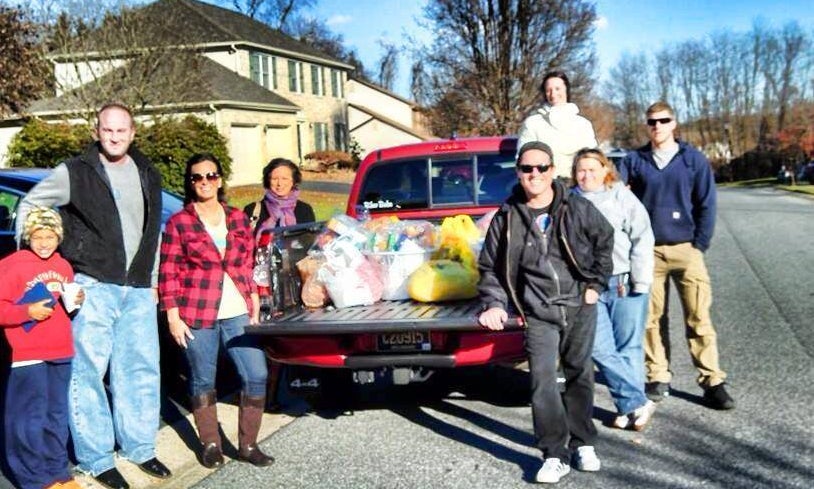 Each November I am joined by friends, family, neighbors and total strangers in collecting and distributing complete thanksgiving baskets for the Delaware Basket Brigade. I was inspired to start the Delaware Basket Brigade when I attended Tony Robbins Unleash The Power Within seminar three years ago. Tony spoke candidly about how he began collecting items to give complete thanksgiving dinners to local families in need and why he started.
"At 11 years old, I experienced what it was like being part of a flat broke family. One Thanksgiving, however, a man I had never seen gifted my family with a turkey and huge basket of goodies. In that moment I came upon a new meaning—strangers care. Soon after, I realized that I wanted to do the same." - Tony Robbins
As Robbins empire grew, so did his dedication to the service of others. He created the Anthony Robbins Foundation, which helps collect and deliver complete thanksgiving meals directly to the homes of families who may need some help during the season.
The fire inside me had been lit. You see, I was attending Unleash The Power Within (UPW) as a gift. Someone had seen me on one of the Oprah's Lifeclass shows I appeared on. After seeing the shows, he had been inspired to contact me and gift me with a ticket to UPW. Someone had gifted him a ticket in the past and now he was passing it on himself.
That first year we set out to deliver 10 complete Thanksgiving meals directly to the homes of local families that could use the extra help. I reached out to friends and family and the word spread. The generosity and spirit caught on. We delivered 15 meals fit for a king and delighted in the reactions of these families. When any of them asked us who we were with, we'd simply answer that we were only the delivery people, but that when they were able to they could pass on a kind act to someone else.
Three years later we will be delivering complete Thanksgiving meals to 40 local families. Through the pure good will of friends, family and total strangers, we're bigger than ever. In fact, storage is now our biggest problem. We also go into the city on Thanksgiving morning with book bags full of non perishable goods, warm clothes and toiletries and give them to the homeless.
"Why do I do this? I give because I was given to. I give because it's the right thing to do."
Why do I do this? I give because I was given to. I give because I was inspired by the giving spirit of Tony Robbins , and the man who gifted me that UPW ticket. I give because it's the right thing to do. I am blessed with amazing family and friends, a roof over my head, thriving, fulfilling work and I have never had to think about if I had the resources to have Thanksgiving. Other people, in my very own community are not that lucky.
I've learned that it only takes one spark to light a fire that can change the world. The Delaware Basket Brigade is not mine. It belongs to all of those who stand beside me rallying their own friends and family to donate or give their time. It belongs to all of those who donate their time and money to help make a positive difference in somebody's life. It belongs to the families that are now able to eat a full Thanksgiving meal with dignity in their own homes because there are strangers who really do care.
Are you ready to be the spark in your community?
Watch Tony Robbins explain how a stranger changed his entire life at Thanksgiving and how it motivated him to help others.
Calling all HuffPost superfans!
Sign up for membership to become a founding member and help shape HuffPost's next chapter
This post was published on the now-closed HuffPost Contributor platform. Contributors control their own work and posted freely to our site. If you need to flag this entry as abusive,
send us an email
.