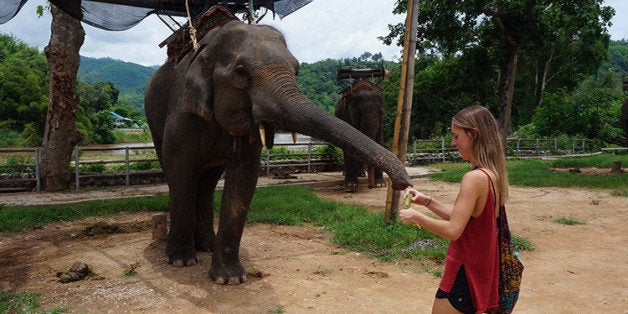 I don't think it's uncommon for a 22-year-old who has just graduated from college to feel lost. "It's time to find your place in the world," they tell us. "Do it fast and don't delay or all of the good jobs will be taken."
I have a hard time believing any recent graduate felt as lost as I did when a taxi driver dropped me off with no map or sense of direction in the middle of a busy street in Bangkok, Thailand.
The two months in purgatory that separated the death of my childhood and my emergence into the real world began as I opened the door of that neon pink taxi. I was terrified.
Exactly two weeks before was graduation day. I stood in cap and gown in front of Indiana University's iconic Sample Gates, laughing alongside friends that would soon be moving to different cities across the country. I watched as their parents gave them fancy jewelry or promised new furniture for their new apartments. My graduation gift was a round-trip ticket to Bangkok, where Chris (my boyfriend) and I both had found summer internships.
"Do you know how much an attractive American girl is worth in Thailand?!" I remember one mom saying. The others just clenched their teeth and swallowed nervously when they heard my plan. The day I left, I spent the entire 30 hours dreading that horrible moment when I would clear customs and instantly be snatched up and sold into sex slavery.
Well, thankfully that didn't happen. In fact, the opposite did.
Within my first weekend I found the Thai people to be among the kindest I'd ever met. On my first day, a friend that Chris had met at work, a young Thai attorney named Aum, offered to drive us to the mall to get lunch and show us around. He told us he had to go there anyway to get a haircut.
When I started my internship, I met two Chinese women named Angela and Kenzie (those were their "Western" names). They went to school in Bangkok so they knew the city well and were more than willing to answer any question I had. We spent lunch every day eating $1 street food, which we would always finish off with fresh fruit from our favorite fruit stand. I learned about their families and how they were different but also in many ways similar to mine.
I met people outside of work, too. Halfway through the summer Chris and I met a couple at a bar near our apartment that completely changed the course of our experience. Leon was an outgoing Scotsman and Mook, a hilarious Thai woman. They were in their late 30s and I'm convinced they took us on as a bet -- testing to see just how much they could immerse us into the Thai culture in what little time we had left.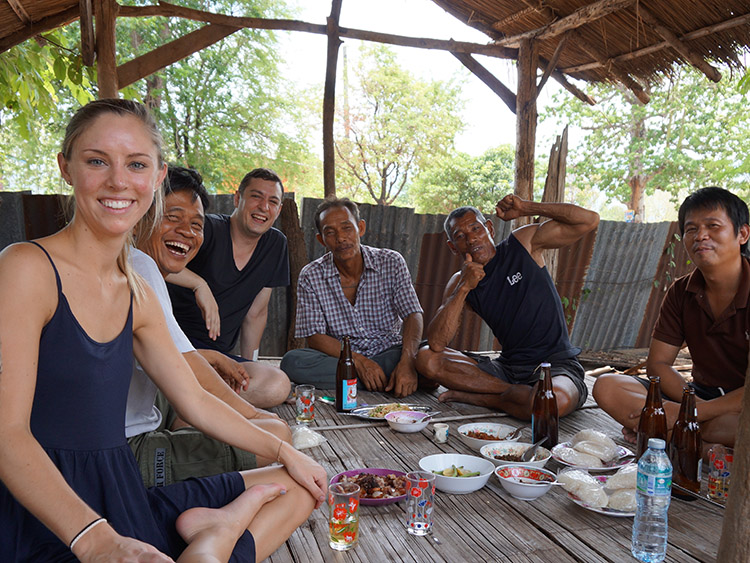 Drinking moonshine with Leon and the old men of Mook's village.
Fourth of July weekend they took us to Mook's hometown, which was in a small village in northern Thailand. We watched as her older brother killed two full-grown pigs and then proceeded to eat every part of them throughout the day -- including the brains.
I learned to cook Tom Yum soup on the floor of the outdoor wooden kitchen and drank homemade moonshine with the toothless old men of the village. Despite the language barrier, the weekend was filled with laughter. We were taken in as if a part of this family and offered a glimpse into a radically different way of life.
Through these people and experiences, my nervousness and insecurities began to subside. My confidence grew and my perspective changed.
We established a routine. We spent our weekdays learning immensely from our internships, I was working for an international public relations firm and Chris for the largest law firm in Thailand. On the weekends, we expanded our wings to places like Cambodia, Laos and a number of cities throughout Thailand, never making plans more than two days in advance. I witnessed places filled with extreme poverty and others that defined paradise -- in some cases, the two combined.
Now, my time is finally up. I've said goodbye to people who have changed my life who I might never see again. We said goodbye to Aum last. His hair had grown long again, and he mentioned needing to get it cut. He said simply, "I will see you again in the future." I hoped he was right. Life is so crazy like that. The way people slip in and out, stopping briefly on the road to offer directions before you both carry off on your own separate journey.
As I continue on my journey, what I'll take with me is the momentum to keep learning. I know that I haven't even scratched the surface of what else is out there and I can only imagine that time goes by pretty fast and dreams I have while I'm young might slip away like quicksand.
I originally thought of these two months as literal purgatory, dreading what stood on the other side. Now, this summer has helped me evolve and changed the way I see the world and my future in it. I see this plane that I'm about to board as less of a one-way ticket to adulthood and more of a butterfly's cocoon.
I'm so excited to see how I emerge on the other side.
Popular in the Community