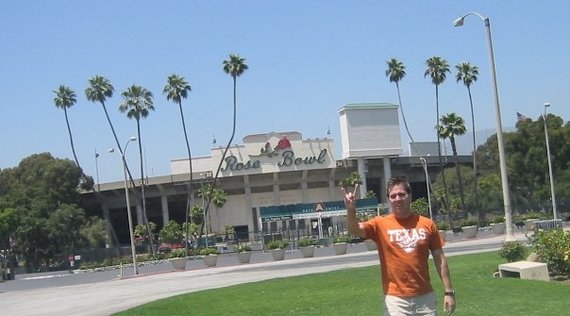 Photo credit: Brent Stoller
Jan. 7, 2010, dawned with such promise for the University of Texas football team. Winners of 26 of their last 27 games, they were set to play Alabama in the Rose Bowl for the national championship.
Things were going almost as well for the school's basketball program. Their 14-0 record had them No. 2 in the polls, and in a few days, they'd beat Colorado to overtake the top spot.
For Longhorn fans, life had arguably never been sweeter.
I was born into a UT family. My grandfather, a graduate with a soft spot for the football program, did whatever he could to support his alma mater, whether that meant organizing alumni breakfast clubs or riding shotgun with coaches on recruiting trips. One Yom Kippur, he had us break the fast in the Rice Stadium parking lot in what has to be the only pregame tailgate featuring matzo ball soup. When he passed last April, former Texas head coach Fred Akers, his closest friend, delivered the eulogy.
Raised within this burnt orange shadow, I couldn't help falling for the Longhorns. Hard. For pathetic or worse, some of the greatest moments I've experienced have involved UT athletics, from the basketball team's Final Four run in 2003 to the football team's title in 2006.
UT basketball soon met a similar demise, though theirs was a slow burn -- 10 losses in their final 17 games and a first-round exit from the NCAA Tournament.
Sadly, these downfalls were merely prelude. Since, both programs have fired their head coaches, aided numerous teams in covering the spread and taken turns inside the media's dunk tank.
Loyal, though not lucid, my devotion hasn't receded. But each new humiliation brings new questions, and there's one in particular to which I have no answer:
Why do I keep doing this to myself?
10 years ago, I joined the UT fan site, Orangebloods.com. Practice reports, team updates, insider info from the assistant equipment manager's neighbor's gardener -- it's a virtual barroom for fanatical Longhorns, and I'm Norm Peterson. I've always considered its subscription to be some of the best money I spend; given the mountain of minutes I'm logged in, it delivers my portfolio's highest ROI.
But at what expense to the bigger picture?
Procrastination and Internet rabbit holes once comprised 98.7 percent of my to-do list without consequence, but that's not the case anymore. I'm 38 now. I'm married, I'm a homeowner and if I'm lucky, I'll eventually be somebody's father. Life is no longer "someday"; whatever I'm going to make of myself, I need to be making it today, meaning free time should be spent on anything but highlights of outside linebackers who might play for Texas in 2019.
A few hours for the actual games is one thing. The pageantry, the pride, the communal spirit of rooting for the same thing at the same time -- that's the upside of fandom.
Of course, for me, watching games is less enjoyable and more hurt-so-good. When my team is playing well, I'm bracing for when they'll stop. When they're playing poorly, I'm anxiously fuming, like a driver pinned behind a tractor-trailer in the left lane. And when they're victorious, I'm more than anything relieved -- that the unknown is known; that there will be no negative inanity to endure; that, most importantly, they didn't lose.
Because that's when real fallout occurs. Embarrassingly, a loss can affect my mood, my day, my week. It doesn't keep me from doing my job or being a husband, but it's there on my periphery, veiling my perspective, like when my golf swing's out of whack. It's something that's not important, but is important to me.
I wish I could follow it all more casually, that I could watch a game, talk trash with my friends and cheer when my team scores. And when it's over, it's over. That's the dream: reaping the good without suffering the bad.
But being a fan doesn't work that way. Nothing does. The stock market, romantic relationships, it's all rooted in the same see-saw physics: the center offers stability; the extremes, volatility. And the only way to experience the highest of highs is to risk the lowest of lows. You get out what you put in.
Distill fandom to its foundation and it's not exactly an investment-worthy dynamic: Hoping that a group of strangers succeeds at a playground game, even though their success in no way impacts your life.
And as a Texas fan, there could be worse times to retract. While a new coach has maybe/possibly buffed the bleakness off UT hoops, every time I think the football team's hit bottom, they carve one more layer into the bedrock. A few weeks ago, when they gifted another win by dropping a punt snap, I wasn't as mad at the world as I was myself for spending emotions on such absurdity.
Then, Oct. 10 happened. A 17-point underdog in their holy war against Oklahoma, the 'Horns dominated every phase imaginable, including postgame Haka dances.
During the telecast, I was anything but mentally stable. Because I get OCD when I'm anxious, I spent most play stoppages sweeping floors and scrubbing the bathroom, convinced that if I didn't, Texas would stop making first downs.
This thinking was certifiable, yet I couldn't quit. And I hated it. I hated being so invested, and I hated being at the mercy of teenagers who didn't know my name. And when the 'Horns aligned in "victory formation," the anguish dulled for one afternoon, I hated that, despite my best cleaning, the air around my eyes appeared to get a tad bit dusty.
But I loved it just a little more.
Calling all HuffPost superfans!
Sign up for membership to become a founding member and help shape HuffPost's next chapter