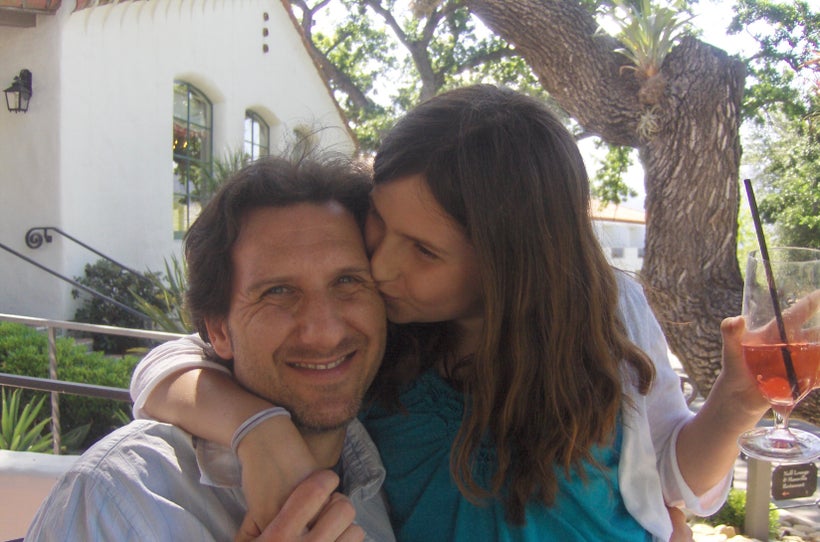 It's been nearly three years since my husband died. I still can't believe he's gone and not a day goes by where I don't think about his warm smile, his unwavering devotion, and the void his absence has left on our little family.
I've now had enough experience being a widow to know that people mean no harm, and truly don't know what to say when they hear about Joel's death. It's awkward, unexpected, and simply, very sad. I can handle it, though. I'm an adult. My daughter on the other hand, is in the throes of teenage-dom. Emotions seem to run high all the time. All I have to do is sneeze in public to make her feel self conscious and not just embarrassed, but mortified. When Kylie Jenner's new lipstick became available, you'd think my daughter won the lottery. When the color she wanted wasn't available however, you'd think there was a death in the family. Well…
She's growing up without her dad. She was thirteen when Joel died, and still called him daddy. I'm not sure if that would have changed.
She reached a teenaged milestone recently when she got her drivers license. She got the permit, no problem, but the actual driving test wasn't so easy. Nerves got the best of her, she panicked and made an error so egregious that it was an automatic fail. When she and the driving test instructor pulled back into the DMV, where I was a nervous wreck myself, I knew it was bad news. They said the test would take about twenty minutes, they had been gone all of about five. When I got back into the car, I heard exactly what happened. Through her tears she confessed that she was nervous and screwed up. When I asked if the instructor offered any constructive criticism, my daughter said, "Yes, she said I shouldn't drive with you anymore, she says Moms are too easy on their kids. She said from now on, I should drive with my Dad."
Now obviously, this instructor had no idea of our situation. Still, I found her comment to not only be sexist and unintentionally cruel, but just wrong on so many levels. Did this woman mean to be so inappropriate and offensive? I doubt it. But I wanted to get out of the car and hurt her in Every Possible Way. Yeah, my daughter should drive with her dad. We'll get right on that! I was enraged but didn't want to leave my daughter as she sat sobbing in the drivers seat, feeling like a failure, concerned over what she would tell her friends, and also, possibly, feeling the loss of her father, as if she needed a reminder of his absence.
Who knows, had my child told that DMV woman why she couldn't drive with her dad, maybe she would have passed her out of guilt. While I am more than happy to play the widow card in any given situation, my daughter will often say nothing. When people hear about her dad, they feel bad and don't know what to say to her. Then my daughter feels bad that they feel bad…. For her, the loss is personal and private. She doesn't necessarily want to talk about or draw attention to it. If and when she feels like it, she'll have her own stories to tell one day.
When the next driving test was scheduled a month later, Antonio took her to the DMV. We all thought it best that I stay at home that morning - which I did, pacing, staring at the clock, trying to distract myself from the test, the test, The Test! Finally they called with the good news. We were all ecstatic. Okay, I actually cried.
My daughter then mentioned that she saw the instructor who failed her. She said she wanted to get in her face with a "Ha, ha, ha!" Instead, she waited on line for her license, thrilled and relieved. Of course, she wasn't happy with her driver's license photo, but that's another story.
She really is an excellent driver. I know her daddy would be proud.
REAL LIFE. REAL NEWS. REAL VOICES.
Help us tell more of the stories that matter from voices that too often remain unheard.
This post was published on the now-closed HuffPost Contributor platform. Contributors control their own work and posted freely to our site. If you need to flag this entry as abusive,
send us an email
.