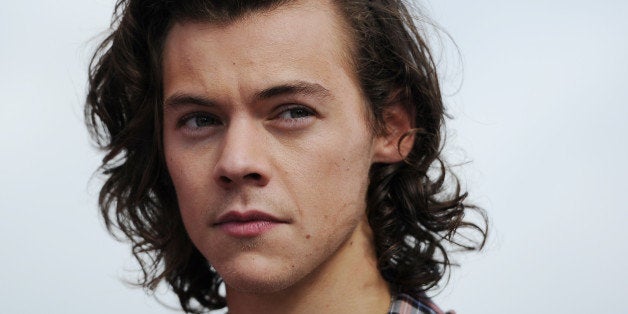 Lately I've been thinking about One Direction a lot more than usual, which used to be almost never. Don't ring the alarm. No impure thoughts have been creeping into my head, nor has the boy band's music been stuck there. I still couldn't sing an entire line from any of their songs if my middle-aged life depended on it.
What I've been dwelling on mentally has been what the boy band's main heartthrob said -- or, technically, didn't say -- a couple of weeks ago. Pop's rumor mill has been churning out speculation that Harry Styles might be bisexual, or perhaps even gay, for a while now. So far, the 20-year-old has resisted firmly confirming or denying those rumors ("I'm pretty sure I'm not [bisexual]" kind of swings both ways), but lately he's been putting a bolder spin on his ambiguity. I wouldn't be surprised if some night soon he turns up onstage draped in a rainbow flag.
During a recent interview, Styles and bandmate Liam Payne were asked what they look for in a potential partner. "Female; that's an important trait," Payne replied.
"Not that important," Styles interjected.
What does Styles look for, then? "Someone who's nice," he said. "You're not gonna go out with a dickhead, are you?" Dickhead? Um, was he referring to a girl or a guy?
Several months earlier, Styles had already underscored his sexual ambiguity (or fluidity?) and sealed it with a kiss -- right on British game-show host James Corden's mouth.
So is he or isn't he? He's still very young, so it's quite possible that he doesn't know for sure. My last boyfriend was still dating girls at that age, one year before we met. No matter which direction Styles ends up swinging in, though, he would be in a position of great potential influence if he were to publicly embrace it.
In the gay community we often talk about how we need to have more high-profile celebrities come out of the closet -- not just B- and C-listers or stars everyone already knows are gay. How great would it be for an A-lister with everything to lose, a bona fide heartthrob or sex symbol, to come out as gay or bisexual? Better yet, one of Taylor Swift's exes! Think of all the future hit singles she could milk it for. Maybe she'd even come up with something as brilliant as "Un garçon pas comme les autres (Ziggy)," a Céline Dion classic about a woman hooked on a gay man.
More importantly, think of all the young gays, lesbians and bisexuals who are struggling with their sexuality. The more out gay, lesbian and bisexual role models those youth have, the better.
But let's not underestimate the power of straight role models. There are plenty who have vocally shown their support for gays, lesbians and bisexuals, and I applaud them all. Straight (as far as I know) Irish musician Hozier has recently gone Top 10 on Billboard's Hot 100 with "Take Me to Church," a hit with a video based around a gay love story that ends in a brutal bashing. (Just a year or so after listening to Macklemore, Ryan Lewis and Mary Lambert's "Same Love" in heavy rotation pretty much everywhere, I'm ready for a straight artist to explore the side of being gay that doesn't involve politics or hate crimes. There is one, you know.)
As admirable as such outpourings of support might be, it's not such a stretch or a courageous move anymore for a confirmed straight celebrity to be up with gays (like, say, Adam Levine, Chris Evans or Colin Farrell, all of whom have publicly supported their gay brothers). I mean, if Eminem can go from waxing homophobic in his raps to coming out in support of gay marriage, if the president of the U.S. can publicly support it, can anyone else surprise us by doing the same at this point?
Styles, though, is in a unique position. Not only is he saying that it's OK to be gay or bisexual by not insisting emphatically that he isn't, but by playing with pronouns and refusing to definitively address the matter, he's also saying that it's OK if people think he's gay or bisexual. A firm denial would be the standard straight approach, but Styles seems to be saying, "Maybe I am, and if so, who cares?"
That would be pretty fly for a straight guy. Yes, the history of pop is filled with stars who have played with their sexuality, from David Bowie and Mick Jagger to Robbie Williams, who sent up Brokeback Mountain with his Take That bandmate Gary Barlow several years ago in the video for their duet "Shame." But camp edginess was/is part of their public personas. In a sense, one could say they embraced a certain pansexuality for the sake of their act.
But a boy bander is a completely different musical beast. Although they've come out before, it's usually been a background member (Lance Bass of 'N Sync, or the late Stephen Gately of Boyzone) or someone who came out when their act's heyday was safely in the rearview mirror (see Savage Garden's Darren Hayes, an engaging romantic who once spent an entire dinner with me raving about how his then-wife was his soul mate). Imagine if Justin Timberlake had come out of the closet or even toyed with the idea that he might be gay at the peak of 'N Sync mania.
That's precisely what Harry Styles is doing, and I'd say it's far bolder than anything One Direction has ever done musically. Yes, it could easily be a PR stunt. (The group released its fourth album, Four, on Tuesday.) Yes, it's gotten him tons of coverage, but doesn't that happen anyway? He doesn't need to be coy about his sexuality to get attention, so it's hard to buy that as an ulterior motive.
If it turns out that Styles is bisexual or gay, I'll actually be a little disappointed. Though I wouldn't lump him in the same category as celebrities who outright lie about their sexuality, I don't see how the gay, lesbian and bisexual community benefits from a gay or bisexual celebrity teasing fans when a confirmation would do so much more. Not that it's the obligation of any celebrity to base their actions on whether it benefits our community, but it's always nice when they embrace even a little responsibility.
If Styles ends up being straight, though, the implications would be practically revolutionary. At his age, following the "bro" code typically means acting as straight and narrow as possible. Justin Bieber, who is exactly one month younger than Styles, might be the perfect counterpoint. Every move he makes seems to be a conscious or subconscious bid to appear as heterosexual as possible, an aspiration many gay men can relate to. For years we've extolled the virtues of "straight acting." Even those of us who would correct someone who thought we were straight would likely be secretly pleased with being able to pass.
On the flip side, how many straight guys are comfortable with being mistaken for gay or bisexual? Rules of Engagement once ran an entire episode in which a straight character was ridiculed for acting "gay." Other TV sitcoms have been using the same punchline for years (see the Crane brothers on Frasier, Joey and Chandler on Friends, etc.). I believe it's a reflection of how many straight men, even those who fully support gay people, think. Just because they'd stand up for us doesn't mean they want to be counted among us, which is fair enough.
So kudos to Styles for coloring outside the box, even while clinging to it musically -- especially if he was genuinely turned on by Swift while they were dating. She can write as many anti-Harry songs as she wants to, but I won't be singing along.
I probably won't ever sing along to a One Direction hit either, but Styles has my genuine respect. He may still look like a boy, but he might actually be a bigger man than any of us imagined.
Popular in the Community