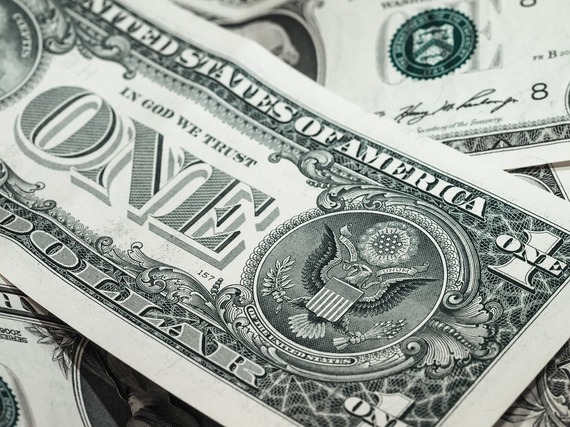 When I quit my eight-figure job to bake tarts, I was scared. My job, which compensated me an amount between $10,000,000 and $99,999,999 which I am too modest to share, had been my everything. What would I do without full medical, dental, and vision benefits for me, my wife, and two children? Or those damn free iced espresso drinks?
It all started in the mansion I bought my mother. One night, my butler Georg (pronounced like the Captain in The Sound of Music) was rummaging through family photo albums when he stumbled upon one of me in a baker's hat.
"This," a voice in my head or maybe heart whispered.
Before my company's hologram conference calls or our resident award-winning masseuse, I think I loved playing in the kitchen. I put pieces of bread next to each other, opened packages, and combined things in bowls. You know, baking stuff. When my mother yelled at me for making a goddamn mess in her clean kitchen, I cried and we laughed and I cried some more.
"This," repeated the voice I am 65 percent sure was coming from my heart.

My test iPhone 8 rang and after I confirmed a last-minute business trip to Dubai, purchased an inside joke Super Bowl ad, and had someone Google "most expensive steak in the world," I made a decision. Young me didn't care about my 401(k). Young me didn't scuba dive in Bermuda or snorkel in the Seychelles or a have a private client meeting at the top of the Eiffel Tower, three life-changing experiences which my current job has given me. Young me wanted to get creative with raisins.
The next day, I told this story to my boss over breakfast lobster.
"You make eight figures a year, dude," he said in between sips of a rare artisanal seltzer water made in our in-house seltzer water studio.
"I know," I replied while a woman who speaks nine languages shaved chocolate onto my espresso. "In two weeks, I will leave this job where I make eight figures a year."
"No. Today's your last day. You're a fucking idiot."
I couldn't think of a good comeback at the time. But I immediately went to the bakery in our office building, next to the Olympic-sized swimming pool with lifeguards who have won at least two Olympic gold medals, and submitted an application. It was denied due to my lack of experience, but I went to another bakery and they hired me.
Now, every morning, I get up at 5 a.m. and turn on the ovens at my passion. I open the cabinets and put flour, sugar, and butter on the silver tables, which I call "my playground." By 6 a.m. when the owner arrives to yell at me, I've experienced the rare and fleeting pleasure that comes from pure creativity. I leave at 6 p.m., wait 45-60 minutes for the bus home, and climb six flights of stairs since someone died on the elevator last Tuesday. I enter the tiny studio where I'm staying until I'm done, as my wife says, "destroying my life, our children's future, and our marriage," and I smile.
No number of figures in my salary or made-to-order Lexii will keep me from listening to that voice which now I'm pretty sure is coming from my head. Why did I quit my eight-figure salary? I have to boldly pursue the passion I think I had when I was six.
Calling all HuffPost superfans!
Sign up for membership to become a founding member and help shape HuffPost's next chapter