I know what you're thinking, "What? Are you nuts?" Well, just take it easy and hear me out. You see, I've been to roughly 10 Oscars, a dozen or so Golden Globe Awards, a ton of Emmys and numerous Grammys. So, I have a pretty good gauge of award shows.
In fact, I love the CCTA's the same way I love the Golden Globes. They're both loose, fun and are unpretentious. Well, as unpretentious as a Hollywood love fest can be. Both shows hand you a glass of champagne or whatever libation you desire when you leave the red carpet and walk in the door. The Oscars are just the opposite. Everyone is stressed, uptight and the Academy has a vice-like grip on every single aspect of the show. Before, during and after. Look, I get it that part of the stress is the enormity of possibly winning an Oscar. However, it's that vice-like grip that permeates tension through every part of the proceedings. The Oscars is a show where you really need them to hand you a drink.

Back to last night's Critics Choice Television Awards at the Beverly Hilton Hotel and another reason why I like these awards so much. They're the first to identify fledgling shows and actors you may not know who are doing fantastic work.
Case in point, Silicon Valley's Thomas Middleditch. The star of HBO's latest hit found himself nominated in the Best Actor In A Comedy Series category alongside some heavyweights such as Jim Parsons, Louis CK and Robin Williams plus Chris Messina and Adam Scott.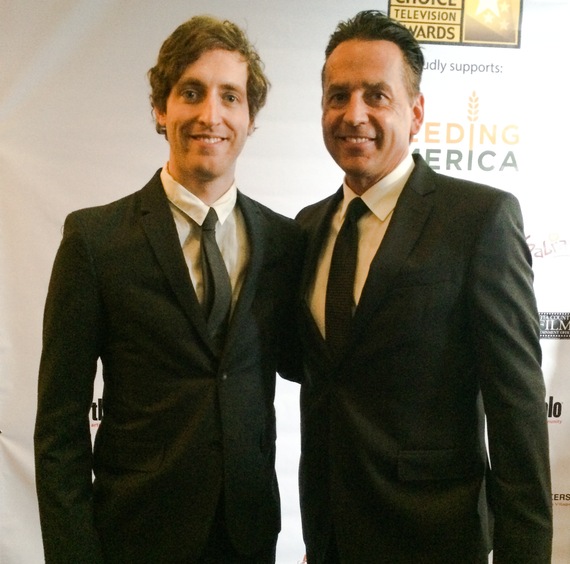 I caught up with him at the VIP pre-show party and I could tell he was a bit wide-eyed in the midst of what most normal people would call a wild, albeit well-dressed circus and we in Hollywood call a day at the office. We chatted for a bit and I told him to "just have fun" and that he deserved to be there, he does a fantastic job on what is a damn funny, well-written and well-acted show. I'm pretty sure I'll see him at the Emmy Awards.
Last year Tatiana Maslany, not exactly a household name in 2013, was singled out by the Broadcast Television Journalists Association for her breakout role in BBC America's Orphan Black. She won last year and won again tonight. And you could tell by her exuberant, honest and a bit flustered acceptance speech, she's still a newby.
Then you have the amazingly talented and often awarded Allison Janney. No newby is she. She won twice last night, adding to her 26 wins covering nearly every award show.
When she took home the Best Guest Performer in a Drama Series trophy for her incredible performance in Masters of Sex, Janney walked on stage to a rousing applause and began with just three words.
"I just came, " she said with a perfect delivery.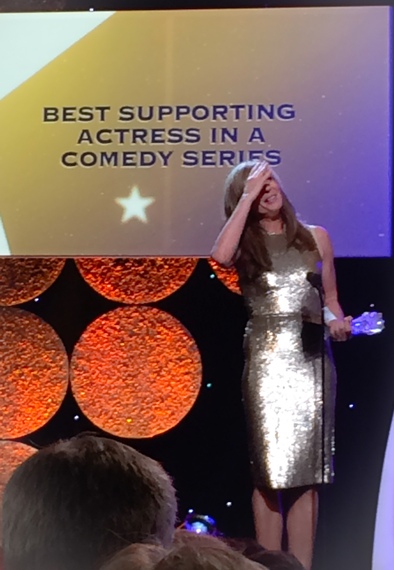 When she won her second award a little while later, Best Supporting Actress in a Comedy Series for Mom, she sauntered on stage and said, "This is the climax of my career."
Two great lines. Lines an actress would feel completely comfortable delivering at the Critics' Choice Awards and even the Golden Globes, but probably not at the uptight Oscars. Unless, of course, if she were properly lubricated.
Calling all HuffPost superfans!
Sign up for membership to become a founding member and help shape HuffPost's next chapter