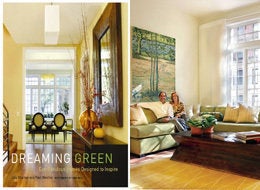 Like millions of Americans, I want a safe environment for my family. Fast food gives me the creeps, toys made with chemicals scare me, as do ones that light up, make noises and contain screens for young children to stare at.

Before I became a mom, I never thought about any of this. But all that changed when I decided it was time to have children. Problem was, I couldn't seem to carry a pregnancy to term. Three times in a row, I learned I was pregnant, only to suffer the pain of miscarriage.

As a journalist, my investigative skills took over as I tried to figure out what it was about me, or my environment that was causing the repeated pregnancy loss. I became much more sensitive to what was going on around me and what I was putting into my body.
When I finally did become a mom, those same concerns translated into the way I cared for my new baby, and eventually for all three of them.

I decided not to give my children any baby formula, even though I worked full time as a television news producer. So I pumped. I ordered organic food, made my own baby food, and used chemical free wipes, cleansers, moisturizers. When they were sick, and also when they were well, I treated my children with homeopathy, reiki healing, acupressure and massage in addition to their regular pediatric visits. I tried to do my best.

Because I am married to an architect, Paul Gleicher, I also have lived in many places that have been renovated. I have always been deeply concerned about residue from the removal of old lead paint, and with the forced air heating systems that spew toxins into the room. My concerns led us to install air filters in the children's rooms, and allergy covers for their mattresses to keep out the dust mites. Even so, my eldest son had multiple ear infections, causing him to have ear tube surgery, and my next in line had sleep apnea from enlarged tonsils, requiring surgery.

When my daughter was born I tried to be even more careful in an effort to spare her from the chronic runny noses of her brothers. She nursed even longer. I installed air filters inside the air conditioning units and made her freshly squeezed organic juices.

One night, after my husband and I had purchased a totally run down brownstone on the west side of Manhattan, we attended a charity event to raise money and awareness for an organization now called "Healthy Child Healthy World" . The mission of the organization's founders was to prevent folks from suffering the same tragedy as they had undergone. Their young daughter had died of a non-hereditary form of cancer, which they suspected had been caused by maternal exposure to pesticides, and they wanted to spare others similar pain by educating them about how to clean up their environments. To that end, these eco-pioneers had just completed a totally green home in California and they told me all about it.

That conversation changed my life. My husband and I decided that our Manhattan house should also be toxin free, and easy on the earth. We spent many months researching the healthiest ways to rehab our 1885 home. From the heating, water and vacuum systems to the insulation, we sourced materials that contained as few chemicals and volatile organic compounds as possible while also treading lightly on our planet . We installed a green roof, chose recycled glass countertops, and kept formaldehyde away from all the places you normally find it, in cabinets, closet interiors, and even mattresses.

This was no easy task. And it did cost more. A new study just out says green building does cost a couple of percentage points more, which eventually is earned back in energy savings. And those statistics from the U.S. Green Building Council do not even take into consideration the lower cost of reduced sick visits to the doctor, which in our family have practically been eliminated.

While conducting our research we looked for a book that could help us build our green home, and while we found a number of publications that contained little bits of useful information, there wasn't a single book that pulled it all together in one place, from the resources to the inspirational photos. So we looked for other homes across the country in all sizes and styles that had been built by families whose missions dovetailed with ours. And we found them.

In our new book DREAMING GREEN: ECO-FABULOUS HOMES DESIGNED TO INSPIRE you will learn all about the families whose homes we profiled. Some may be just like you. Their ideas run the gamut from things you can do for free, such as putting a shoe rack at your front door and asking everyone to remove their shoes before entering, eliminating the toxins from outside, to more expensive solutions such as investing in a formaldehyde-free mattress, which can be more costly than one that does contain chemicals. Costly in some ways. But not as costly perhaps as sleeping on a mattress which off gasses, or releases toxic chemicals while you breathe deeply all night long.

We hope some of the ideas and designs for green living contained in the book are helpful to you, as you raise your families in an increasingly scary world. As we do spend a significant amount of each day in our home, and in our beds, we think you'd be smart and savvy to give yourself the gift of health, and know that by investing a little bit more up front, you can save on the back end, not only in medical bills but also in energy costs. Our book also contains super efficient ways to heat, insulate, and cool your home that you may not yet know about. Check out our web site http://www.dreaminggreenbook.com and let us know how we can answer your questions.
As the financial crisis causes us to save money and eat at home, and spend more time cocooned in our nests, I advocate investing time and thought energy in this endeavor, as the results are worth it.
Calling all HuffPost superfans!
Sign up for membership to become a founding member and help shape HuffPost's next chapter