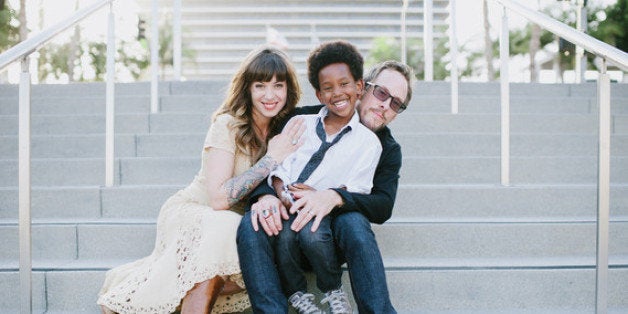 I am both an adult adoptee and an adoptive mother to a beautiful firebrand of a 6-year-old boy from Ethiopia. I love adoption. I love the whole messy, rich, textured, complex world it has given me. I do not love it because it is one long Disney happy ending. Rather, I love it for the way its struggles have defined my life and made me strong. I love it for the fascinating, crazy quilt of a family it has stitched together for me.
My story began with my unwed birthmother stranded alone in a snow-blanketed Chicago, feeling terrified and foolish. Across the country, my soon-to-be-mother had cried herself to sleep in her West Orange, New Jersey apartment every night for years, longing for a child. A deal was struck, a baby passed from one set of hands to another. I was adopted just barely before the passage of Roe v. Wade in 1973. My mother says she did not once put me down during the entire trip home.
To be so unwanted and so wanted at the same time can carve a fault line in you. That was my experience for a long time, and it is shared by Laura Barcella, who recently responded to National Adoption Month in a post in the New York Times' Motherlode blog entitled "Adoptees like Me 'Flip the Script' on the Pro-Adoption Narrative." In it, Ms. Barcella states that, "being forsaken by my biological mother has burdened me, for as long as I can remember, with a sense of inborn exile -- a gaping hole where my identity should be." She cites statistics of higher rates of depression, anxiety and addiction among adoptees. Indeed, all three of these things have been part of my journey, at one time or another. Adoption has not given me a life that has always been comfortable or easy.
Even more painful than my own struggles, I have borne witness my son's profound anxiety and fear, derived from having survived malnutrition, illness and unimaginable loss in his first year of life. For almost the entirety of his first three years with us, he ate little, slept less and had violent tantrums roughly 10 times a day, during which he often bit me until I bled. My husband and I privately nicknamed him the Honey Badger (after the ferocious little Youtube sensation). I sometimes drove around weeping and cursing at God about my feelings of powerlessness. I agree with Ms. Barcella that adoption is a narrative that begins with loss and very often trauma. Where our standpoints diverge is that she not only begins, but also ends the story there.
My adoption story is not just one of pain, but of strength and growth. My search for identity has been, in large part, about learning to hold love and loss at the same time. As I have explored myriad avenues of help for my son, I have not only witnessed healing I never would have thought possible, but have also found myself unwittingly changing alongside him. Whereas I once yelled, "F*ck you for all these hurt and starving babies, God. What the hell are you thinking?" to an unfeeling sky, I now find myself driving around spontaneously thanking God for our challenges, for the way I have grown to know the fierce and brave heart of my son, for the fact that I have come to value more fully the strength of my marriage. Through the trials of the past few years, I have come to understand myself to be selfish, vain, petulant and unequal to the task of mothering, to be sure, but also resilient and determined and resourceful (who knew?) and possessed of a rock solid belief in my family.
My son Tariku and I love to cook together now, and we talk a lot about our favorite celeb chef Marcus Samuelsson, who famously combines Ethiopian, Swedish and African-American culinary traditions to create something truly unique and incredibly delicious. In his wonderful cookbook Africa: Soul of a New Cuisine, Samuelsson, adopted from Ethiopia at the age of 3 by a Swedish family, tells the story of his first night in Sweden. His mother heard a banging noise and emerged from her room to find him and his sister pounding on the door of the refrigerator, demanding to be let in, but not knowing they could just open the door. They had gone hungry for so long. This starving little boy grew up to create a life in which food has become not just an enormously profitable career, but also his creative expression, his gift to the world.
Barcella says about National Adoption Month that, "The campaign drives home the ubiquitous social message that adopting a child is an invariably pure act of selflessness. But for years on end, our culture has whitewashed adoption (both domestic and international), only telling the story from the rapturous perspective of adoptive parents while ignoring the darker realities adopted children can face."
I disagree that this "rapturous" perspective is the dominant cultural narrative around adoption at this particular moment in time. I never walked into our adoption with visions of sugarplums, in large part because the process itself involved hours and hours of required classes that addressed issues like attachment, trauma, loss and cultural sensitivity. The "script" to which Barcella is referring was much more prevalent when she and I were both adopted, in the 1970s. Most adoptive parents at the time were adherents of this script not out of cruelty or thoughtlessness; it was just all they knew. I fought my way back from the ways that particular narrative made me feel invisible, and that fight lit a creative fire in me that has not only given me a career I love, but has instilled in me the grit it takes to weather the difficulties and rejection inherent in being a writer.
I have shared many of Ms. Barcella's feelings. At the same time, I am acutely aware that my personal emotional journey certainly cannot be where the conversation about adoption ends, because that conversation has implications that go far beyond each individual adoptees exploration of identity. That exploration is an important thing. Here are some other important things:
Unicef places the number of orphans in the world today at 153 million.
There are 4.6 million orphans in the country in which my son was born
Half a million kids are in foster care in this country alone.
Adoption is not remotely the solution for the world orphan crisis, but it is a piece of the conversation that includes those enemies of family preservation: poverty, disease, lack of education and economic disparity. Most of the adoptive families in my social circle are involved in efforts to address these issues in some way. One of the unexpected gifts of adoption in my life it that it has ultimately left me not with a feeling of unfulfilled emptiness, but of deep connection to the world around me. The wide-reaching branches of our unruly family tree have engendered in me a sense of responsibility and a commitment toward social justice.
Adoption as an institution is absolutely in need of reform, and deserves to be examined always with a critical eye. But all the reform in the world will not eradicate the need for it. The need is real. For the children without homes, it is more than real; it is desperate.
At the end of her article, Ms. Barcella acknowledges, "I don't know the answers."
If we are going to enter a cultural dialogue about a subject that leaves the lives of children hanging in the balance, I ask that we push deeper, look further, reach for some answers. Because there are millions of children without families out there, and whether or not it's convenient for one's self-realization process, they need those answers and they cannot wait.