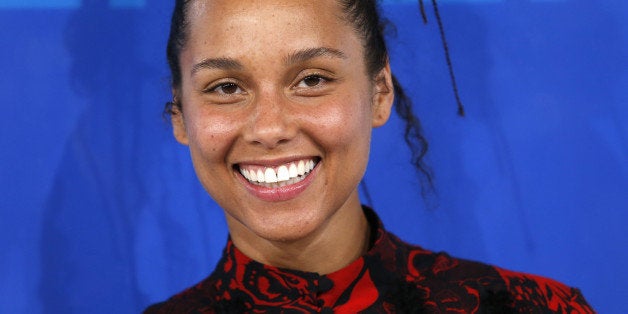 When I first saw the cover photo of Alicia Keys' recently released single "In Common," what drew me were her eyes. She wore no mascara or shadow. I thought back to her fashioned gaze on the covers of the five previous albums. In this current photo, her eyes looked more accessible, free of the embellished, stylized sexuality of Girl on Fire or As I Am. I love Alicia's uninhibited sexuality, but I love more this new, subtly intimate expression, like we might be standing together in the same room reflecting on our lives.

Alicia has inspired me. By declaring herself makeup-free, she both settles spiritually into her own skin and challenges the beauty regime of the entertainment industry and larger culture that expects even our female Olympic gymnasts to wear makeup while competing. Alicia, on the other hand, feels free to forgo cosmetics debuting under the primetime lights this this week as celebrity coach on The Voice.
I may be an unknown white male university teacher who generally doesn't wear mascara, while she's a renowned woman of color on magazine covers, so I hardly claim to deal with anything like the unsparing image demands this culture puts on her, but with my own longstanding struggle to look in the morning mirror and affirm my facial features, I feel she's an ally in the quest to unshackle myself. Yes, even privileged men who mispronounce the name Estée Lauder can struggle with wanting to alter their seemingly inadequate look.
Alicia hadn't planned her declaration. She'd arrived at the photo shoot for "In Common" following a sweaty gym workout and photographer Paola Kudacki spontaneously asked her to go paint-free. Alicia wrote later in the Lenny Letter, "I swear it is the strongest, most empowered, most free, and most honestly beautiful that I have ever felt." Soon after, she announced her intention to go au naturale, implicitly inviting her diva and actress counterparts to follow.
The images from her recent photo shoots are striking. In one, she stares out with afro-puffs, visible freckles, and a shiny, slightly anxious expression, the New York neighborhood homegirl she grew up as, alter ego to the glitzy Big Apple siren who accompanies Jay-Z's baroque rap on "Empire State of Mind."
I've enjoyed watching her perform recently, on The Voice season preview August 21 beneath a liberated frizzy natural, and on Italian TV this June singing the introspective, gospel-inflected new single "Hallelujah." I went back and watched several earlier videos like "A Woman's Worth" from Songs in A Minor and "Try Sleeping With a Broken Heart" from The Elements of Freedom where she is consistently sultry and doe-eyed. In the recent performances, her makeup-free aspect confers a new womanly composure.
I feel that in this new phase she conveys with unprecedented poise an emotional nakedness that parallels her uncovered skin. "In Common" depicts a dysfunctional relationship where Alicia reveals damaged self-esteem, singing "If you could love somebody like me you must be messed up too." She's expressed lovesickness many times before, but perhaps not this kind of stark inner wound. You can feel her healing the wound when she avows in her recent coming out essay "I don't want to cover up anymore. Not my face, not my mind, not my soul, not my thoughts, not my dreams, not my struggles, not my emotional growth. Nothing." I myself don't cover up externally with creams, but like her, I've sometimes lost sight of a soulful beauty beneath the veneers I've layered.
I've also been inspired by several other women who reveal themselves unadorned. In recent months Adele has posted several images of herself unconcealed. Back in 2009, Mariah Carey, playing a non-descript Jewish social worker with scruffy bangs in Precious, looked so distinctly different from her normally glamorous presentation that I didn't even recognize her until the film was two thirds over. I salute her for risking gratuitous media judgments. Other prominent movie actresses generally considered physically attractive such as Reese Witherspoon and Halle Berry have also played roles makeup free. I also remember once watching porn star Jenna Jameson play a sexed up masseuse stalked by a client. When he appears unexpectedly at her front door and she opens it, we see her without makeup holding a baby. Her implicit message embedded between sex scenes is that ultimately she lives somewhere deeper than any erotic persona. Jameson announced her third pregnancy in August.
I realize these stars have incredible physical privilege, with natural features that command public recognition with or without enhancement, yet when leading beauty symbols put away the cosmetics, they can make themselves vulnerable. Alicia has pushed that challenge further. While others only periodically play roles or appear in public makeup-free, she's made an ongoing pledge.
To me, Alicia looks better than ever, but even more, when I see her down to earth beauty, her eyes look familiar. I imagine we might almost be cousins.