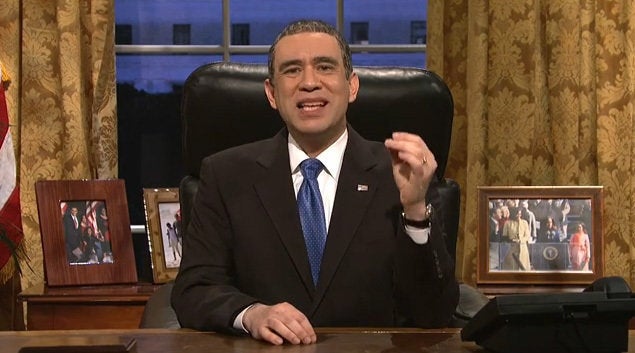 Politics is my passion, and I particularly love comedy and satirical news programmes that breathe new life into current events.
One of my favorites is Saturday Night Live, the long-running comedy sketch program which airs on NBC in the U.S. President Obama, Vice President Biden and former House Speaker Nancy Pelosi are amongst those politicians who have been 'profiled' on the show, and the candidates of the current presidential election continue to be featured on a weekly basis, with Republican Mitt Romney perhaps facing the harshest criticism.
Romney is often portrayed as a bland politician willing to tell his audience what they literally want to hear. Continuous impressions of this nature reinforce Romney's inability to inform voters of his core beliefs, and over time, I believe this could seriously damage Romney's campaign for the presidency.
In the UK there is no parallel show to SNL, although Have I Got News For You comes pretty close to providing political entertainment. Many politicians have appeared as guests on the BBC program, and in some circumstances, former MPs such as Boris Johnson and John Prescott have even hosted the show. Whilst HIGNFY is particularly brilliant, it has not had the same impact on the UK political environment that SNL and other American comedy shows continue to do in their native land.
Saturday Night Live made headlines in the 2008 presidential election, identifying the clear media bias against Sen. Hillary Clinton in her race for the Democratic nomination. One of these sketches featured Amy Poehler as Sen. Clinton and Fred Armisen as Sen. Obama, and clearly defined what some believed at the time as 'different levels' of questioning during live televised debates. The sketch show also helped to define the 'character' of Gov. Sarah Palin, featuring Tina Fey as Palin accompanied by the real governor in a mock press conference. This parody, along with the "Alaska Rap," is perhaps one of the best known and funniest in SNL's entire history, and one that will continue to be played for generations of elections to come.
Other influential comedy/political hybrid television shows include the The Daily Show and The Colbert Report. Airing on cable and satellite channel Comedy Central, comedians Jon Stewart and Stephen Colbert are influential in shaping the daily conversation of the American political world. Surveys conducted by institutes such as the Pew Research Center have shown that regular viewers of The Daily Show tend to be more knowledgeable about news than audiences of other news sources. Both shows have been and continue to be at the forefront of topical issues, with The Daily Show campaigning for improved healthcare rights for 9/11 emergency responders and The Colbert Report's continuing discussions over Super PACs. They continue to have strong viewing ratings, with politicians such as Nancy Pelosi have publicly admitting that she sets her DVR recorder so not to miss an episode.
From Texts from Hillary to appearances by former British Prime Minister's Tony Blair and Gordon Brown on Comic Relief, satirical politics will continue to have a place in our modern media world. Candidates such as Mitt Romney should be aware of the dangers that hybrid news shows present, with the ability to make and shape the news agenda. Both Barack Obama and John McCain appeared on Saturday Night Live during their race for the residency, and one wonders if Mitt Romney will embrace this precedent before Election Day.
REAL LIFE. REAL NEWS. REAL VOICES.
Help us tell more of the stories that matter from voices that too often remain unheard.