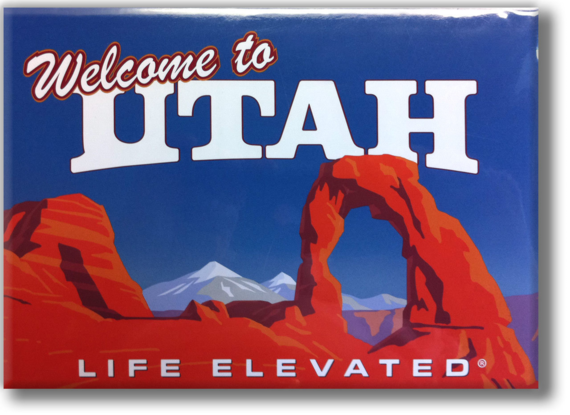 I moved to Salt Lake City over 25 years ago. Although I've lived in Honolulu, Seattle, Montana, Idaho and Saskatoon, Saskatchewan, Utah is my home. Unlike those people who move somewhere, live there for the majority of their lives and refuse to claim their city, I'm proud to call Utah my home. Although I was born in Honolulu and it's an infinitely cool place to say you are from, when people ask me, "Where are you from?" I don't say Hawaii. I say Utah.
Utah is an amazing place. I've come to love the four seasons, the mountains and even the quirky culture. I was raised a Mormon, but as a disinterested one, I'm now an outcast to the predominant culture. But that's another post.
The weather report in Hawaii lasts 7.5 seconds and reads something like, "Sunny and warm with a high of 75 degrees and strong trade winds over the islands." That's it. Mixing it up might include the phrase "...and intermittent showers across the windward and mauka areas." It's boring, really. In Utah we have four distinct seasons, each with a personality all its own. This fall was one of the best I've experienced in 25 years. The colors were spectacular, and my favorite season seemed to linger on and on.
Winter is coming. And for those Game of Thrones fans who live in my wonderful state, they know it can be as brutal as any of the ones the Stark family lives through -- and I never heard King Ned Stark discuss great skiing in the North.
Utah has 11 ski resorts within 60 minutes of the Salt Lake City International Airport. For those flying into Denver and making the trek to Vail, the math says it's a lot shorter to the slopes here. And I'd argue we've got better snow. The airport is also a Delta hub, with over 20 million people passing through it in 2013, making it a great home base for those with wanderlust -- like me.
As a certified foodie, I'm thrilled by the fabulous and growing food and drink scene. New restaurants are always opening and we have our own celebrity chef scene, with people like Viet Pham of Forage restaurant, who has appeared on numerous cooking challenge shows. A while back I wrote about the craft brew scene in Salt Lake (you can read about it here), and it continues to grow. Epic Brewing's high alcohol content beer is a favorite, and their restaurant, The Annex by Epic Brewery, has some of the best poutine I've ever eaten -- and it's the only place I've found it in Utah.
Another fun fact is that there are five national and 42 state parks in Utah. That fact alone should tickle outdoor enthusiasts and cost-conscious vacationing families as well. Combine that with camping, river running, hiking, biking, skiing and a host of other outdoor pursuits (including skydiving, which I tried twice this year), and you have a Mecca of thrill-seekers and really fit folks. What's not to love about that? I'm inspired just writing about it.
I still hear people say they don't want to move to Utah for a variety of the reasons. I don't understand that thinking. Nice people, great access for travel, a technology hotbed, a great food scene and beautiful, majestic mountains -- the list goes on and on and on. But really, isn't that already enough to either love the place you call home or come stay for a visit?
Maile Keone is a marketing professional, entrepreneur, writer and traveler. She currently works in the A/V industry helping people listen in difficult hearing environments through the use of amazing technology.