True, selfies epitomize the look-at-me-I'm-so-awesome narcissism in our society. Whether a celebrity like Kim Kardashian pens an entire book on the subject, Ellen sets a legendary world record at the Oscars, or the pop song #Selfie goes viral -- selfies are here... and probably to stay.
But you know what? As a parent I'm actually a fan of selfies.
Here are three reasons why:
1. Selfies force us to "get in the picture." Parent Allison Tate writes a persuasive article on "getting in the picture." Admitting to post-baby-body insecurities and a multitude of other reasons that parents give for not joining their kids in photos, Tate convinces us to take a leap and to jump into the picture. If just for the longevity and memories. And I agree. When my kids see photos 20-30 years from now, they will see a young(er) happy mama, and know that I was a part of their childhood -- not just behind the camera.
2. We can present the best version of ourselves. Because we are in control of the photos, we can capture the best-cropped-best-filtered-best-angled snapshots -- and guarantee that we look fabulous every time. (WIN-WIN!) And unlike professional or staged photos, selfies tend to bring out the best reactions in my kids. Maybe it's because they see happy kiddos smiling back at them. Or perhaps it's because there isn't an adult barking at them to "Look up here! Cross your hands! Say cheese!!" But selfies tend to elicit more natural, authentic responses. And I love being able to capture those (semi)-spontaneous moments with my kids. (They are fleeting, after all.)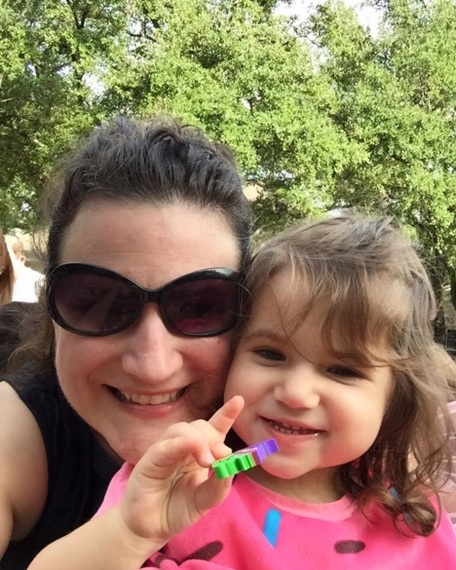 3. We have an instant time capsule. If you're like me, you are long overdue in updating baby books or photo albums. Fortunately, selfies and social media help keep us current. What scrapbooking may have been to the late 90s, social media is to the millennium. Click, upload, share. It's that fast. Think about the 'Share your Memories' feature that Facebook recently launched. Prompting us to look at what happened on THIS VERY DAY - but years ago -- we reminisce about hero-themed birthday parties, first steps and gap-toothed grins. (Awww!) So until we can finish that saved photo book in Snapfish, selfies (and social media for that matter) create an instant time capsule. Pretty cool way to see all of our memories in one place.
So yes, I take selfies. Lots of them... apparently. A couple years ago my then-3-year-old blurted out on a quiet airplane: "No more selfies, Mommy!!" (Ooops.) I was attempting to document her sister's first flight... and was perhaps a tad overzealous.
And before you ask... no, I'm not suggesting that we should spend all of our time on our phones. But if you want an easy, fun way to capture authentic moments -- selfies might be the way to go.
What about you? Do you and/or your kids love selfies? Post one right now in the comments!
image: twitter
------------------------------------------------------
Jennie Sutherland lives in Austin, Texas, with her husband and their two young daughters. Like Bradley Cooper, she has a long arm -- perfect for capturing selfies! When she's not taking photos, she's writing about marketing, pop culture or parenting. Follow her on Twitter: @jenniesuth. Want more? Read how Jennie's mother re-formed her all-girl rock band after 44 years. You can also find out how to be unbreakable here or read why we still love Facebook - enjoy!